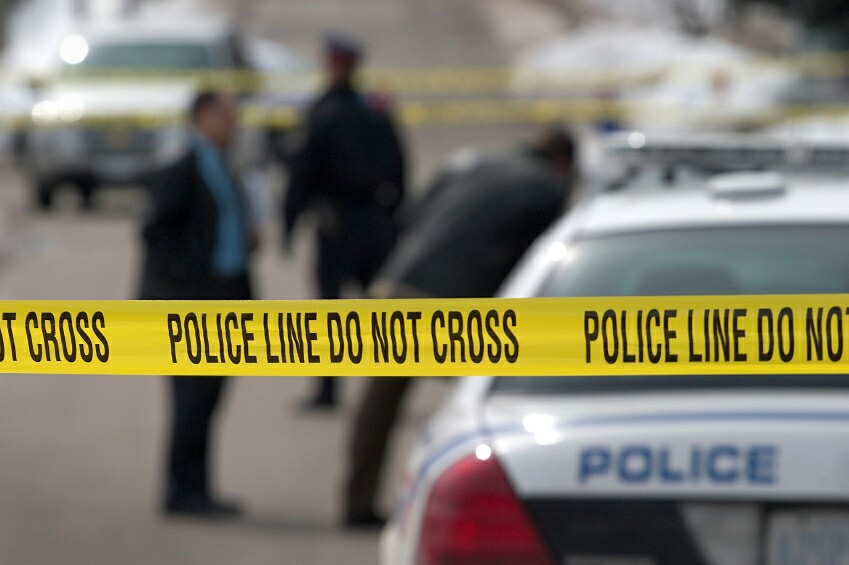 A friend of my wife's last night posted on Facebook that he (an African-American and an elected official down in Southern California) were spending time on their boat at the marina in Long Beach on Sunday.
He said he was watching the Laker's game when he heard a helicopter hovering overhead.  When he went out, he immediately saw Coast Guard boats and numerous police on the dock facing his boat and up on the street.
He suddenly realized that they were all facing his boat.  He was told to come out and put his hands on his head and get on his knees.
"Soon, there were guns trained on me everywhere I looked," he said. "There were guns pointed at the boat where my daughter was…frightened to death."
He continued, "I then spent the next 10-15 minutes answering questions staring down the barrel of a shot gun."
Later he posted, "My daughter, as you might imagine, was traumatized considerably. A 13-year-old should not have to try and process what she witnessed today. I know I will have trouble sleeping tonight as well."
The police were looking for ex-police officer Christopher Jordan Dorner.
This comes on the heels of a story reported in the LA Times and on the local news where two women, 71 and 47 years of age, were delivering newspapers in Torrance early on Thursday morning when the LAPD officers riddled their blue Toyoa with bullets.
One woman was shot twice in the back while the other received minor injuries from the broken glass.  The injuries are non-life threatening.
"Officers had mistakenly thought the truck they were driving belonged to Dorner," KTLA in Los Angeles reported.
Police Chief Charlie Beck called the incident "a tragic misinterpretation" by officers working under "incredible tension."
KTLA reports, "The two women now say they had no warning before they were caught in a hail of bullets by officers, and it is remarkable that they survived.  One neighbor in the area told the Los Angeles Times she believes she heard roughly 60 rounds fired at the women."
The women have subsequently retained an attorney, Glen T. Jonas.
"The police have a job to do," Ms. Jonas said.  "But that job does not include street justice.  It does not include execution."
"Obviously, everyone is uptight, and you've got to be sensitive to that.  But you've got to be professional, and match your description, and give fair warning before you start shooting at people."
A total of seven officers fired on the truck.  The LAPD is said to be getting the women a new truck.
These are scary stories.  There is no doubt that what the police chief said is true – the officers were working under "incredible tension."  But what seems to be happening is that under stress the police are reverting to their worst and base instincts.
Perhaps we need to start re-thinking police response when the victim is one of their own.  No one can doubt that police perform an extremely dangerous job, and more so in Los Angeles and other big cities than in smaller towns like Davis.
But that stress and danger produces camaraderie, a brotherhood.  It serves to protect police but also serves to make them protective of the comrades.
In other professions, however, having a personal stake in an outcome, produces a conflict of interest.  That conflict of interest lowers the objectivity of the officers.  It heightens aggressive instincts.
All of this acts to lower the collective judgment of those with a personal stake in the matter.  Clearly, the system right now is insufficient and the manpower is adequate to be able to assemble a large group of law enforcement officers that can perform their search with a more distant and reasoned perspective.
The result is that, while the police are trying to protect the public from danger, they are at the same time putting the public at greater risk.
Which Side is Lying to the Public
In the meantime, the LA Times has a fresh report on the incident that triggered the shooting.
They report that the LAPD disciplinary panel concluded evidence was persuasive that Officer Dorner "lied when he accused his training officer of kicking a mentally ill man during an arrest."
However, a Los Angeles County Superior Court judge came to a different conclusion, stating it was "uncertain whether the training officer kicked the suspect or not."  Nevertheless, he made the decision to uphold the department's decision to fire Mr. Dorner.
The Times reports, "An online manifesto that police attributed to Dorner claims he was railroaded by the LAPD and unjustly fired. His allegations have resonated among the public and some LAPD employees who have criticized the department's disciplinary system, calling it capricious and retaliatory toward those who try to expose misconduct."
Police Chief Beck this weekend announced that he is reopening the investigation into Mr. Dorner's disciplinary case.
"It is important to me that we have a department that is seen as valuing fairness," Chief Beck said.
"LAPD records show that Dorner's disciplinary panel heard from several witnesses who testified that they did not see the training officer kick the man. The panel found that the man did not have injuries consistent with having been kicked, nor was there evidence of having been kicked on his clothes," the Times reports.
The Times writes, "An internal affairs investigation into the allegation concluded the kicks never occurred. Investigators subsequently decided that Dorner had fabricated his account. He was charged with making false accusations."
The Times continues, "Dorner did not immediately report the kicks to a sergeant, he said, because he was asked only what force he had used, not what his partner had done. And as a rookie who had already filed complaints against fellow officers, he feared retaliation from within the department, Dorner testified."
What is described here is referred to as the blue code of silence which is an unwritten rule among police officers that they are to not report misconduct committed by the fellow officers.  If questioned about such an incident of misconduct involving an officer, the officer being questioned is to claim ignorance of another officer's wrongdoing.
—David M. Greenwald reporting