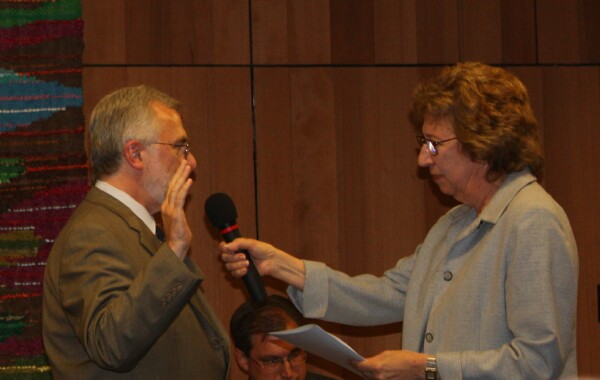 The
Vanguard
learned from multiple sources that on Tuesday night former Davis Mayor and County Supervisor Don Saylor has decided not to run for the Assembly District seat currently held by Mariko Yamada, who will be termed out in 2014.
Mariko Yamada, a Democrat, represents the Fourth Assembly District which includes most of Yolo County (except West Sacramento), parts of Eastern Solano County (no longer including Fairfield or Vacaville) including Dixon, Napa, Lake, and Colusa Counties and parts of Sonoma County up to Rohnert Park but not including Sonoma.
Supervisor Saylor announced he would instead run for reelection to the Yolo County Board of Supervisors.  He was first elected to the Board of Supervisors in 2010, after serving just six months as mayor of Davis following his 2008 reelection to the Davis City Council, in which he finished first in a five-person race.
He also served two years on the Davis School Board, before running for the Davis City Council and finishing second to Sue Greenwald in 2004.
Davis has dominated the Assembly seat in recent years with Helen Thomson, Lois Wolk and now Mariko Yamada holding the seat in succession.  With the new configuration of the district, that may well continue.
Tom Hannigan from Solano County held the seat for a number of years prior to Helen Thomson's 1996 election.
However, the new configuration pushes potential rivals in Vacaville, Fairfield and West Sacramento outside of the district.
One outside possibility is Anthony Farrington, 41, a Lake County Supervisor since 2001, and a graduate of UC Davis with a law degree from Concord Law School.
There are also three possible contenders within the city of Davis.
One of the most likely options is Jim Provenza.  Jim Provenza spent eight years on the Davis School Board before becoming a County Supervisor in 2008, representing the eastern half of the city of Davis.
Supervisor Provenza told the Vanguard recently that he had not made up his mind as of yet.  Supervisor Provenza would perhaps be the odds-on favorite if he announced.  In addition to a strong record of service on the school board and on the Board of Supervisors, Mr. Provenza has strong support among the key unions in the state and he has worked in Sacramento as a lobbyist for the Los Angeles County District Attorney's office.
Another possibility is Mayor Joe Krovoza.  While Mayor Krovoza ran strongly as a Davis City Council candidate and, due to the early departure of Don Saylor, has already served as mayor for nearly two years, he is still in his first term in office.
In addition, his seat is up in 2014, which means that he would not have a free run – he would have to give up his council seat to it.
Mayor Pro Tem Dan Wolk is also an intriguing possibility.  The upside is his name recognition and strong popularity in the city of Davis, as he finished first in all the city's precincts last year.
The downside is his age, lack of overall experience, and the fact that he would have to do as Don Saylor did in 2010, serve as Mayor for six months and then resign his seat.  When Don Saylor did that, he was heavily criticized locally for creating the need for an appointment process, which ironically enough led to the appointment of Dan Wolk to the Davis City Council in February 2011.
The advantage that Dan Wolk has, of course, is that his mother is a two-term sitting State Senator who, prior to that, served for six years in the State Assembly, eight years on the Board of Supervisors and is a two-time mayor of Davis.
But the question will be is whether this is Dan Wolk's time, given not only his own age but the age of his children and the fact that he will have other shots at the Assembly District.
If this all seems very early, in 2008, both West Sacramento Mayor Christopher Cabaldon and then-Supervisor Mariko Yamada had already announced for the seat that would be vacated by Lois Wolk, as she was termed out and ran for the State Senate.
Christopher Cabaldon twice lost out, first in 2002 and then 2008, but cannot run this time, at least for this seat, since West Sacramento is no longer in the same Assembly District.
—David M. Greenwald reporting