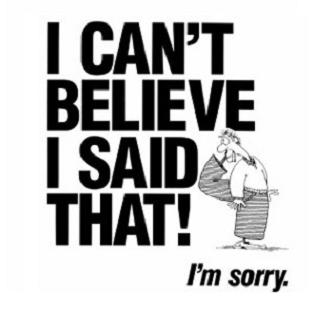 Given the nature of this site and organization, it is actually somewhat remarkable that we do not make more errors, more often.  Unfortunately, on Sunday, a couple were made that should not have been.
I hate making excuses, but there were some extenuating circumstances here that led to some miscommunications – I have been under the weather with some vicious form of the flu since Saturday, plus some other complications.  That being said, these mistakes should not have been made, they are my fault, and I will do my best not to allow them to happen again.
It was written: "It has gotten to the point where people are starting to look into whether election laws are actually being violated by dint of fact that a columnist is actively campaigning against the water project.  Rush Limbaugh seems to prove that extreme bias is allowed by the First Amendment, so Bob probably is Davis' 2012-2013 version of Rush."
The second sentence should never have been printed.  There was some miscommunication, but the bottom line is the article had my name as the author and therefore I am responsible for all content.  The Rush Limbaugh remark should not have been printed.
The first sentence has some truth in it.  After all, as we correctly reported in the month of February, Mr. Dunning had produced 11 columns devoted in full or in part to the issue of water – all of them negative.
Mr. Dunning is entitled to his opinion and we would be loath to see a newspaper censor opinion.
The real problem that needed to be illuminated in this article was not Mr. Dunning's writing itself, but the lack of balance in the newspaper.  Mr. Dunning is essentially allowed unfettered influence and access here, and there is no one given the opportunity to counter any of his information – particularly that information that is either false or misleading.
Long ago, there was a counter-voice in the newspaper belonging to Gerald Heffernon.  However, a weekly voice countering a five per week campaign is not exactly even footing.
But then again, and this is before my time in observance, I have been told that the exchanges between Bob Dunning and Gerald Heffernon became so bitter that Debbie Davis actually forbade them from writing about each other.
In my view then, the best solution is not censorship, but engagement.  That did not properly come across in the column on Sunday and that is my fault and my responsibility.
In a newspaper setting, however, to allow one voice with a specific point of view to dominate the conversation is problematic to speech and discourse – especially in cases where one side fears retribution.
Whenever I ask someone why they have not responded to Mr. Dunning, I always get some version of Mark Twain's admonishment not to get into a dispute with someone who buys ink by the barrel.  That said, that's probably a 19th century warning that may be overdue to be updated.
Running from engagement and toward the perception of censorship was not my only mistake.
In addition, I wrote, "The truth is that this has always been personal for Bob Dunning.  He has led the opposition against the water project and CBFR because he sees himself, in his rather unusual situation, as being heavily disadvantaged by the project in a very personal way."
While that had certainly seemed to be the case in some of his earlier articles, where he mentioned the impact on larger families, it is not necessarily true now or then.
As Matt Williams would explain after repeated discussions with Mr. Dunning, he believed that Mr. Dunning was motivated not by a personal stake in the process, but by the overall unfairness, as he sees it, of the system.
I think that is accurate and I think it was a mistake to impugn motivations in a political discussion.  My better response was in Wednesday's column where I lay out, I think pretty clearly, the basis for my belief that CBFR is the more fair rate system whether you support the surface water project or not.
That is the way to approach it.  Personal motivations, frankly, should not matter anyway.  After all, if your argument wins the day, who cares why you made it?  Right?
I am finally starting to feel better and I pledge to do better in the future, trying to make my points.
—David M. Greenwald reporting