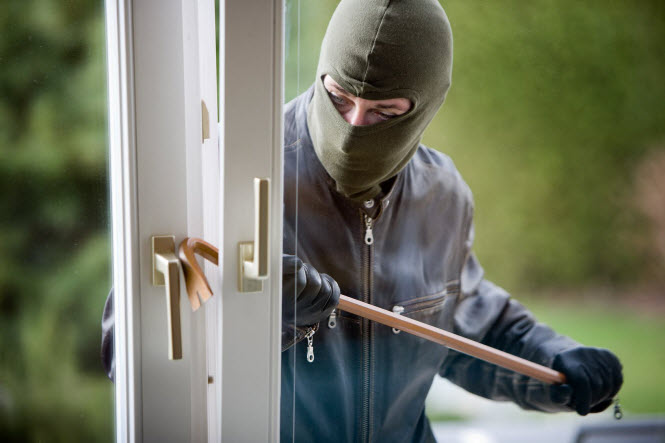 Davis residents have been increasingly alarmed by a string of burglaries this year.  A few weeks ago, the Davis Police reported on Sunday, February 10, that four residential burglaries and one attempted residential burglary occurred between 4:30 am and 9:30 pm.
The police at that time reported, "Since January 1, 2013, there are been 41 reported residential burglaries in the City of Davis. The burglaries are taking place citywide and continue to have a pattern of entries being made through unlocked doors, windows, and sliders."
"All of the burglaries that occurred on Sunday took place while residents were either at home or sleeping. Thieves continue to target electronic equipment, credit cards, and wallets."
The police put out a notice, "The Davis Police Department continues to urge people to take these preventative measures to lessen the chances of being victimized: Make sure all windows, doors, garages, side gates, etc. are closed and locked when not in use. It is also suggested, keeping doors locked when you are home."
They wrote: "This point has been repeated many times before, but DPD continues to see a high number of unlocked entry points among our residential burglaries."
The police added, "Report any suspicious activity such as persons walking or driving up and down your street, checking for unlocked doors and/or looking in windows, backyards or vehicles. Vehicles 'cruising' your neighborhood at very slow speeds or sitting in a vehicle for extended periods can also be signs of suspicious activity."
Other incidents have alarmed people, as well.  On February 23, a woman left her apartment on Alhambra Drive at 5 am when two men grabbed her, forced her inside her apartment and took turns raping her.
Last Friday, at 10 pm, a man ran up behind and grabbed a 17-year-old female who was walking west on Cowell Boulevard near Koso Street.
"The female victim screamed and fought back against the male who had a hold of her shirt," the Davis Police reported. "During the struggle, the male subject grabbed the female's buttocks. The female victim continued to scream, and fought back which forced the suspect to flee east on Cowell Blvd. The female ran west on Cowell Blvd. while calling 9-1-1."
The rash of assaults and burglaries has prompted calls for the city to add police officers, increase patrols, and has spawned calls for neighborhood watches.
Police Chief Landy Black told the Davis City Council a few weeks ago that it is difficult to tell from the data whether we are actually seeing the start of a new trend or whether this is simply a periodic spike.  He pointed out that there have been other times in the recent past where there was a rash of crimes, but when examined over the course of a year, crime was actually down overall.
Toward that end, the Vanguard requested data to analyze the current crime trends.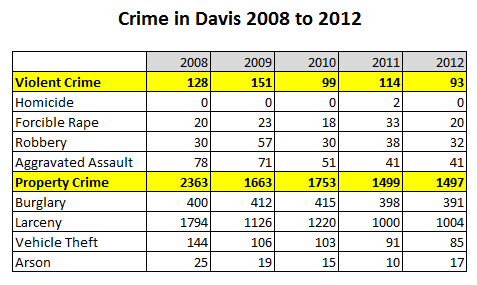 The first chart shows that over the last four years, ending in December of 2012, the key crime stats are actually down in 2012 over previous years.  Violent crime hit a five-year low in 2012, as did property crime.
So the question is whether something has changed in January and February of 2013.
To analyze that, we look at four-month intervals since 2009.

What we see are that rape and assaults are actually slightly lower.  Larceny is well down, over the peak in 2009-10.
However, burglary has increased, and rather significantly, in the last four months over previous periods.
Police officials told the Vanguard that the recent increase of burglaries follows a fairly typical pattern in Davis, in that we have intermittent spikes in certain types of crimes throughout the year.  But by the end of the year, in general, these patterns even out.
It is worth noting that the burglary report that we ran to lead this article came on February 11, nearly four weeks ago, but the Davis Police report that it "appears the South Davis burglaries have come to a stop."
They say that they have made some unrelated arrests and believe that they got some of those involved in these burglaries.
Police officials are concerned about some the reports, but they believe it is too soon to see what is really going on.  In general, they believe that things are no better or worse off than they have ever been in Davis.
Right now, the city's budget is such that they lack the resources to put additional police personnel on the streets.
The police have noted that many of the burglaries occurred through unlocked doors and open windows, and have urged people take precautions to avoid becoming a victim of what appears to be a rash of easy-access burglaries.
—David M. Greenwald reporting