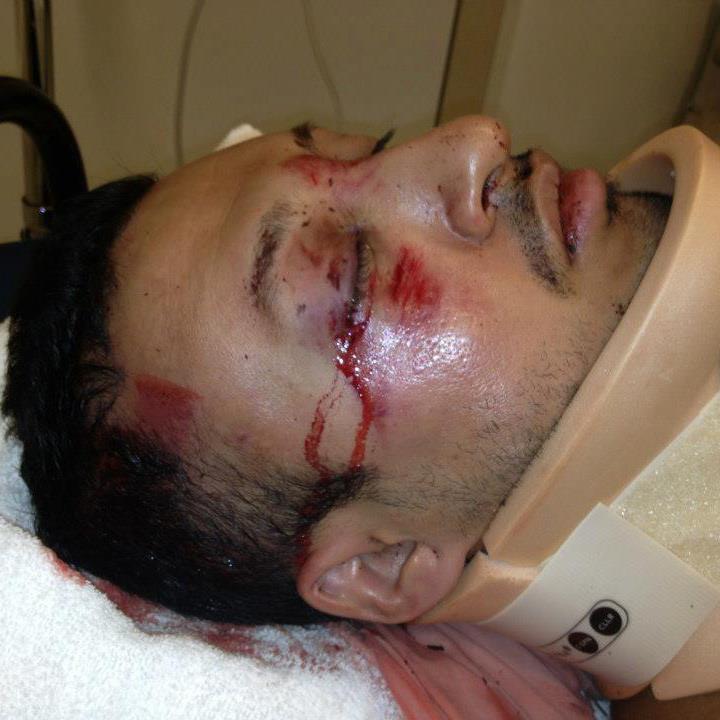 Police on Thursday afternoon have announced the arrest of 19-year-old Clayton Garzon, a Davis resident. Garzon was taken into custody on March 14, 2013, without incident.
Mr. Garzon has been arrested and booked in the Yolo County Jail, charged with assault causing great bodily injury; committing a hate crime; assault with a deadly weapon; stalking; committing a felony while on release from custody; and inflicting great bodily injury during the commisssion of a felony.
EARLIER STORY: Attacker Knocked on the Door to Brag About the Hate Attack on Davis Man
The Davis Police have identified a suspect in the brutal beating of Mikey Partida, a 31-year-old Davis resident and 2000 graduate of Davis High, who works as an employee at the Davis Food Co-op.  The police have yet to make an arrest in the case.
A Facebook page that has been set up this week to share information about the incident asks "that anyone in possession of any details about the assault please refrain from publicly posting information at this time."
They continue, "We will no longer be sharing any explicit details of the incident or the extent of the physical injuries Mikey sustained to protect fidelity of the criminal investigation."
Earlier posts describe that Mr. Partida had attended a party at his cousin's apartment and apparently left his keys there and returned to retrieve them, "when a man began kicking and beating him while yelling homophobic slurs."
He suffered a fractured skull, bleeding on his brain, multiple fractured bones in his face and a laceration to his head that left a pool of blood on the lawn where he was beaten.
According to his family, the bruising and swelling around his eyes is so bad he still has not been able to open them, along with having a cut under one eye that went all the way though the lid. The trauma to his ear was so severe it caused his ear to swell three times its normal size and it had to be lanced to release the pressure.
The family claims that he was not in a fight or doing anything wrong, and they believe his only crime was being gay.
According to the official police report, at approximately 3:50 am, the Davis Police Department received a 9-1-1 call requesting an ambulance and the police to the 300 block of I St.
When officers arrived, they found a male subject who had sustained moderate to major injuries and was unconscious.
In addition, a second male subject was located with minor injuries. Although the investigation is continuing, officers were able to determine that there was a physical altercation that took place in the front yard of a residence where a house party had just finished.
The unconscious male was transported to the UC Davis Medical Center, where he remains hospitalized. The second male subject refused medical treatment.
"Based on statements from the residents, the Davis Police Department is investigating this incident as a possible hate crime," the report said.
The victim's mother posted on the Facebook site, "I wanted to express my gratitude for the huge support we have received. Every time I look at my son I think of every victim that has been assaulted for their race, religion, sexual orientation, or gender and how they are someone's baby and my heart aches for all those moms."
She wrote, "He seems to have turned a corner today and is talking and moving. He will have a long recovery – the doctors have mentioned perhaps a skilled nursing facility but we are hoping that he will be able to go home [as soon as] possible."
"He is still very anxious and I think it is tragic that he worries about walking the streets he grew up on," she continued. "However, the love he has received affirms the goodness in the world and without all of your gestures the sadness would be too much to bear."
Mr. Partida told News 10 in Sacramento that there was absolutely no question that he was attacked because he was gay.  Those with him said that the attacker called him a gay slur, the f-word, several times during the attack.
"I was just trying to make the right choice in a bad situation," he told News 10 from his hospital bed at the UC Davis Medical Center.
He was walking with a group but forgot his keys and had to back. Before that point, the attacker was already yelling slurs at him according to Mr. Partida's cousin, Vanessa Turner.
"He just continued, getting closer and closer, and then he just punched me," Mr. Partida explained.
"The slur used begins with the letter 'F' and is a nasty term for homosexuals. Partida said the attacker was saying it over and over again while beating him," News 10 report.
"Pretty loud and proud about it," Mr. Partida said. "He just kept fighting me and fighting me until I blacked out. And then I came to and was here."
Ms. Turner told News 10 that after the attack, the attacker knocked on the door to brag about what he had done.
Meanwhile, the family is asking for help.
"While the immediate challenges posed by the severity of his physical injuries are clear, the long-term impacts of PTSD are not. Consequently, we are in the process of seeking legal representation to secure every possible resource and support necessary to facilitate his recovery and healing," his mother wrote.
"I have since learned that in addition to a pre-existing history of violence, his attacker will have no trouble securing very good legal help. While I know it is difficult for him to accept monetary assistance (he has worked since he was ten) we are asking for contributions to ensure that this tragic and senseless, animalistic act, is immediately redressed," she wrote.
The family has set up a Facebook page where people inclined to help can donate to the cause.
—David M. Greenwald reporting