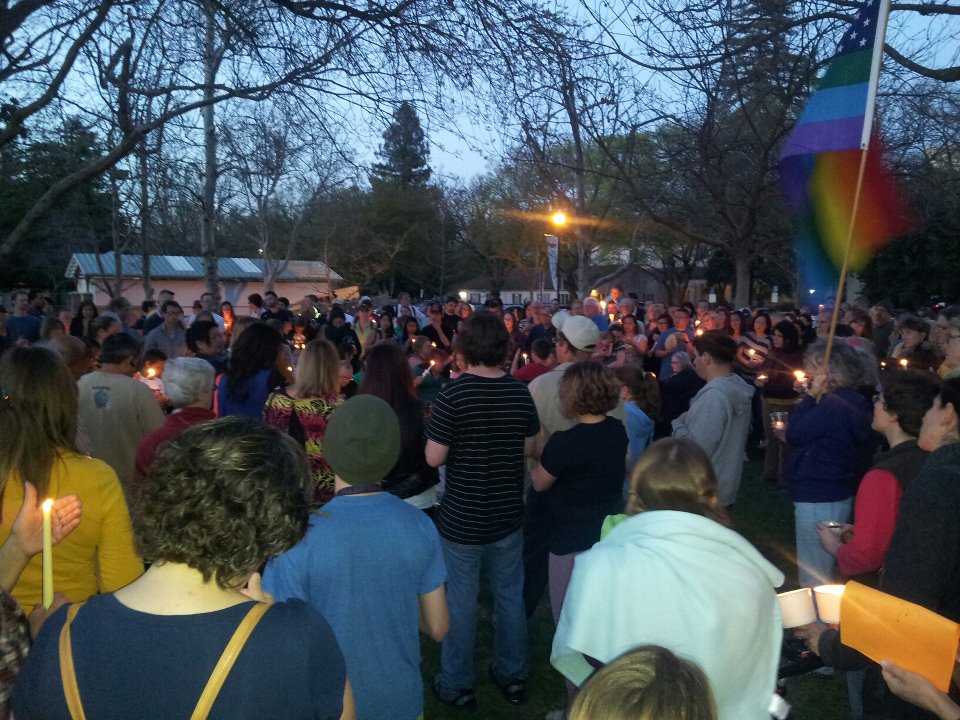 I do not often pay much attention to the "What do you think?" section of the local paper.  In fact, I do not believe I have ever written a column on it.  But the one today, asking about the hate crime beating, caught my attention.
In fairness, the question was not framed as well as it could be: "Did the recent hate crime beating change your opinion of Davis?"  The problem with it is that you could think that this type of thing always occurs and it would just reinforce your view of Davis, and you could think this is an outlier and therefore discount it as having any meaning.
So it is not surprising that no one's view of Davis was changed by this incident – or at least none of the six people that were interviewed.
Only the yoga teacher, however, really seemed to grasp that there is a problem here.  She noted, "No, because there was (an incident) years ago, when a group of boys pushed another boy in front of a moving train. … It seems we need an outlet for young boys to learn to respect other people and not harm them."
Most of the others seemed to think this was simply an exception.
One person, described as a UC Davis graduate living in Davis, said, "I've been in Davis for a couple of years now, and that's just not the environment I feel like we live in. It makes me feel sad."
A business owner from Vacaville: "No, it didn't change my opinion, because I think it's just one incident. We're all different, and some people think different. So we just have to be cautious. We have to look out for one another."
A business owner from Davis, "I've worked in Davis for 30 years. One incident – about anything – is not going to change my view."
On the other hand a student said,  "It doesn't really matter where you are, stuff like that still happens."
Finally a self-described student said, "I know the accused and I don't think that's what actually happened. I don't think it was actually a hate crime."
This incident does not change my view of Davis, it reinforces it.  My view of Davis is that this is a community where people like to believe they are progressive and tolerant, they vote for Obama at an 85% clip and are proud of it.
Beneath that surface, however, is a darker underbelly.  Whether it's Andrew Mockus, Thong Hy Huynh, or any number of lesser incidents, some that we have covered and some that happened before the Vanguard's time, this is a community where periodically hate emerges from that vein of tolerance.
My friend Bill Calhoun likes to talk about the 1970s and the Davis High students who dressed up in KKK outfits at a basketball game.
There was the string of racist graffiti at UC Davis, the attack on the Hillel House, the gay man attacked with eggs, or the African-American harassed by students in the neighborhood.
Even former Mayor Pro Tem Rochelle Swanson told tales of her sons and their family facing harassment in South Davis.
I do not believe, as some have suggested, that Davis is an incredibly racist or homophobic community, but I do believe there are more problems than some people want to acknowledge.
The fact that several of the responses seem to suggest that this is an isolated incident, however, concerns me.  The extreme nature of this incident has captured our attention and rightfully so, as the severity of the attack is certainly not an everyday occurrence.
However, to suggest that this is just one incident, that this is not the environment I feel we live in, and that this one incident does not change our views of Davis, I think is problematic.
I am working to get data from the Davis Police on hate incidents, but it seems like every year we have a few that draw our attention.  And yes, I am folding hate incidents that involve race into hate incidents that, like this one, are anti-gay.  But at the end of the day, I believe we have a more significant problem than one hate incident would suggest.
One of my concerns that I have is that Davis is a changing community.  Twenty years ago, in a statistic I have cited a number of times already, we had a student population in the K through 12 schools that was 75% white, while now we have a 42% minority population.
That's still far lower than surrounding areas, but within our little enclave that represents a drastic change.  At last December's Breaking the Silence of Racism, even one of the themes that kept recurring was the treatment that racial minorities faced in the Davis schools.
Now we have a very violent incident that occurred involving a recent graduate from our school system.  That follows the noose incident from last June that was hung from the football goalposts at Davis High School.
I do agree with the business owner, however: "We're all different, and some people think different. So we just have to be cautious. We have to look out for one another."
That part I can agree with.  But the idea that this is just one incident – I don't think it is just one incident, I just think it is the most vicious of the incidents in recent years.
—David M. Greenwald reporting