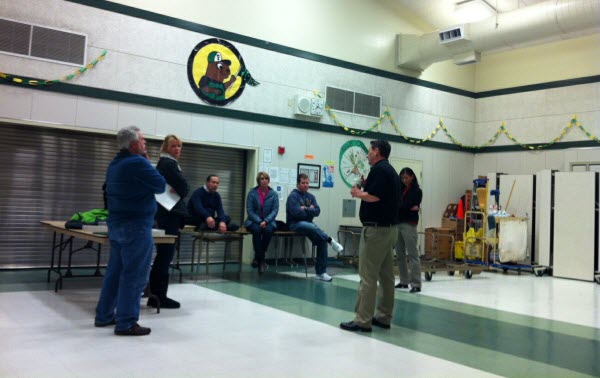 Back in May of 2009, the Vanguard wrote an article entitled Why Do Firefighters Make Substantially More Than Police Officers in Davis?.  The article not only reports on the discrepancy in pay, but the questions that then Councilmember Lamar Heystek asked of then City Manager Bill Emlen.
This week, we have learned that the pay discrepancy persists.  According to city records, a firefighter in the city of Davis makes $7,748.10 per month in salary, while the police officer makes $6,752.37 per month in salary.
This is the base salary.  It does not include the tens of thousands of hours of overtime, their pensions, their health care, their retirement health care, or their cafeteria cash outs.
Compare that to Woodland, where police officers and firefighters make about the same in salary compensation.
In fact, in Woodland, a police officer makes $6,782.62, about the same as in Davis.  However, a firefighter in Woodland makes just $6,536 – or $1,200 less per month than the police counterpart.
If you calculate the monthly differential of $1,000 out to a full year, that's a $12,000 discrepancy multiplied across dozens of personnel.  That discrepancy alone accounts for over $400,000 – or well over the amount of savings the personnel reductions would save.
In other words, as we noted earlier this week, if firefighters agreed to take concessions and make what police officers in the city of Davis make, the city might not need to reduce staffing.
However to understand the true story here we need to look toward the why.
The why starts with a look at the MOU signed back in 2005 by the firefighters.  Back then, the firefighters signed a four-year agreement that would give them a whopping 36% salary increase.  That does not include overtime, pensions, health insurance or any benefits; that is a straight salary increase, including a 10% salary increase in 2005.
The police, on the other hand, got a much more modest 18% pay increase including a 6% pay increase in 2006 to 2007.
You might ask, why such a big pay increase?  The answer is political influence.  In the year 2000, firefighters contributed a modest $1775 to council candidates.  In 2002 that number shot up to a still-modest $3189, but in 2004, firefighters gave a whopping $10,900 in direct contributions and another nearly $1500 in the form of an independent expenditure.
That was the start of the disproportionate political influence by the firefighters, that saw the local firefighters union contribute nearly $42,000 to council candidates directly and indirectly, as compared to $8900 by police.
The result of that political influence is that salaries, that in 2000 were nearly identical, became heavily swayed toward firefighters after the 2005 MOU.
The stunning aspect of that contract is that in 2004 the council passed a half-cent sales tax that was sold to the public as necessary to prevent cuts to parks and public safety.  A year later, the council took that approximately $3 million in revenue and simply gave it to the firefighters in the form of the salary increases.  The four-year increase in salary over the course of that MOU nearly matched the annual revenue generated by the sales tax.
From 2002 until 2008, firefighters elected 7 of the 9 councilmembers.  Only Lamar Heystek in 2006 and Sue Greenwald in 2008 were elected over that time without firefighter endorsement, but in 2010 that well went dry when Joe Krovoza announced he would not take money from entities that the city would be dealing with.
In 2010 and 2012, no one took firefighter money or endorsements.
Some people want to put the blame on the council, arguing that it is the job of the union and the union leadership to push council to ask for raises and better contract.  They argue it is not the asker that should be admonished, but rather those who say yes or no.
But that viewpoint overlooks a critical flaw.
As Rich Rifkin wrote on the Vanguard this week: "The fire union has not simply been 'asking' for more money and better benefits and the rest. The fire union has been actively corrupting every member of the city council that it could, with massive amounts of direct contributions and equally massive indirect efforts, in order to get pliant members of the council to hand them everything including the kitchen sink."
We may choose a less loaded term than corrupt, but the fact is that the firefighters used their influence to elect members to the city council who would do their bidding – councilmembers who would support four firefighters on an engine, support 3% at 50, support a fourth fire station, support huge pay increases, support phony bait and switch cost-cutting efforts like the battalion chief, and who would look the other way on a 3-2 vote as the firefighters commit serious wrongdoing.
The firefighters did not simply ask for these things, they created a system where they would get these things.
So, now that their well has dried up, they are complaining that they were left out of the process when former Interim Chief Scott Kenley audited the fire department and created a new staffing model.
Bobby Weist, the union president, and his membership have been trying to rally the public to their side, holding a public meeting with scant attendance and directing people to write the council.
But what Mr. Weist did not tell the few people who came to Pioneer Elementary is that the city has a budget crisis.  They were forced to make $8 million in cuts this last year.  They have a growing crisis with deferred infrastructure maintenance on things like roads.
But most importantly what Mr. Weist never said is that the firefighters union is one of only two bargaining units in the city that have not taken their concessions.  So they want to fight staffing changes without taking their fair share in pay cuts.
There is a way that they can avoid the reduction from 12 to 11 firefighters – they can take the same salary as police officers.
But, in a way, reducing the number of personnel from 12 to 11 does not go nearly far enough.  Most stations in California manage to serve their public quite well with three on an engine.  As we have shown, Davis has one of the lowest rates of calls for service per capita in the state, and an even lower number of fires per capita.
If we reduce the shift size from 12 to 10, we can save nearly three-quarters of a million per year.  That is money that can go to pay for our neglected roads and other infrastructure that we have deferred payments on because of the huge salary increases the firefighters got nearly a decade ago.
But your representatives in city hall need to hear from you.  If you support sensible staffing reductions in the fire department, contact the city council and let them know.  It is time that we take back our government from the excesses of the last decade.
—David M. Greenwald reporting