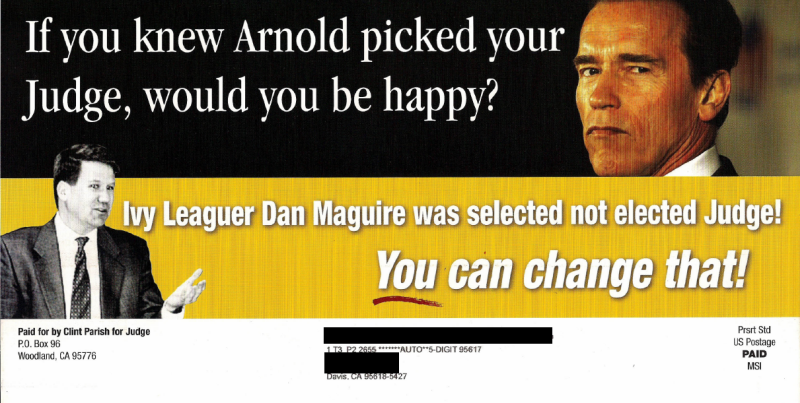 In February, the State Bar of California filed disciplinary charges against a Yolo County attorney for allegedly failing to comply with ethical rules while seeking judicial office. Clinton Parish, 41, is accused  by the California Bar of making misrepresentations about himself and his opponent in the May 2012 election for Yolo County Superior Court.
According to the complaint, in May of 2012, Mr. Parish was seeking judicial office against incumbent Judge Dan Maguire when, through campaign advertising, he made a number of misrepresentations regarding his opponent.
The State Bar charged, "Parish's campaign materials falsely asserted, among other things, that his opponent was "involved in a sordid case of corporate fraud that involved payment of bribes in Russia."
Mr. Parish's campaign website erroneously claimed that he had been endorsed by the Winters Police Department, and his yard signs gave the false impression that he had judicial experience.
In his response, Mr. Parish admits in part and denies in part.  He argues he did not know that the assertion that his "opponent, while in private practice, was involved 'in a sordid case of corporate fraud that involved payments of bribes in Russia…" was knowingly made "with reckless disregard for the truth."
He said, "Respondent did not know at the time of publishing that the information on the mailer was false."
He argued that he accepted "responsibility for the mailer immediately and publically by informing members of the press of the incorrect statement."
He continued that he "trusted the people working for the campaign as well as their judgment" and that up until this mailer he had "no reason to challenge the judgment of the campaign workers," that "they were providing [him] with valuable advice."
Mr. Parish said that the "Respondent worked with two consultants who advised him that this information was correct and a valid subject for a judicial campaign. One was a paid consultant, Aaron Park. The other was a non-paid consultant, Kirby Wells."
Mr. Parish wrote that Mr. Wells "initially gave the campaign a synopsis of an article implicating opponent in a case that involved agreeing to give bribes. Respondent provided to the State Bar Investigator the e-mail received from Wells on this subject."
He continued, "Both Wells and Park indicated that the campaign should use the information from the Russian situation as part of a mailer. They were both strongly in favor of using that information."
Mr. Parish argued, "Respondent believed that since he was a neophyte in this arena and they were both heavily experienced, that their determination was valid. Respondent based final decision to use the material based on the information received and the opinions of both consultants."
He added, "At the point in the campaign where it was time to put mailers together, Respondent's main focus was on raising money by making phone calls and attending fundraisers as well as meeting the voters by walking precincts."
Clinton Parish argued that when he found out the mailer was incorrect, he dismissed the paid consultant and gave "statements to the media regarding the information being incorrect, within 3 days of mail arriving, nearly one month before election."
He stopped campaign activities at this point.
"Respondent understood that this was a local story that was popular in the Yolo County media," he said.  "Respondent has since moved himself, his wife and four children from Yolo County. Respondent didn't know what effect my campaign would have on the judicial system in Yolo, but knew he did not want to be responsible for injustice being done, so he moved."
Canon 5B(2) of the Code of Judicial Ethics adopted by the Supreme Court in 1995 states: "A candidate for election or appointment to judicial office shall not…knowingly, or with reckless disregard for the truth, misrepresent the identity, qualifications, present position or any other fact concerning the candidate or his or her opponent." Failure to comply with Canon 5 is a disciplinary offense under rule 1-700(A) of the Rules of Professional Conduct.
Contrary to Clinton Parish's defense, Mr. Parish actually failed to accept immediate responsibility when the incident occurred.  In fact, he attempted to stand by the allegations until he could no longer, at which point he pinned the blame on his staff rather than himself.
The flier attacked Dan Maguire, who was said to be "part of Arnold's inner circle, Dan Maguire was part of Arnold's legal team that made decisions including commuting the sentence of convicted murderer Esteban Nuñez…"   Later in the flier it said, "Dan Maguire received a political appointment (never elected) and took the bench only three weeks before Arnold's last-day Commutation of Esteban Nuñez' sentence."
When the Vanguard inquired about substantiation of this charge last spring, Kirby Wells, campaign communications for Clinton Parish, pointed toward this You Tube video of the Santos Family, the victim's parents.
However, Dan Maguire was appointed to the bench of Yolo County on October 18, 2010, while the commutation occurred at the last minute on January 2, 2011.
For his part, Dan Maguire told the Vanguard that he had no involvement in the decision to commute Mr. Nunez's sentence and only learned about it on TV.
Meanwhile, Mr. Parish backed off the entire charge when he spoke to the Davis Enterprise, which paraphrased him as saying that "the ads don't claim that Maguire played a part in the reduced sentence."
"The point is that he worked for the legal team that made that and other bad decisions," he said. "It really goes to show, you are a product of the offices you work for.  Right or wrong, it's the truth, and people judge me based on what I and my office have done."
This was Mr. Parish's immediate response, but he was already in hot water.
The Bee issued forth a scathing editorial, arguing "Parish shows he's unfit to be a judge."
In it they argued: "Parish didn't apologize for making the mistake. Instead, he sought to shift blame, telling the Bee that the campaign worker who gave him the information no longer works for the campaign.  He didn't identify the individual."
"On Wednesday, Parish continued to defend his lowdown hit piece, although he did back off, somewhat, from an allegation that as a private attorney, Maguire somehow was involved in a case involving a bribe," the Bee writes.  "Lamely, Parish told the Bee that the connection wasn't as close as he had been led to believe. The allegation is, in fact, false. Parish should have said so."
The State Bar charges, "By knowingly or with reckless disregard for the truth, misrepresenting facts concerning his opponent, by knowingly misrepresenting his qualifications and endorsements as a candidate, and by knowingly utilizing false and deceptive campaign materials, during his campaign to be elected judge, respondent failed to comply with Canon 5 of the Code of Judicial Ethics while seeking judicial office by election.
Parish was admitted to the State Bar in 2000 and has no public record of discipline.  The case is being prosecuted by Deputy Trial Counsel Robert A. Henderson.
The Vanguard learned in November that Clinton Parish, who was on leave since the election, had taken a Deputy District Attorney position with Tuolumne County.
—David M. Greenwald reporting