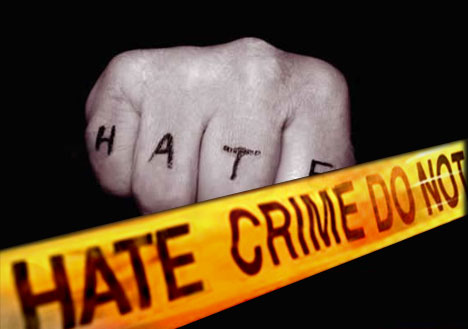 The crime is stunning – around 3 am on Sunday morning a young man was violently attacked, beaten nearly to death.  He suffered a fractured skull, bleeding on his brain, multiple fractured bones in his face and a laceration to his head that left a pool of blood on the lawn where he was beaten.
According to his family, the bruising and swelling around his eyes is so bad he still has not been able to open them, along with having a cut under one eye that went all the way though the lid. The trauma to his ear was so severe it caused his ear to swell three times its normal size and it had to be lanced to release the pressure.
The family claims that he was not in a fight or doing anything wrong, and they believe his only crime was being gay.
According to the official police report, at approximately 3:50 am, the Davis Police Department received a 9-1-1 call requesting an ambulance and the police to the 300 block of I St.
When officers arrived, they found a male subject who had sustained moderate to major injuries and was unconscious.
In addition, a second male subject was located with minor injuries. Although the investigation is continuing, officers were able to determine that there was a physical altercation that took place in the front yard of a residence where a house party had just finished.
The unconscious male was transported to the UC Davis Medical Center, where he remains hospitalized. The second male subject refused medical treatment.
"Based on statements from the residents, the Davis Police Department is investigating this incident as a possible hate crime," the report said.
Police believe that the victim, in his thirties, may have been targeted due to his sexual orientation.
Additional information is that the victim, while suffering injuries, may be released from the hospital in a few days and may not suffer any lasting disability.
Police have not made an arrest, but one report has it that they have a known suspect.  An official at the police department indicated that additional information may be released shortly.
—David M. Greenwald reporting