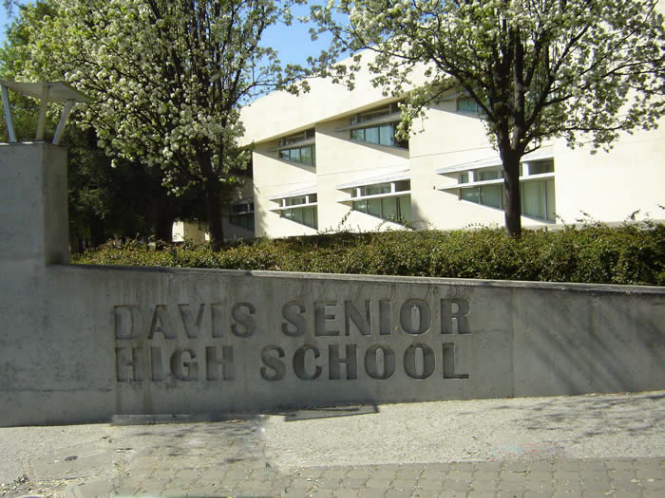 On Thursday night the school district made the formal decision to pull back on the idea of reconfiguration – moving the ninth grade to Davis High School – and instead embarked on a broader concept of a consultant-driven strategic plan that would guide overall academic planning for the next years.
This would go well beyond reconfiguration, a notion that was floated in January that became a lightning rod of panic for many in the school system.
It was an unfortunate sequence of events, but Gina Daleiden seemed to acknowledge this on Thursday night.
"On any given day, I wish I'd used a different word than I used (in January)," Gina Daleiden said at the meeting on Thursday. "But I will say that I believe we said multiple times this is a discussion; it's an exploration of options given the financial duress we were under and that it included (the possibility of a four-year high school)."
Ms. Daleiden pulled back first on Facebook, noting that the meeting for last week was not intended as a way to move forward with reconfiguration.
She wrote that Superintendent Roberson "will NOT be asking us for a vote on implementation of any particular model. The (meeting) will be a workshop to understand information staff has collected and analyzed thus far, but that information is not complete. Community input would be one of those pieces yet to come."
Board members Gina Daleiden and Tim Taylor proposed a community body, similar to the city of Davis' Water Advisory Committee, as a way forward.
As Ms. Daleiden and Mr. Taylor write on Sunday, "The Davis Board of Education directed staff to look beyond the status quo to explore multiple options for reconfiguring our school structure to provide academic and programmatic benefits, while generating fiscal efficiencies that could be re-invested in programs for our students across the District."
They acknowledge that "asking questions about possibilities for large-scale change is sensitive, and our community needs and deserves the clearest communication and best information during the process. We would like to make this discussion community-based, transparent, and easily accessible, so that rumor and anxiety levels are reduced."
What they ultimately float is the idea of a WAC for the school reconfiguration – "a Board-appointed, community advisory body, one that reports directly to the Board and is bound by the State's open meeting law, the Brown Act. This schools advisory committee could take the information presented by District staff and others to build and evaluate models of program change and fiscal investment."
However, while there may have been two votes for that approach, there were not three votes.  As one board member commented to the Vanguard following the meeting, the board is really in five different places on this issue.
Others were more positive and noted that there was real consensus now to move forward on a district-wide planning process.
There is a belief that the district is sorely in need of a comprehensive strategic plan that has significant community input and involvement.
This is, of course, something that most reasonable people can agree with.  There is a very real belief that the district, while in survival mode for the last five or six years, has largely put its efforts into acquiring the funding to maintain the programs.
However, in the long term, the district needs to move forward, evolve, find ways to do things more cheaply, more efficiently.  There has been no planning.
It was heartening to hear newly-elected board member Nancy Peterson acknowledge that, while this is a good school district, it does not work for all students.  She was referring to the achievement gap, and the differences in the educational programs from elementary school to elementary school.
These are the types of programs and planning that have largely not happened during the years of fighting for funding, and working to keep what we have.
This is all a good outcome, though we remain leery of the notion of a consultant-driven process.  We have tremendous community resources in this community.  We saw it with the WAC process and the ability of community members to not only assimilate large amounts of highly technical information, but actually to be a positive part of the planning and development of a highly innovative rate structure that is unique to Davis.
We have a community of highly-educated parents, many of whom are educators in higher education, and we need to tap into those kinds of resources to develop something that is not only good, but innovative, forward-thinking and unique.
At the same time, we have to go through this angst every single time an idea is floated that perhaps is not carefully crafted.  The board members on Thursday acknowledged the angst and anxiety this idea caused many in the community.
The incomplete flow of information and the lack of clarifying information until weeks into the process created a lot of unnecessary anxiety.
Reconfiguration turned out to be a hot-button issue.  It became a third rail and it might not be the best way forward.  Now we can step back, and hopefully allow cooler heads to prevail in the process.
But the key is community involvement.  It must be broad-based, and it must allow for proper vetting and dialogue before an idea reaches the proposal stage.
It is a tough line to toe, in part because the Brown Act so limits discussion between board members.
One alternative to the current plan may have been a board retreat with a professional facilitator to get everyone on the same page.  But it seems the current plan has enough vagueness, and yet substance, to move forward.
Where we end up now will depend upon the leadership and vision of the current board.  One thing I think is clear – we need to move forward and we need some bold and very innovative changes to our schools.
—David M. Greenwald reporting