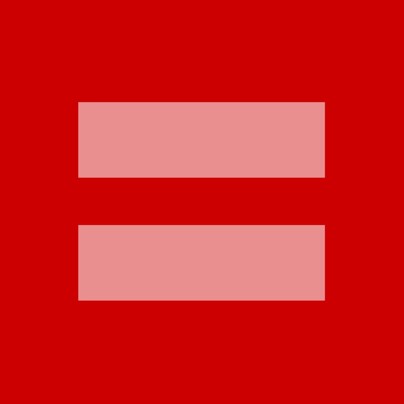 It seems a number of people, in arguing against marriage equality, believe there is a broader agenda at work here.  Leaving aside the untenable logic of the claim that you might oppose a reasonable reform because you fear the next reform will be less than reasonable, I think marriage equality has taken on a symbolic importance in the broader movement toward civil rights for all.
While I believe marriage equality is an important step, as it begins to equalize critical institutions, and gives same-sex partnerships the same legal status of protection that others enjoy, at the same time I believe it might not even be the most important of changes still to be achieved.
Late in 2012, the FBI released their report on hate crimes statistics for 2011 that showed, while hate crimes for racial bias continue to dominate with 46.9% of 6216 single-bias hate crime incidents in 2011, sexual orientation bias grew from 19.3 percent of all bias incidents to 20.8%, passing up religious bias.
And while all hate crime incidents were down in 2011 over 2010, the absolute number of hate crimes increased (by only 16) for sexual orientation bias.
"The 2011 FBI hate crimes data is a sad reminder that even as we make great strides toward equality under the law, LGBT people face dangers in America," Human Rights Campaign President Chad Griffin said in a statement. "We must rid our country of the violence that has devastated our community for far too long."
That issue came slamming home for Davis residents early last month when Mikey Partida was viciously attacked by Clayton Garzon, with Mr. Garzon yelling the "f-word" as he badly beat Mr. Garzon, leaving him with head injuries, resulting in a brief hospitalization.  Mr. Garzon is now being charged with a hate crime enhancement on the three key charges against him.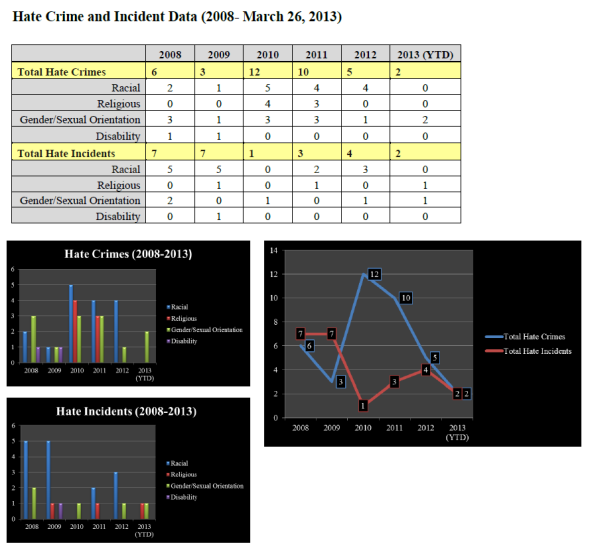 The Vanguard received hate crime data over the last five years from the city of Davis.  And while this is not a frequent occurrence, the number of hate crimes peaked in 2010 and 2011 in this period and fell markedly in 2012.  But there have already been two hate crimes in the city of Davis this year, and both of them involved sexual orientation issues.
But if there is a gay agenda, it is not limited to the issue of hate crimes.
There is the related issue of bullying.  Some studies show that "about one fourth of all students from elementary age through high school are the victims of bullying and harassment while on school property because of their race, ethnicity, gender, disability, religion or sexual orientation."
In a 2005 study about gay bullying, teens reported that the top reason for the bullying was appearance, followed by their actual or perceived sexual orientation or gender expression.
Bullying issues also lead to another frequent problem – suicide and suicide attempts.
A 2011 study published by Dr. Mark Hatzenbuehler in Pediatrics conducted a study "to determine whether the social environment surrounding lesbian, gay, and bisexual youth may contribute to their higher rates of suicide attempts, controlling for individual-level risk factors."
Dr. Hatzenbuehler found, "Lesbian, gay, and bisexual youth were significantly more likely to attempt suicide in the previous 12 months, compared with heterosexuals (21.5% vs 4.2%)."
Important for those interested in intervention: "Among lesbian, gay, and bisexual youth, the risk of attempting suicide was 20% greater in unsupportive environments compared to supportive environments. A more supportive social environment was significantly associated with fewer suicide attempts, controlling for sociodemographic variables and multiple risk factors for suicide attempts, including depressive symptoms, binge drinking, peer victimization, and physical abuse by an adult (odds ratio: 0.97 [95% confidence interval: 0.96-0.99])."
He concludes, "This study documents an association between an objective measure of the social environment and suicide attempts among lesbian, gay, and bisexual youth. The social environment appears to confer risk for suicide attempts over and above individual-level risk factors. These results have important implications for the development of policies and interventions to reduce sexual orientation-related disparities in suicide attempts."
There are even groups and churches that actually practice trying to "undo" a person being gay.  I do not even have words to express my thoughts on this other than to suggest that Christians look themselves in the mirror and ask the simple question: is this what Jesus would do?
Despite the fact that Jesus taught to love the sinner while hating the sin, and despite the fact that everyone commits multiple sins on a regular basis, somehow there is a culture that has taught people to put one sin over another, to ignore the plank in their own eyes, to allow he who is without sin to cast the first stone.
So, yes, there is work to be done on fronts other than marriage equality.   As we have reported, the tide has turned in this country on marriage equality, but clearly a broader-based human rights agenda needs to address these types of problems that persist.
—David M. Greenwald reporting
*** The story of April Chadwell was removed, due to the fact that we believe it was a hoax