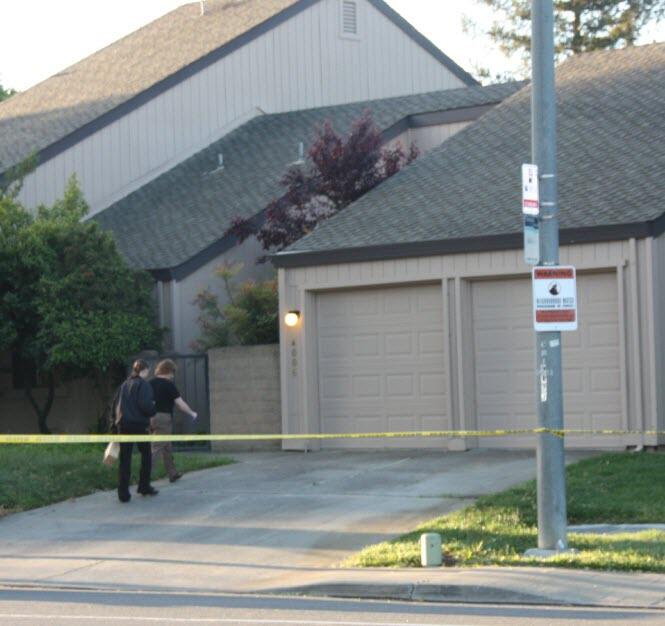 The police still cannot say much and are officially waiting for the coroner's report before identifying the body.  Early Monday, the Vanguard learned that the victims were 87-year-old former defense attorney Oliver Northup, and his wife Cluadia Maupin, 76.
According to the police's afternoon press release, they were both victims of stabbings suffered sometime over the weekend.  The police made entry into the home around 9:20 pm while conducting a welfare check instituted after family members contacted them, concerned that they had failed to show up to a Sunday afternoon musical performance.
According to Lt. Paul Doroshov, "There was a lot of trauma on the bodies."
However, while the police described a very bloody scene at the home on the 4000 block of Cowell Blvd, Lt. Doroshov told the media that the home "had not been ransacked" and that "we can't say this was burglary."
That Vanguard has learned that Mr. Northup was a prominent defense attorney and has tried a number of death penalty cases.
He was an attorney for 63 years, passing the bar back in 1950, practicing appellate law and giving seminars at the public defender's office.  According to the Bee, even now, at 87, he was continuing to work out of his home.
The Vanguard also learned that Mr. Northup and his wife Ms. Maupin were founding members of the Unitarian Universalist Church of Davis.  There will be a memorial in their sanctuary, Wednesday evening from 7 to 8 pm.
Memorial services will occur at a later point of time.
He was also a musician with a group called the Putah Creek Crawdads.  He began singing around 1961 when he took a few group folk guitar lessons through the Davis Art Center.
Retired Yolo County Public Defender Barry Melton told the Bee, "Northup played guitar and sang with the Crawdads, a Davis folk ensemble. Northup's last performance with the group was Saturday," and that the two performed together in the past.
The Bee reports that daughter Mary Northup had tried calling her father a number of times on Sunday, and had a brother visit the home.  She tried to visit, as well, and called the police to do a welfare check.
Mayor Joe Krovoza released a statement from Washington DC at 5 pm on Monday, "It's with great sadness that the City Council and I have received news of the deaths of Claudia Maupin and Chip Northup. Our hearts go out to their families, friends, fellow congregants at the Davis Unitarian Universalist Church, and the many groups in Davis they touched."
"While Davis achieves a high degree of safety through our police and the watchful eyes of all, we are not immune from terrible acts," he said. "Let us all redouble our efforts to protect our fellow citizens and give support to those who have suffered this irreversible loss. Our Council is staying well-informed on the quick and comprehensive response of our police, and our Police Department's efforts will not cease until the case is brought to closure."
While police have not declared this a burglary officially, they said there were signs of forced entry to the house.
"It was clear both victims suffered stab wounds, but the official cause of death is yet to be determined by the Yolo County Coroner," a statement read on Monday.
The Davis Police Department is currently investigating the two deaths as homicides. Investigators from the Yolo County District Attorney's Office, Yolo County Coroner's Office, West Sacramento Police Department, California Department of Justice, and the Federal Bureau of Investigations are assisting in this case.
"Homicides are a rarity in Davis. We understand the violent nature of this crime is a shock to our community. We will be fielding extra patrol officers as a preventative measure. At this point, a motive has not been established," the release said.
The Vanguard spoke with Lt. Paul Doroshov, of the Investigations Division of the Davis Police Department, on the scene early Monday  morning.  He said that, due to the ongoing nature of the investigation, there is little he can disclose at this time.
"I can tell you it's two adults," Lt. Doroshov had told the Vanguard, "I can't release a whole lot about the victim because we're still waiting on the coroner to do their thing and they've got to the notify the relatives and all of that."
Lt. Doroshov said they do not yet know the exact time that the murder occurred.
"I can tell you at 9:21 pm, our officers got a welfare request to do a check at that address," he continued.  "For whatever reason at some point they decided they were going to make entry because they were concerned.  When they did make entry they saw two adults deceased with extensive trauma."
Police said it was a very bloody scene and, again, there were signs of forced entry into the home.
At this point there is no suspect.  "We're pretty wide open on our options as to what could have happened."
The last murder in Davis was the murder of 42-year-old Kevin Seery which happened in the College Square Apartments on J Street on October 1, 2011.
Mr. Mings is on trial for that murder and the case is expected to resume in July after some delays.
That victim was reportedly suffering from a number of ailments which included diabetes, chronic pancreatitis, chronic hepatitis and pneumonia at the time of his death.  He stood at 6-1 but weighed just 133 pounds.
Mr. Mings confessed to the killing, turning himself in and claiming that Mr. Seery had asked him to kill him.
Mr. Mings put Mr. Seery in a choke hold and then stuffed a variety of items into his throat, preventing Mr. Seery from breathing.
After the coroner left Monday's scene in Davis, Lt. Doroshov said he expects there to be updates as new information can be released.
The Vanguard will post updates as new information becomes available.
—David M. Greenwald reporting