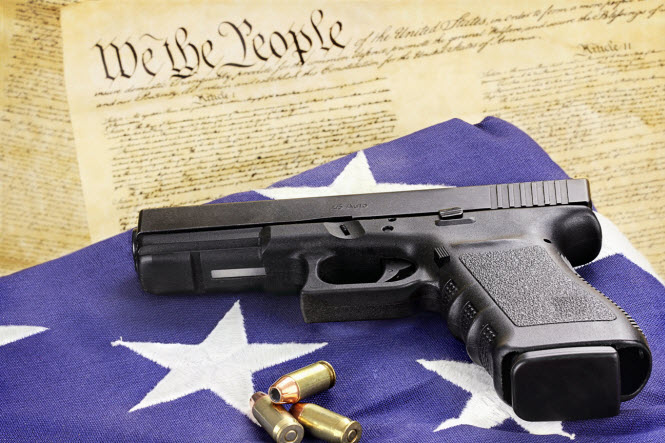 This week, lost in the furor over the Boston Marathon Bombings and the captivating manhunt on Thursday night and Friday, was the fact that Senators caved on simple legislation that nearly 90 percent of the population, including many members of the NRA, support: background checks.
While Senators gave way to cowardice, the city of Davis was torn asunder by a gruesome double-murder of respected citizens.  While police seem to have few leads at this time, from the facts that exist, a reasonable theory was that this was a burglary that went bad, that the burglar or burglars broke into the Cowell Blvd residence and were surprised to find the occupants at home, and the burglar then brutally stabbed the occupants.
This is all speculation and we could be 100 percent wrong here, but for the purposes of this discussion, forget about what we know or don't know.  This triggers a lengthy debate over whether the occupants, and citizens in general, should arm themselves… just in case the unlikely occurs.
For starters, let me say, I'm not a dyed-in-the-wool gun control advocate.  I see the idea that we can ban guns as similar to the failed idea of drug interdiction efforts.  Guns are too ingrained in the American cultural experience to reasonably ban them.
At the same time, I think gun advocates have too broadly interpreted the Second Amendment.   The First Amendment is very clear in its language that "Congress shall pass NO LAW," and even there, the courts have carved out exceptions for things like liability, defamation, threats, even obscenity.  The Second Amendment simply states that "the right to bear arms shall not be infringed."
Few people seem opposed to the idea that felons lose their right to own weapons, but the debate turns to how far we should go to determine someone is a felon before they can purchase a weapon.  And the NRA seems to take the untenable position that we simply should not check people's background before they purchase a weapon.
I go further than background checks, and believe we ought to regulate guns like we regulate automobiles.
While I am loathe to allow the government to control who has access to what weapons, I am also not a believer that an armed society is a safer society.  Police and military personnel are well-trained, not only in the use of weapons, but also in the rules of engagement and the law.  And yet, in chaotic times, they make mistakes.
The public does not have that training.  We see what mistakes the public can make when crowd-sourcing efforts to find the Boston Marathon Bombers led to the exposure of innocent people who were then published in New York newspapers and tabloids as suspects.
The more weapons that society has, the more people who are less trained, use less common sense, and have access to weapons.  The more people with access to weapons, the lower the common denominator.
In a chaotic situation, I fear that people will shoot first and ask questions later.  Not all people.  But enough people that I would prefer to take my chances that I will never be in a situation where there is a mass shooter, rather than my chances every day that some unstable person, whose background we never bothered to check, will be carrying a weapon and will either make a reasoned decision that they need to shoot or get caught up in the chaos of the moment.
To get back to our debate from earlier this week, I am not a believer that most people can utilize their weapon to thwart an intruder while storing it safely for the 99.9999 percent of the time when they won't need it.
A new study by the Violence Policy Center finds that "guns are rarely used to kill criminals or stop crimes."
The report, Firearm Justifiable Homicides and Non-Fatal Self-Defense Gun Use (http://www.vpc.org/studies/justifiable.pdf), provides national data from the Federal Bureau of Investigation (FBI) Uniform Crime Reporting (UCR) Program's Supplementary Homicide Report (SHR) and the Bureau of Justice Statistics' National Crime Victimization Survey (NCVS).
VPC Executive Director and study co-author Josh Sugarmann states, "The idea that ordinary citizens need access to extraordinary firepower in order to adequately defend themselves against criminals has become the default argument against a federal assault weapons ban and limits on high-capacity ammunition magazines. This new data exposes the fallacy of such arguments and clearly demonstrates that the frequency with which guns are used in self-defense in the real world has nothing in common with pro-gun assertions that firearms are used millions of times each year to kill criminals or stop crimes. In fact, a gun is far more likely to be stolen than used in self-defense."
Among the key findings is included that, in 2010, there were only 230 justifiable homicides involving a private citizen using a firearm while there were 8275 criminal gun homicides.
In 2010, for every justifiable homicide in the United States involving a gun, guns were used in 36 criminal homicides. And as the report notes, "This ratio does not take into account the thousands of lives ended in gun suicides (19,392) or unintentional shootings (606) that year."
Moreover, from 2007 to 20011, "In only 0.8 percent of these instances did the intended victim in resistance to a criminal engage in a self-protective behavior that involved a firearm. For the five-year period 2007 through 2011, the National Crime Victimization Survey estimates that there were 29,618,300 victims of attempted or completed violent crimes. During this same five-year period, only 235,700 of the self-protective behaviors involved a firearm."
The report also finds, "For victims of both attempted and completed property crimes, for the five-year period 2007 through 2011 in only 0.1 percent of these instances did the intended victim in resistance to a criminal engage in a self-protective behavior that involved a firearm."
Finally, they find that the total number of self-protective behaviors involving a firearm by victims totaled just 338,700 –  "the gun lobby claims that during the same five-year period guns were used 12.5 million times in self-defense."
In 2010, 35.7 percent (82 of 230) of persons killed in a firearm justifiable homicide were known to the shooter, 56.5 percent (130) were strangers, and in 7.8 percent (18) the relationship was unknown.
The study concludes, "The idea that firearms are frequently used in self-defense is the primary argument that the gun lobby and firearms industry use to expand the carrying of firearms into an ever-increasing number of public spaces and even to prevent the regulation of military-style semiautomatic assault weapons and high-capacity ammunition magazines. Yet this argument is hollow and the assertions false. When analyzing the most reliable data available, what is most striking is that in a nation of more than 300 million guns, how rarely firearms are used in self-defense."
To me, the key is this.  On an annual basis, just about 60,000 times a year a gun is used for self-defense.  However, at the same time, about 230,000 guns are stolen each year.  So if you own a gun, it is far more likely that it will be stolen or used for suicide or be accidentally discharged than you'll ever use it against the guy trying to break into your home.
There are good reasons for that that were never really disputed or debunked during the earlier debate.  Proper storage of weapons means that they must be locked up so that they can't be readily stolen or a child cannot get ahold of them accidentally.
All of the steps that one takes to ensure against theft or accidental usage means that it is far less likely that you can reach your weapon in time to stop an intruder.
Personally, I do not have a problem if someone wishes to have a weapon for the purpose of self-defense in the home.  I think that is their right.  But at the same time, I think there are better ways we can protect our homes, including locking the doors, closing the downstairs windows, and even having an alarm or surveillance system.
These measures are likely far more effective.  As we know from the recent rash of burglaries, burglars are looking primarily for low-hanging fruit, easy access, and a quick and easy escape route.  So, while it is not the case that no burglary involved an actual break-in, most were through unlocked doors and open windows.
These are dangerous, but preventable.  There is a lot of complacency in this town.
That is precisely why the police issued the statement in February: "The Davis Police Department continues to urge people to take these preventative measures to lessen the chances of being victimized: Make sure all windows, doors, garages, side gates, etc. are closed and locked when not in use. It is also suggested, keeping doors locked when you are home."
They wrote: "This point has been repeated many times before, but DPD continues to see a high number of unlocked entry points among our residential burglaries."
The police added, "Report any suspicious activity such as persons walking or driving up and down your street, checking for unlocked doors and/or looking in windows, backyards or vehicles. Vehicles 'cruising' your neighborhood at very slow speeds or sitting in a vehicle for extended periods can also be signs of suspicious activity."
You will also note one thing that the police did not say – they did not say they urge citizens to arm themselves.  In fact, I have yet to see a police agency make that recommendation.
For most people in a community like Davis, taking reasonable measures will avoid most problems of this sort.  Exceptions do happen and tragedies do occur, but the odds are far more likely that the gun you purchase will be used improperly than it will be there and available to thwart an intruder.
—David M. Greenwald reporting