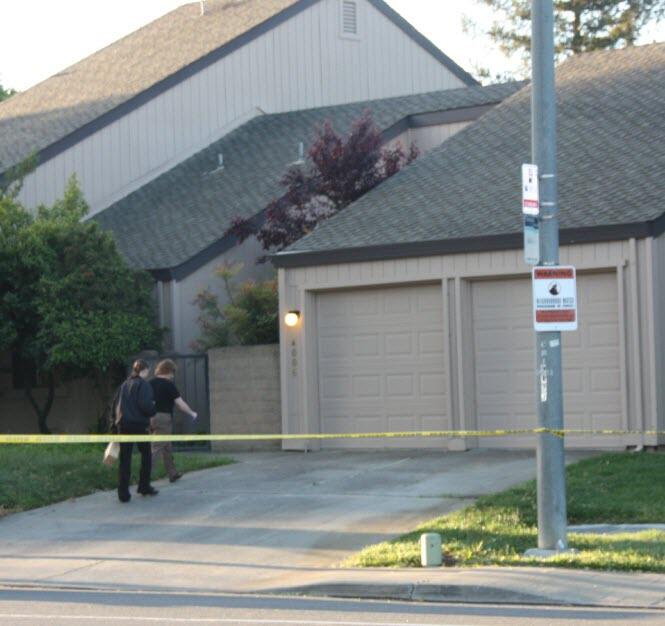 It has been a week since the community learned of the brutal stabbing deaths of 87-year-old former defense attorney Oliver Northup and his wife Claudia Maupin, 76, in South Davis, and authorities say that while they are getting help from the state and the federal government investigators, they have few new leads in the case.
"Nothing new really [to report]," Davis Police Lt. Paul Doroshov told the Vanguard on Sunday.  "We're doing it with the assistance of agencies, like the FBI has been a huge help to us.  The California Department of Justice has been a big help."
Other jurisdictions have rotated detectives to help Davis, as well.  Davis remains the lead agency and the other agencies are providing a lot of technical support.
According to police reports, at 9:20 pm last Sunday, the Davis Police were called in by the daughter of the victims to do a welfare check after the couple failed to show up at church earlier in the day.  The police determined at that point that they needed to make an entry and found the two victims deceased.
Police said it was a very bloody scene and there were signs of forced entry into the home.
The coroner released a statement last Tuesday that the cause of death was multiple stab wounds for both victims, and he determined that the manner of death was homicide.
"At this point it's still a wide open investigation," Lt. Doroshov told the Vanguard a week later.  At this point, the police do not know the motive – whether it was a burglary that went awry or whether there was a more personal motive.  "We're not really taking anything off the table in terms of a theory of what happened there."
Lt. Doroshov called the case a "whodunit," and suggested that in such cases it is important to keep open the possibilities for motivation for the crime.
"We've got a lot of leads and we're exploring them all," he said.  He added that these types of cases tend to take a lot of time to analyze the evidence and search for clues.  People, he said, get a false impression when they watch shows like CSI with their rapid results.
On Wednesday of last week, the Davis Police Department Investigations Unit set up a special tip line for the case.
"Anyone with any information about this incident is encouraged to call 530-747-5439 and leave a message along with a contact number," a press release stated. "Any urgent or emergency information should still be reported by calling our dispatch center at (530)758-3600."
Lt. Doroshov said such lines are "always helpful because you never know what you're going to get.  You never know who's going to call in with something they may think is not that significant but really turns out to have great significance in the scheme of things."
"Obviously we haven't gotten anything off there that has generated an arrest," he added.  "But it's always helpful to have as much information as we possibly can."
As we noted, the police were called in and made entry at 9:20 pm on Sunday night after relatives had become concerned when the couple did not show up earlier that day for church.
Beyond that, however, the police have yet to establish a timeframe for when the death may have occurred.  Lt. Doroshov was not even able to say whether the death occurred on Sunday.
He said he did not know what kind of protocol the coroner's office went through to determine the time of death.  He was also unaware as to when the last known contact occurred between the victims and someone else, which might help narrow down the time of death.
The Davis Police Department is currently investigating the two deaths as homicides. Investigators from the Yolo County District Attorney's Office, Yolo County Coroner's Office, West Sacramento Police Department, California Department of Justice, and the Federal Bureau of Investigations are assisting in this case.
In addition to the recent murder, Davis had the rash of burglaries and a number of high-profile assault cases, including the allegedly hate-motivated attack on Mikey Partida, a young woman who was forced back into her home and sexually assaulted, and another young woman accosted on the street.
The police have consistently warned the public, "The Davis Police Department continues to urge people to take these preventative measures to lessen the chances of being victimized: Make sure all windows, doors, garages, side gates, etc. are closed and locked when not in use. It is also suggested, keeping doors locked when you are home."
They wrote: "This point has been repeated many times before, but DPD continues to see a high number of unlocked entry points among our residential burglaries."
The police added, "Report any suspicious activity such as persons walking or driving up and down your street, checking for unlocked doors and/or looking in windows, backyards or vehicles. Vehicles 'cruising' your neighborhood at very slow speeds or sitting in a vehicle for extended periods can also be signs of suspicious activity."
"Homicides are a rarity in Davis. We understand the violent nature of this crime is a shock to our community. We will be fielding extra patrol officers as a preventative measure. At this point, a motive has not been established," the release said.
The last murder in Davis was the murder of 42-year-old Kevin Seery which happened in the College Square Apartments on J Street on October 1, 2011.
Mr. Mings is on trial for that murder and the case is expected to resume in July after some delays.
That victim was reportedly suffering from a number of ailments which included diabetes, chronic pancreatitis, chronic hepatitis and pneumonia at the time of his death.  He stood at 6-1 but weighed just 133 pounds.
Mr. Mings confessed to the killing, turning himself in and claiming that Mr. Seery had asked him to kill him.
Mr. Mings put Mr. Seery in a choke hold and then stuffed a variety of items into his throat, preventing Mr. Seery from breathing.
—David M. Greenwald reporting