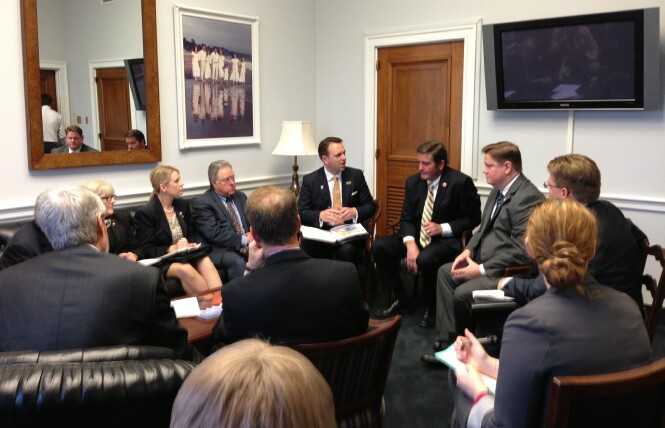 The effectiveness of Davis' effort at the recent Capitol-to-Capitol event will not be known for some time.  Early reports are promising, however, that Davis, long considered a sleeping giant in the region because of its proximity to UC Davis and its access to world class scholars and a highly-skilled workforce, has gotten the attention of many, both in the region and in Washington.
One leader clearly paying attention to these developments is Congressman John Garamendi, who not only praised the efforts of Davis, but continues to promote them.
On Wednesday he tweeted, "The #UCDavis @Energy GATE Center is leading the drive for advanced #auto technology."
According to their website, the UC Davis GATE Center of Excellence, with GATE standing for Graduate Automotive Technology Education, has been funded by the Department of Energy for five years.  It was founded in 2005 to focus on "research, education, industrial collaboration and outreach within automotive technology…"
The center is building "an industrial partnership to provide opportunity to participate in training the next generation of advanced automotive engineers."
It is these kinds of private-public-research partnerships that will likely drive the next phase of the economy, both in Davis and across this nation.
As they note on their website, "U.S. universities are being called upon to supply the next generation of engineers who will be knowledgeable in developing and commercializing advanced automotive technologies. However, most universities are not able to offer students the required multi-disciplinary instructional programs focused on cutting-edge automotive technologies."
"The U.S. Department of Energy (DOE) established the Graduate Automotive Technology Education (GATE) Program to provide a new generation of engineers and scientists with knowledge and skills in advanced automotive technologies," the site continues. "Ten GATE Centers were established at nine universities. Five key technology areas were identified for the GATE Program: fuel cells, hybrid electric vehicle drivetrains and control systems, lightweight materials, direct-injection engines, and advanced energy storage. Each GATE Center received funding from DOE for student fellowships and curriculum development."
"A systems integration philosophy is guiding the FCH2V Center's education and research activities. The center is using its knowledge and understanding of systems to identify critical research needs and design efficient and effective research and education initiatives," the site explains. "It is integrating the latest thinking on fuel cell and hybrid vehicle systems with hydrogen energy systems modeling. The focus is on training students to approach their work from both micro and macro perspectives – to understand vehicle design at the component as well as systems integration level."
This is just one example of the overall work that is going on in this community and this region.  The Cap-to-Cap program focused, in part, on forwarding the region's "Next Economy" Capital Region Prosperity Plan.
Next Economy "is a coalition of regional leaders who are building a more prosperous and modern economy in the Sacramento area. Through investment and job growth, Next Economy is reducing the area's reliance on public sector employment and construction by creating jobs in growing fields."
According to their literature, "Nearly 19% of the region's employment in 2010 was comprised of private sector economic base activities, which bring net new wealth into the regional economy and drive growth in other sectors."
Over the next five years, Next Economy will work with the federal government, business interests, and community leaders to transform the economy.
The targeted business clusters are health and life sciences, information and communication technology, agriculture and food production, advanced manufacturing, and clean energy technology.
It doesn't take a lot of imagination to recognize that these fields were practically tailor-made for a university-city partnership, such as the one emerging with UC Davis and the city of Davis, and they should take advantage of this opportunity.
That is the opportunity that the city of Davis, and private interests that funded the non-profit techDavis, saw when they funded the Chief Innovation Officer Position and brought in Rob White.
It is also the push that Congressman Garamendi is attempting to assist, as the critical partner with the legislative branch of the federal government.
As we noted earlier this week, Mr. Garamendi last week reintroduced his Make It In America: Create Clean Energy Manufacturing Jobs in America Act, H.R. 1524.  The legislation would require that clean energy goods and equipment used in projects purchased or paid for by federal taxpayer dollars contain 85 percent American-made content.
The legislation represents another major proposal that invests in high tech and clean energy technology, to boost the economy while helping the environment.  The bill sets a three-year phase-in schedule for the policy, with American content requirements set at 50 percent in the first fiscal year after enactment, and 60 percent in the second.
"During good times and bad, booms and busts, America invests billions of dollars in our infrastructure. We know that clean energy is an absolutely essential part of our future, yet under current law, much of our tax dollars are directly shipped to China, the European Union, and other competitors to purchase equipment manufactured abroad. Our government is directly offshoring too many American jobs, and that must change," said Representative Garamendi.
He added, "When we're using our limited tax money, we better prioritize American-made goods and equipment. That's the intent behind the Make It In America: Create Clean Energy Manufacturing Jobs in America Act."
H.R. 1524 would also set an 85 percent American content requirement for companies that use the Investment Tax Credit and the Production Tax Credit.
Representative Garamendi added, "Hardworking Americans are ready and able to do this work. My bill proposes 85 cents to the dollar in American content within three years. I think most American taxpayers would agree that it is a rather moderate expectation when we're using their money – money that will create jobs somewhere. When we Make It In America, we provide pathways to the middle class and encourage our best and brightest to reinvent America's economy for the better. Let's Make It In America!"
These are critical opportunities to protect the environment while investing in our next economy through the development of Clean Energy Technology.  These are the type of public-private partnerships that will likely mark the next phase both of government and economic development.
And cities like Davis now sit at the edge of a tremendous opportunity to take advantage of these investments, to bring jobs and capital to Davis and keep the talent produced at UC Davis from heading east or west on the I-80 corridor.
—David M. Greenwald reporting