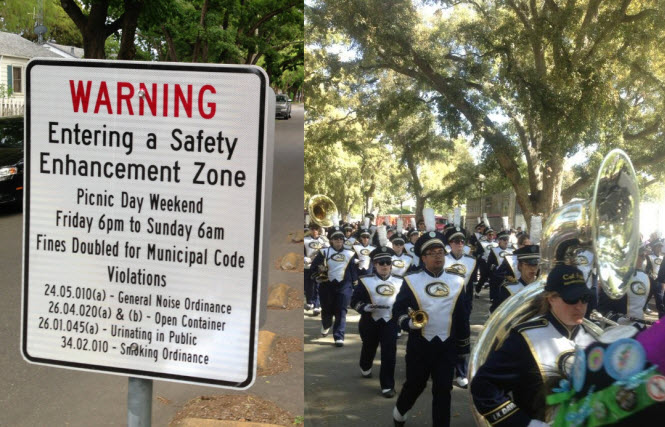 It will be some time before we get the official police statistics from Picnic Day this year, but I think I can save people the trouble.  The record will show that people were ticketed for drinking too much.  Some disturbed the peace.  I saw a case of resisting arrest, and I saw the aftermath of a fight where a man got his face possibly slashed in front of his young daughter.
But, for the most part, things were calm.  People were out there having fun, whether it was on campus, near campus or in the downtown.  Some people told me it was an out-of-town group in the downtown.  But from what I could see on the ground for nearly 11 hours, there weren't a lot of problems.
Officials calmed down on the police presence early in the day, but began ramping it up in the afternoon.  Much of the time, the police sat back and watched.
Earlier in this week someone suggested that the Safety Enhancement Zone was not "a safe-and-sane sanctuary where families with young children could put down a blanket with a basket of food and sit back to enjoy the festivities."
The Safety Enhancement Zone is actually a big place.  Most of the areas that I went to in the SEZ would have been perfectly safe to bring my young kids.  The downtown was amazingly calm for most of the day.  Yes, it was crowded around some of the bars and eating establishments that served drinks, but you are not bringing your kids to KetMoRee on Picnic Day.
So yes, I would have avoided G St on Saturday, avoided Bistro 33, avoided Tres Hermanas, and a few other hot spots, but again, not much to do there anyway.  There was no problem walking downtown, most people were polite and courteous.
A lot of stores and even some restaurants shut down – that's their loss.  There is no reason why they could not have done their normal business.
My point of writing this is as follows.  Will there be a lot of tickets and some arrests because some people could not limit their drinking consumption?  Of course.  There are people who will be bothered and disturbed by that.  But really, so what?  So you have one day in one of the part of the town where people are drinking a bit more heavily than some would like.
We have to look at the overall picture.  In 2010 there were huge problems with Picnic Day – establishments were opening at 6 am to serve alcohol and so, by the time mid-morning rolled around, you already had a large contingent of drunk people, many from out of town with nowhere to go but to get to the downtown.
In 2010, we were talking about 516 calls for service and 33 arrests, including an assault on a Davis police officer responding to a fight in front of the Starbucks coffee shop.
Then there was the string of sexual assaults in the downtown, and a bar was forced to close temporarily after a fight erupted with chairs and other furniture being tossed.
As far as we can tell, none of this occurred this year.
Authorities have also fixed some of the problems.  Two years ago, there were no restrooms available, which practically forced people to utilize less than legal means to relieve themselves.  This year there were a number of portable restrooms throughout the downtown.
Water was also a big issue previously, but that seemed to have been resolved, as well.
From our perspective, Picnic Day is not going to be perfect in terms of people's conduct.  Any time you have a large group of people who are drinking, some of those individuals will drink too much and some of those who drink too much will cause a problem – that problem could be that they make the foolish decision to enter their vehicle or it could be that a disruptive behavior occurs.
Picnic Day has seemed to have achieved a good balance.  There are places and times where families can bring their kids, and have a good time without hassle.  There are places where students and other young people can drink.  We seem to have enough police to handle the problems – perhaps still too many sitting around with little to do, but better that scenario than not enough if trouble were to emerge.
For some, the 72 tickets in the SEZ from last year was too much.  Last year the citation number fell from 200 in 2011 to just over 100.  So it was progress.
On the other hand, Chief Landy Black remarked last year, "There's far too much alcohol-fueled disorder going on."
Chief Black said, "Neighborhoods might have been a bit tamer, but we didn't see a significant difference downtown.  Plenty of disorder and some violence."
"It's really a shame that that's what this has come to," he added. "That's not what the City of Davis or the university wants to be known for."
We get it.  That is his job to figure out ways to reduce problems.  But from our perspective, things were pretty quiet on a Saturday night.  You had people, some caused some disruptions, but those disruptions were isolated, they did not escalate and they were handled quickly and people moved on with their evening.
That is the way it should be, and I think we should all be able to live with this, once a year.
—David M. Greenwald reporting