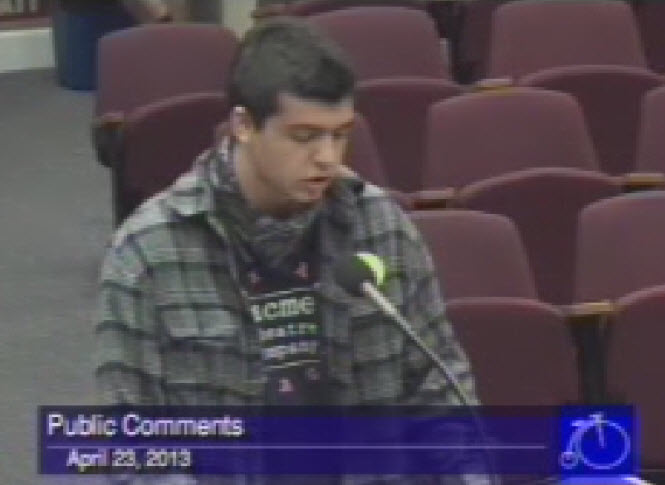 It was a rare site on Tuesday night as a number of high school students came forward to speak in support of a proposal to fluoridate the city's water supply, and UC students from CalPIRG came forward, speaking in favor of a proposed plastic bag ban.
A senior at Davis High School, speaking at public comment, spoke of the option of putting fluoride in the city's water as "not just sensible but obvious."
"If the water was to contain fluoride it would benefit all Davis residents especially younger children who may not have insurance or affordable health coverage," he said.  "Depending on socio-economic status, families have access to certain health care opportunities, but for children in families who struggle to afford health care this is a great preventive measure to prevent cavities and dental decay."
"I understand that cost to putting fluoride in the water may be discouraging," he said.  "But I ask you all to recognize the unmeasurable benefits it can have for members of our community.  It can help reduce the number of help with which people rely on safety-net programs that people turn to if their options are limited."
He argued that, as a youth, he had fluoride in his water and this was a primary reason that he has no current cavities in his mouth, and this will reduce future costs and health risks.
"I want to insure that the children in this community have the same opportunities," he said noting that he not only represents the minority community, but he is receiving free lunch through the school's free lunch program and would be considered low income.  "I'm lucky enough not to have the dental issues that other children who are in my steps or younger will acquire."
"I believe it is really important that we understand the benefits and to understand the impact that this can have on children's lives," he concluded.
Another senior at Davis High came forward, representing the student organization, Latinos Amigos, "We're here because we know in the weeks and months you're going to be looking at the fluoridation of Davis' water which as I understand is feasible for the first time."
"I know it's uncommon for teenagers to come down here, but this is actually something that we are hearing a lot about and for us this is really starting to look like a social-justice issue," he said.  "We're really looking at it as a way that we as a community can help those who maybe for socio-economic reasons can't help themselves."
He said that this issue has drawn enough attention on campus that they have a petition going from students on campus to encourage the council to really consider the option of fluoridation of the water because it can help low income students and others.
"The scientific consensus seems to be that – that it is a good thing for people's teeth and people's health," he said.
Edson Perez, the Chapter President for CalPIRG (California Public Interest Research Group, UC Davis chapter), came before council to advocate for the banning of single-use plastic bags in the city of Davis.  CalPIRG has worked statewide on the banning of single-use plastic bags and achieved these goals so far in 64 cities in the state.
"We think that Davis should definitely be the next one," Mr. Perez stated.
A student who identified himself as Ellison, said, "As you probably know our iconic coastline is currently plagued by plastic bag pollution.  The Pacific Garbage patch is currently an area of pollution in the Pacific Ocean that's twice the size of Texas where 100 million tons of green debris create a toxic flowing soup."
"60 to 80 percent of all Pacific debris is plastic and it's made of the 11.9 billion single use plastic bags that Californians use each year," he continued.  "This plastic pollution constantly endangers our marine life, produces toxic chemicals that effect human health and threatens California's $22 billion ocean economy."
"Banning single use plastic bags is a single step in the right direction," he said.  CalPIRG is working to pass single use plastic bag bans across the state this year, including one right here in Davis.
Olivia Lin, also a member of CalPIRG, spoke of the huge amounts of plastic bags that she has seen floating around Davis.
"This also creates problems for the nearby wildlife areas such as Putah Creek," Ms. Lin said.  She argued that, in addition to threatening wildlife, it creates costs for clean up throughout the city, draining financial resources.
Ernesto Arvaldo also addressed the single-use bag ban.  He is a UC Davis student and a member of CalPIRG.  He noted that sea turtles eat plastic bags, mistaking them for jelly fish.
He said he really supports the plastic bag ban as something that can help the oceans and make Davis look more beautiful.
Chris Oson is an ASUCD Senator and member of the UCD CalPIRG chapter.  The chapter registered 4400 people to vote last election and they represent about 15 percent of the student body that has pledged CalPIRG, meaning they give $10 per quarter for the work they perform.
He spoke in favor of the bag ban, but in opposition to a bag tax.
Mr. Oson said that he was recently in the town of Oceano that recently approved a plastic bag ban and that he spoke to restaurant owners and other small business members who are actually appreciative of the ban, stating it has done nothing to hurt them at all and saves them money.
"The bag tax, which is a policy that has been passed in DC, has been bad for it because the city is now facing a lawsuit," he said.  "The bag ban is a lot more environmentally friendly, it's a cleaner policy, it's a lot more effective in terms of reducing ocean pollution."
"This is one of those policies that doesn't just feel good, but it has results," he continued.  "Ever since CalPIRG and Environment California started this campaign in 2010, 65 cities have passed it… California has now dropped its use of plastic bags by almost 15% over that time and has gone from 19 billion to 11 billion plastic bags that are wasted every year."
Donna, a student at UC Davis, has been part of CalPIRG for three years now, and started as an intern on the ocean campaign.
She said after talking to numerous students she believes "there's such overwhelming support for a bag ban at least on the student level.  It would be great for city council to listen to the voices of the students."
She argued, however, that the bag tax does not address the issue of plastic pollution going into our oceans.
—David M. Greenwald reporting