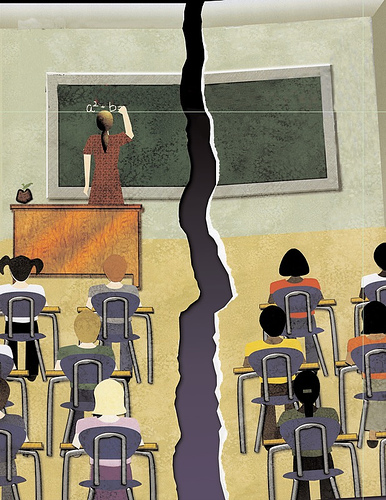 A month or so ago, the Vanguard suggested that the school district look into bold and innovative ways to move forward as it embarks on a strategic plan.  The question, of course, is what that bold and innovative path might look like.
From the publication California Economic Summit comes an account of how one community, Sonoma, is working to close their achievement gap.
The story begins in 2007 when a group of regional leaders in Sonoma gathered to develop a ten-year economic strategy for the county.  There they found what is described as "an unlikely obstacle standing in the way of the region's economic growth. Nearly one in two Latino students in the county – one of the fastest-growing segments of Sonoma's population and the foundation of the region's future workforce – don't graduate from high school."
Indeed, just like Davis, there is perhaps a resistance to thinking about the problem in those terms.  However, as Oscar Chavez, the executive director of an organization called Community Action Partnership, "a nonprofit devoted to helping low-income families overcome poverty, health problems, and the many other issues that so often result from dropping out of school," points out, the issue is crucial.
He is quoted in the publication stating, "We don't always like to acknowledge this in Sonoma, this beautiful place where people come to play and go on vacation…  But to solve this problem, we really needed to peel back the veneer and say, 'We're great, but we have to do better for the people of our county.' "
And while Davis has a smaller population of Hispanics, it is a growing population and the achievement gap in Davis schools remains larger than most.  Still, perhaps with far larger Latino populations in other parts of the county, it makes sense to work on this issue at the county level and not simply at the DJUSD school district level.
What Sonoma County did was make "closing the achievement gap a top regional priority in its 2009 Strategic Economic Plan. It also made the economic case quite clearly, showing closing the achievement gap would result in nearly $800 million of increased economic output in the next ten years, thousands of jobs, and $53 million in new revenue."
"The fact is, people here have bought into the idea that the most significant thing we can do to improve our workforce and attract more businesses is to close this gap," said Mr. Chavez.
One of the first steps was a new initiative in which a partnership came together "to take on the task of aligning all segments of the county's educational continuum – from early childhood programs to college-preparation and workforce training – in an effort to improve outcomes for Sonoma County youth."
The Sonoma County approach is one of collaboration and leadership provided by the county government, which serves as the backbone of an initiative that brings together a variety of stakeholders, from school officials and nonprofits to industry and health advocates.
While the county manages the effort, the program is premised on the idea "that complex social issues can't be solved only by one organization or one sector."
As laid out in the article here are some of the key approaches and implementation steps.
Every child enters kindergarten ready to succeed – Cradle to Career aims to connect young children with health services and provide caregivers with the support they need to create positive learning environments for their children, particularly in low-income communities.
Every child succeeds academically– By supporting more relevant and engaging learning opportunities, giving students additional support during key transitions, and developing a mechanism to collect and share common data to help at-risk students, the Cradle to Career Initiative is helping all Sonoma Youth succeed academically.
Every child is supported in and out of school– By aligning and integrating support services with schools, students can access programs that help prepare them for successful transitions to adulthood, while families can also access the resources and support services they need.
Every young adult is prepared to achieve life and career goals – Cradle to Career aims to connect employers with school systems to better align curriculum with real-world opportunities.
Every young adult thrives and becomes a contributing member of the community – Creating pathways for young people to get involved with civic life and to develop leadership skills helps to ensure that young adults are contributing, civically-engaged members of the community.
"The county department heads have been really visionary about how to address problems," Mr. Chavez told the California Economic Summit.
They note, "The health department has its own goal of trying to make Sonoma the healthiest county in California by 2020 – a task county leaders realized could only be accomplished by dramatically improving the region's educational outcomes and income levels, the two key determinants of health and well-being."
"Economic policy is health policy and education policy is economic policy – they're all interrelated," says Mr. Chavez. "The interplay of those problems is what we need to be focused on, and we've all bought into this notion that if we really want to get serious about education in our community, we have to disrupt these systems that are no longer working for young people."
The article notes, "Cradle to Career is now rolling out a series of 'launch actions' in different parts of the Sonoma region, with Chavez's group focusing on the part of the county with the greatest educational disparities – Southwest Santa Rosa. With the support of the County Office of Education, Community Action Partnership is partnering with the Santa Rosa School District to take the first step toward making Cradle to Career a reality by transforming a low-performing middle school into a full-service community school."
"We've set out to really illustrate the whole Cradle to Career movement in one segment of our community," Mr. Chavez is quoted saying. The report notes, "On one school campus, his group plans to build preschool facilities for more than 200 children, a large family resources center for students and their parents, and a career and technical education programs for those seeking work. The group announced in March that it has received its first $1.4 million grant."
"We're aiming to realize the whole continuum," Mr. Chavez said. "Cradle to Career may be a recent phenomenon, but what's exciting is how fast it's been embraced by our community and how fast we've been able to bring people together."
Perhaps Davis Joint Unified needs to reexamine how we address our own achievement gap, in light of apparently successful programs of this sort, and perhaps the effort needs to be addressed on the county level.
—David M. Greenwald reporting