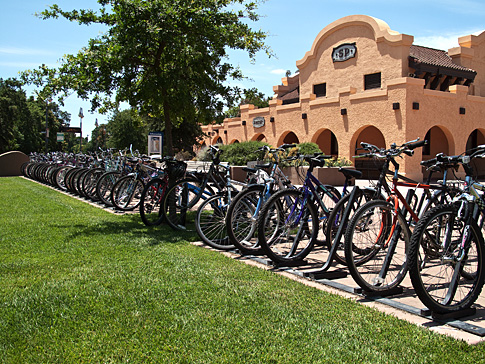 Innovative Water Plan – A report in Government Technology discusses Davis' new program that allows residents to monitor water use online.
Writes Colin Wood in the publication that discusses innovation, "In an era of green living and sustainability, conservation of water and energy is imperative. And in Davis, Calif., city officials are helping residents put their water usage into perspective. "
He continues, "On April 1, the city began offering a free Web-based tool that allows customers to see how many gallons of water they use each day and compare their use to properties of similar size. The project, which cost the city more than $108,000, was developed to increase awareness of water usage that would lead to long-term water conservation — and help customers save on their monthly bills."
As Davis residents are aware, water costs are expected to increase greatly over the next five years due to the city's voter-approved surface water project and wastewater treatment plan.
Dianna Jensen, the city's principal civil engineer and manager of the city's water division, told the publication that "Davis gets all of its water from the ground, but at least a dozen of the city's wells were contaminated with compounds like Chromium-6."
"Going after surface water was identified 20 years ago as a good path to move toward for improved water quality and reliability," she said. "Growth really doesn't play into it at all. It's about water quality, and reliability."
They write, "A surface water treatment facility in neighboring Woodland will treat water from the Sacramento River and pipe it to Davis, supplementing the groundwater supply. And the Web-based application, developed by WaterSmart Software, will encourage people to conserve water and put usage into perspective, Jensen said."
They add, "Though the city already kept tabs on individual property water usage and made the data available on customers' bills each month, the water usage was listed in 100 cubic foot increments. So even a customer who knew what 700 cubic feet of water looked like still had little frame of reference for their level of water consumption compared to others."
The online tool solves some of this problem, Ms. Jensen told GovTech, by offering customers "reference points, such as averages for similarly sized properties and benchmarks for typical low-usage households. By using graphics and more meaningful data, the customer may someday reduce usage."
"It's part of our plan for water conservation," Ms. Jensen told GovTech. "We do have a goal for water conservation, and the estimates of this type of effort is that it can decrease water use by about 5 percent, which is fairly significant for one effort."
GovTech explains that to get the online water report, "customers must go online and sign up, which is why the city will offer a one-time paper-based report in the mail in September with instructions on how to sign up for the free service online."
The city wants to stay away from paper-based reports, Ms. Jensen told GovTech, citing cost concerns.
"The software's simple interface is designed to make understanding water usage easy. In addition to viewing metrics, customers can also see suggestions on saving water that are quantified. Turning off the faucet while brushing teeth, for instance, could save 23 gallons of water per day for a household, which might equate to an $81 savings over the year," they report.
They add, "In addition to benefits for customers, the software also provides the city with a backend interface for performance tracking and metrics that reveal program participation and total water conservation.
"Much of the data used for comparing customers with one another comes from surveys sent out by WaterSmart Software, Jensen said. Customers that share data about their household — such as how many showers their household takes each day or how many toilets are in the house — are used to build more intelligent metrics for the application."
"The more information that comes back through the survey gives the company more guidance compared to other people like you," Ms. Jensen said. "It just makes the data more meaningful."
Three Davis Neighborhoods Get Perfect Scores on Bikability
A couple of efforts by Davis have attracted attention.  The Atlantic Cities publication examined a list of the nation's most bikeable neighborhoods.
According to the article, "The neighborhood rankings below are based on the latest neighborhood-level data provided to us by the folks at Walk Score (Walk Score measures walkability, Bike Score measures bikeability)."
They continue, "Bike Score places neighborhoods and cities into four categories based on a 100-point score (ranked on bike lanes, hills, destinations and road connectivity, and bike commuting mode share): Biker's Paradise (90-10), Very Bikeable (70-89), Bikeable (50-69), and Somewhat Bikeable (0-49). The data here cover more than 7,000 neighborhoods across the United States."
Three Davis neighborhoods made the top score: Old North Davis, Old East Davis, and the Downtown Core.  Joining those Davis neighborhoods were neighborhoods of fellow college towns in Madison, Wisconsin; Boulder, Colorado; and Eugene, Oregon.
University Avenue in Davis scored 8th at a 99.8 score; Interland/University Research Park was 99.7 at 14th.
Interestingly enough, while Davis has five neighborhoods considered, Sacramento has seven, Eugene has four and Madison 3.
As the report notes, "Aside from Madison and Cambridge, all of the top 25 are located in the Western part of the United States. Many of the top neighborhoods are located in college towns."
However, by this metric, Davis is not the top-rated city overall.  That honor goes to Tuscon, with 89 neighborhoods that score 70 or higher.  Minneapolis and Portland are next at 61.  Davis does make the top 10.
"When it comes to just the top-ranked category, Tucson tops the list again with 32 Biker's Paradise neighborhoods. Boulder is second with 22, and Davis is third with 17," they report.  It is worth noting Davis is the smallest city at the top of these lists, which are measuring in terms of number of neighborhoods rather than percentage.
The article concludes, however, that "it's abundantly clear that America still has a long way to go on bike friendliness."  Only 3.2 percent of all neighborhoods in the nation are in the 90 to 100 range, 14.6 percent in the very bikeable 70 to 89 range, 31.7 percent in the bikeable range, and more than half in the 0 to 49 range.
"More than eight in 10 neighborhoods across the United States fall into the two least bikeable categories. And more than half of them – 3500 plus – are concentrated in very bottom category. Conversely, just 3.2 percent of the neighborhoods make the top-ranked category, Biker's Paradise, while another 14.6 percent can be considered Very Bikeable," they report.
Supervisor Saylor Touts Clean Air
Yolo County Supervisor Don Saylor, the former mayor who represents the western half of the city, co-authored an op-ed this past weekend with Vacaville Vice Mayor Dilenna Harris that appeared in the Vacaville Reporter.  They are the chair and vice chair of the Yolo-Solano Air Quality Management District.
They write, "Our air in Yolo County and northeastern Solano County is some of the cleanest in the Sacramento region. In 2012, air quality monitors in Vacaville, Woodland and Davis recorded only three days in which smog concentrations exceeded federal health standards. There were 46 such days in the greater Sacramento region."
"But air pollution does not respect political boundaries," they argue. "Activity in our communities affects summertime air quality for some 2 million neighbors in the valley and foothills."
They cite: "Cars and trucks produce an estimated 70 percent of the emissions that become smog. Pollutants from our tailpipes frequently travel eastward and help form smog in Sacramento, Placer and El Dorado counties. That leads to the higher frequency of unhealthy air in those communities."
The critical question is what can be done about this.  Here they do not offer any bold solutions.
They simply note, "We can do something to help protect our regional neighbors and ensure our own clean-air future. Finding ways to drive less on peak smog days and throughout the year can reduce air pollution for all of us."
They push Spare The Air days, which they write "are called when pollution levels are forecasted to be higher, typically because of weather patterns. Smog contributes to a number of health issues, especially for children. On these days with higher smog forecasts, we encourage all residents to carpool, take transit, bicycle or walk."
They add, "Walking is recommended for short trips, where conditions are safe. Cycling is a great mode for trips under two miles. Carpools are fantastic options, especially for families with school-age children."
"Local transit options, such as Vacaville City Coach and Yolobus, draw high marks for efficiency and ease of use," they write.  "Those who use one or more of these options in lieu of driving a personal vehicle help limit our contribution to air pollution and unhealthy air."
—David M. Greenwald reporting