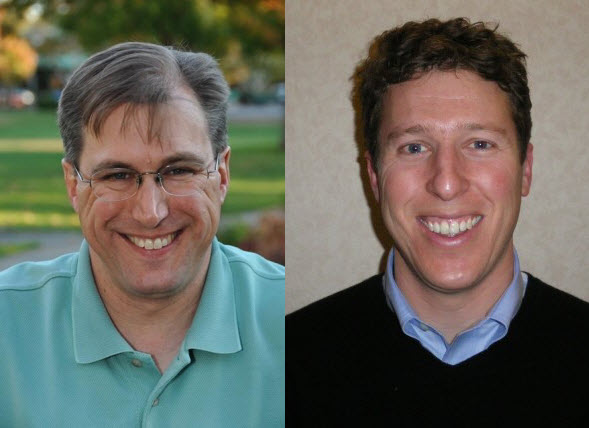 Sometimes in this business you have to criticize your friends and if you cannot do that when the time comes, then you might as well hang up your hat, your gloves, shut down your computer and find a different line of work.
So at the outset here, I am going to state that I personally like both Joe Krovoza and Dan Wolk.  I have gotten to know both a lot better, over the last four years for Mr. Krovoza and three years for Mr. Wolk.  I think both have tremendous compassion, not only for our community but also their families.
It all started yesterday – I thought I had finished the Vanguard.  It was 7:30, and I was shifting from David Greenwald the Vanguard founder and editor to David Greenwald, the father, guardian, uncle and husband.  I went to get my phone which I had left downstairs after waking up the "babies" and noticed I missed a call from Joe Krovoza.
Didn't think much of that, as it's not unusual to get a call from the mayor on a variety of issues.  When I answered he asked if I saw his email, and I said no.  He said, he decided to run.  He had a consultant and everything.  He said he thought Dan Wolk was running too.
So now I shifted back into reporter mode, quickly punching out a story, sending Dan Wolk a text, and resumed getting the kids out.
Soon thereafter I got a call from one of Mr. Wolk's advisors confirming that Dan Wolk was running, and that he had planned a release in a few weeks with a host of endorsements.  The implication was that Joe Krovoza had attempted to co-opt the decision, but they were not changing their plans.
I asked for and received a statement from Dan Wolk who said via text, "In response to requests from the press, I can confirm that I will be announcing my candidacy for the California State Assembly in the weeks ahead. I am inspired by the strong support and encouragement I have already received throughout the district and I look forward to a great campaign."
So there you have it, game is on.  It should be interesting.
However, the more I think about this, the more I don't like this.  All of this started a few months ago.  I think the assumption was that either Supervisor Don Saylor or Supervisor Jim Provenza, or more likely both would seek the vacated Assembly seat in 2014 when Mariko Yamada is termed out.
When both men declined to run, it opened the door for Joe Krovoza and Dan Wolk to jump in.
I understand the two men met at one point, but somehow, some way, they should have been locked in a room with the survivor emerging to run for the Assembly.
Kidding aside, there are actually multiple solutions here.  One is that Dan Wolk could run for the Assembly and then in two years when his mother is termed out, he could run for Senate and allow Joe Krovoza to run for the Assembly.
The other is Joe Krovoza simply runs for the Assembly this time and stays there while Dan Wolk runs to succeed his mother.
The current arrangement is not in the best interests of Davis.  I spoke with several of their colleagues that expressed grave concerns about what this will do to the relations on the Davis City Council which, after years of acrimony, is finally functional.
We have addressed water and now fire, at least on the staffing front, but some of the most serious heavy lifting remains.  And Davis is seeking to transform itself into a regional power in terms of high-tech economic development.
I also have some concerns about both candidates.  Joe Krovoza has the advantage of having a first career, and at the age of 50, has both professional and now political experience.  But it was not long ago he was seemingly completely tone deaf on water.
At the same time, I admire his leadership on issues like the budget and structural reform of compensation and, of course, the tough votes he cast on the fire issue and other issues of import.
Joe Krovoza is also all-in here – meaning that if he runs, he is out as a councilmember.  While that may show resolve, given the delicacy and fragility of the situation on council and the tough work that remains, it is not in the best interest of Davis necessarily for him to leave after just one single term.
Still, Dan Wolk's candidacy is more troubling to me.  He has been on the council now for two years, less than a year into his first elective term.  He would be in the same position as Don Saylor, serving as mayor for six months, then resigning his term and leaving it to the Davis City Council to appoint his successor.
It was a messy process back in 2011, but ultimately produced a consensus pick – ironically, Dan Wolk.
Dan Wolk is a young man, he is only 34, he has a young family, and, to be very frank, his resume on its own merit is fairly weak.  He disappointed some when he seemed to pander on issues like Davis Diamonds, the cellular network, and most recently, fire staffing.
His best vote was cast back in June of 2011 when he faced down an angry group of employees to join Joe Krovoza and Rochelle Swanson in cutting $2.5 million from employee compensation.  But since that time, we have not seen that kind of resolve.
Last December, Mayor Pro Tem Wolk strangely pushed for the Bartle Wells rate structure against the advice of city staff, consultants and the WAC.  He was so adamant that he refused friendly amendments to allow the WAC to even consider the Loge-Williams rate structure, but a week later after the WAC reiterated their support for Loge-Williams, he and Rochelle Swanson issued an op-ed pushing a compromise.
Last week, Mr. Wolk was criticized by columnist Rich Rifkin for seeming to misunderstand the fire staffing issue and the importance of boundary drop and decoupling the rescue apparatus.  Mr. Rifkin suggested that the vote was more about Mr. Wolk's ambitions to go to the legislature than public policy concerns.
The water votes are messy for both Mr. Wolk and Mr. Krovoza.  Mr. Krovoza was on the JPA and was among the original council members to push through the September 6 vote on water without a rate study, without community buy-in.
Dan Wolk pushed immediately for compromise, but when he and Rochelle Swanson could not find a third vote on the compromise, he joined Mayor Krovoza and Councilmember Stephen Souza on a 4-1 vote.
That vote would be undone by a referendum drive, but comments by Mr. Wolk to Davis Enterprise's Bob Dunning suggested Councilmember Wolk did not even really understand what he had voted for.
On December 6, Dan Wolk and Rochelle Swanson came back with another compromise, most of which was eventually adopted.  It set forth the new Water Advisory Process that was lacking previously.
Mayor Krovoza had admitted to making some mistakes, and Rochelle Swanson stated later that she regretted not sticking to her guns.
Davis faces serious challenges.  There is a new $6 million structural deficit opening.  We still need to resolve labor strife, find funding for roadways and parks, and figure out the rest of the water situation.  Davis needs five councilmembers who are committed to facing those challenges.
It would be nice if Mr. Wolk could have and would have stuck around the council for long enough to build his own resume and not be the automatic front-runner less because of his intellect, compassion and talent and more because he shares the last name of his mother, the current State Senator and former Mayor of Davis, Yolo County Supervisor, and Assemblymember.
Have no illusions, while Dan Wolk will start out the favorite, Joe Krovoza has demonstrated himself to be an effective campaigner.  For all of the hype about Dan Wolk finishing first in every precinct in 2012, people forget that, but for a few votes in a tiny precinct, Joe Krovoza would have accomplished that feat in 2010.
Both Mayor Krovoza and Mayor Pro Tem Dan Wolk have tremendous compassion for those in this community who are less fortunate, and I believe they sincerely want to make this community a better place.  But by running against each other, they will inevitably inject politics into a fragile council situation.  And that is in no one's best interest.
—David M. Greenwald reporting