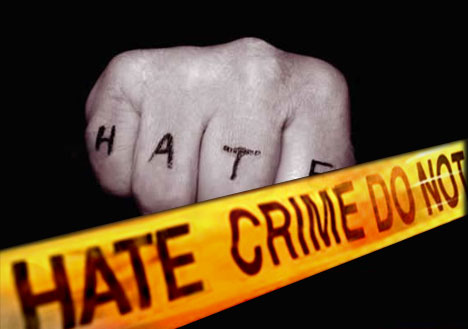 Details at this time are sketchy, but officials from the UC Davis Police Department are confirming that a crime is being investigated as a hate crime.
According to Campus Crime Alert Bulletin, the incident occurred on Sunday, May 12 at 8:10 p.m.  The victim and a witness were walking along Levee Road near Brooks Road when a burgundy Jeep SUV "pulled up alongside of them."
According to the report, "The suspects started shouting sexual orientation bias slurs at them."
At this point the two suspects got out of the vehicle and began to assault the victim repeatedly.  They then got back into their vehicle and drove away on Brooks Road.
The suspects are both described as white male adults in their late teens or early 20s.  They are estimated to be 5 feet, 10 inches and 150 pounds with medium build, light complexion, brown eyes and short straight brown hair.
UC Davis Spokesperson Andy Fell confirmed that the incident is being investigated as a hate crime.
He said, "The victim and a witness were on Levee Road (which is on the west side of campus across Highway 113). Both are male. Only one of them, the victim, was physically assaulted."
There was not an immediate report as to how serious the injuries were or the condition of the victim.  However the incident is being investigation as a violattion of Penal Code section 243(d) – battery with serious bodily injury.
The incident comes a little over two months after the brutal beating of Mikey Partida, a 31-year-old Davis resident and 2000 graduate of Davis High, who works as an employee at the Davis Food Co-op.
20-year-old Clayton Garzon has been arrested and booked in the Yolo County Jail, charged with assault causing great bodily injury; committing a hate crime; assault with a deadly weapon; stalking; committing a felony while on release from custody; and inflicting great bodily injury during the commission of a felony.
While his bail in the case was raised to $520,000, he was released after his family posted bail.  His preliminary hearing began last week and is expected to continue for another week.
Many in the community gathered for a vigil to decry the incident in which Mr. Garzon allegedly savagely beat Mr. Partida while yelling the homophobic slur, the f-word, depicting it as a hate crime and vowing to fight against hatred in the community.
Mr. Garzon, represented by Sacramento Attorney Linda Parisi, has argued through his attorney that the incident was fueled by alcohol and anger management issues rather than a propensity for hatred toward gays.  They have argued against the assault as a hate crime.
In documents filed, Ms. Parisi argued, "Mr. Garzon has many family members and friends that are members of the LGTB community."
A letter from Mr. Garzon's uncle, who is gay, states, "I can unequivocally say that Clayton has been uncommonly supportive of me being gay."
A neighbor, who is also gay, stated, "I do not believe that Clay's actions in the morning of March 10 were driven by hate for gay people."
Ms. Parisi said that, while the beating was "a very tragic event," the use of slurs was a "sad commentary on today's youth, but not necessarily an expression of hate."
Supervising Deputy District Attorney Garrett Hamilton filed a motion to raise bail, arguing "changed circumstances."  He argued, "The initial setting of bail failed to include the fact that the defendant's acts constitute a 'hate crime.' "
Ms. Parisi told reporters following the late March arraignment and bail setting hearing that she was disappointed with the increase in bail and the additional levels of supervision imposed.
"I don't believe he's a young man who engaged in a hate crime," she said.
Mr. Partida had attended a party at his cousin's apartment and apparently left his keys there and returned to retrieve them, "when a man began kicking and beating him while yelling homophobic slurs."
Mr. Partida was walking with a group then went back alone for his keys. Before that point, the attacker was already yelling slurs at him, according to Mr. Partida's cousin, Vanessa Turner.
"He just continued, getting closer and closer, and then he just punched me," Mr. Partida explained.
"The slur used begins with the letter 'F' and is a nasty term for homosexuals. Partida said the attacker was saying it over and over again while beating him," News 10 reported.
"Pretty loud and proud about it," Mr. Partida said. "He just kept fighting me and fighting me until I blacked out. And then I came to and was here," Mr. Partida said from his hospital bed.
Ms. Turner told News 10 that, after the attack, the attacker knocked on the door to brag about what he had done.
Mr. Partida is now out of the hospital and recovering well from his injuries of less than three months ago.
"I just don't want it to be swept under the rug," Mr. Partida told News 10 prior to the hearing. "I just want it to be known. Just want people to take precautions when they go out."
In the most recent attack, UC Davis police are investigating it as a hate crime, as stated.  Police are urging residents with information regarding this case to report it to the UC Davis Police Department calling (530) 752-1230.
—David M. Greenwald reporting