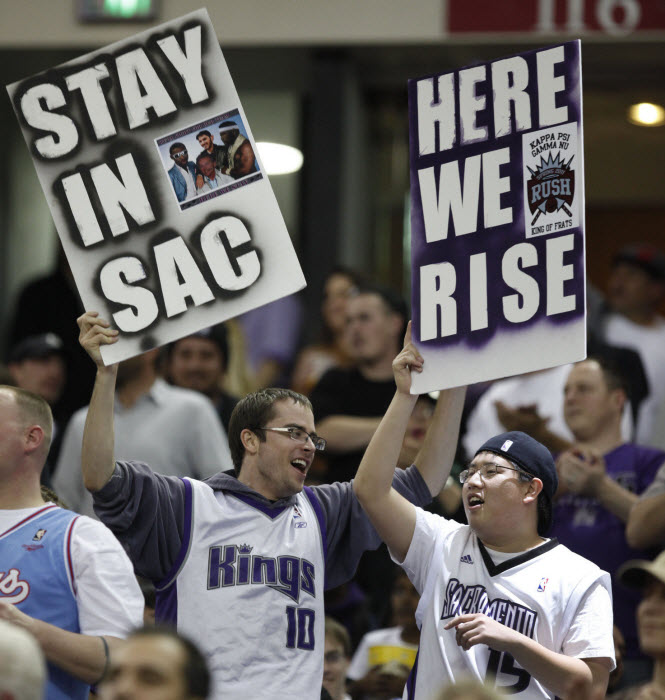 I will start with a few huge qualifiers – I am a big Kings fan.  When I arrived in Davis in 1996, the Kings were not much to speak of but I was intrigued by how much people were still into the team.  A few years later, they made the critical trade to get Chris Webber and built a team that was an unlucky rim bounce (which turned into a game winning three) and a refereed thrown game from a possible championship.
I also admired the work that Sacramento Mayor Kevin Johnson did in saving the Kings.  After all, the owners were intent seemingly on moving the team, and only Mayor Johnson's dogged determination prevented that from happening.
"Mayor Kevin Johnson is getting a lot of praise for assembling an ownership group to buy the team – and deservedly so – but that might not have been his biggest achievement," writes Sacramento Bee columnist Marcos Breton.  "Using the bully pulpit of his office, and fully trading on his celebrity and charisma, Johnson refused to accept someone else's vision of the city.  Johnson understood that the Kings are a regional asset that had to be preserved for economic and emotional reasons."
He adds, "From the start, Johnson radiated strength, class, cunning and a never-say-die attitude. But for him, the Kings would have been gone long ago.  Losing the Kings wouldn't have been a death blow for Sacramento, but it wouldn't have been good, either."
At the same time, economic studies have looked at the impact of the presence of sports teams, stadiums, and arenas, particularly those subsidized by local government, and found that they do not drive growth either in employment or personal income.
I do not want to overlook the remarkable achievement here.
As Mr. Breton noted in his column, "When it was done and victory achieved, City Hall was filled with sometime adversaries celebrating."
"Business and labor standing next to each other," Mayor Johnson said Friday. "Anything is possible in Sacramento."
It is a powerful message.
To Mr. Breton's credit he understands the contrary side.  He lists off about five other issues of priority.  One only needs to look at the shape of the schools and the crippling impact of high poverty in parts of town to realize that there are real problems that are not solved by saving the Kings.
Mr. Breton of course recognizes this and argues, "The priorities are too numerous to cite here, and some argue that the Kings effort should have been abandoned to focus on these and other issues.  I respectfully disagree. With or without the Kings, these issues remain."
We agree completely.
At the same time here is the problem that we see: when the Kings were faced with a crisis of an imminent move, Mayor Kevin Johnson, a former NBA star himself, mobilized the various interest groups.  He was able to put together a coalition to purchase the franchise, he was able to bring the community and stakeholders together, and they were able to not only marshal their resources, but put together a successful effort to convince the other NBA-owners that basketball in Sacramento was worthy of saving.
And when Seattle lamented the losing vote, one of the NBA board of governors said that had Seattle rallied as Sacramento had, they never would have lost their Supersonics franchise to begin with.
But there is a bigger lesson here and it's the lesson I care about and why I am writing on this today.  Mayor Kevin Johnson faced a crisis, he acted with urgency, intelligence and determination.  He faced it head on.  He refused to take no for an answer.  And he won.
Hats off to the mayor.
My challenge to him and every other leader in this nation is to use this as the model for going forward to solve our nation's problems – one at a time.
We can all learn this lesson.
Put together a coalition of the willing not just to speak out but to put their money where their mouths are.  Social problems?  Poverty?  Crime?  Schools?
We have businesses all over this nation who donate millions if not billions each year – why not coordinate the effort?
Mayor Johnson had to bring together stakeholders – business and labor standing next to each other to save an NBA franchise?  How about business and labor standing together to rebuild our schools, crumbling infrastructure, neighborhoods?  How about business and labor standing together to feed the poor, to educate our children?
My point is not to question Mayor Johnson for taking his heroic stand but rather to implore him and others like him not to stop here.
With this kind of effort, with people joining together in cooperation, we should be able to tackle even the most vexing problems facing this community, this region, this state, this nation and even this world.
But my fear is that on Monday we will go back to business as usual.  The Sacramento Kings will still have fatal flaws in a young and otherwise talented line up, and while we will have basketball in California's capital, too many of its children will go to sleep without enough to eat and without a safe place to be educated.
—David M. Greenwald reporting