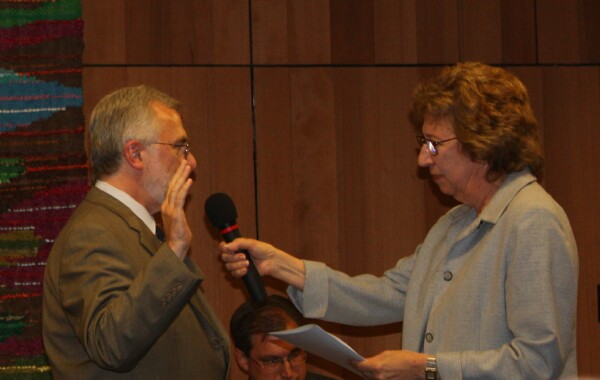 Benjamin Franklin once suggested that the Vice President might better be addressed as "Your Superfluous Excellency," referring to the fact that while the Vice President has a catchy title, he does not actually have a formal role in government.
I am not about to suggest the same for the Board of Supervisors in Yolo County.  However, it is interesting that, while candidates are lining up to bash themselves over the head over the Assembly, at least right now Supervisor Don Saylor has never been challenged for his office – not in 2010 when he ran the first time, and not now as he is about to announce his running for re-election on May 19.
One of Mr. Saylor's colleagues pointed out to me earlier this week, when I suggested he might have been the wrong official to take the lead on the fluoridation issue, that he does somehow manage to keep getting himself elected.
But it is not clear to me that anyone really cares enough to attempt to unseat him.  In 2008, Jim Provenza was elected to the County Board of Supervisors.  He was matched up against John Ferrera, in a match up that turned out to be less match than mismatch.  Mr. Provenza easily trounced him in a three-person race and avoided a November runoff.
Since then in 2010, there was no contest for Don Saylor, no contest for Jim Provenza in 2012, and, as it shapes up right now, no contest for Don Saylor in 2014.
While both Mr. Provenza and Mr. Saylor seem to like the job, eschewing a run for higher office that Dan Wolk or Joe Krovoza might have deferred to them on, no one else seems to want that job.
Some of that is the nature of the office.  The battles in Davis over land use and the like are not the priorities of the County Board of Supervisors, which has tended to attract more service-oriented individuals such as Mariko Yamada, Don Saylor, Helen Thomson and Jim Provenza.
While the Board of Supervisors plays a critical role in the provision of health care and social services, those are not the issues that typical Davisites burn hot for.
Some will suggest perhaps it is the strength of the County Supervisors elected in Davis that plays a role here.  That is possible, but likely not the full answer.
In 2008, Don Saylor was the strongest candidate in Davis.  There is no doubt.  He finished a strong first in a six-person city council race, easily out-distancing the runner-up Stephen Souza.
But times have changed.  The June 2008 was prior to the collapse of the world's financial markets, the recession and the budget crunch.
In that election, Mr. Saylor defended his budget, arguing that they had balanced the budget with a 15 percent reserve.  Oddly, he used similar language earlier this year in defending his tenure on the council.
The economy has changed things in Davis and, while Stephen Souza in 2008 ran a strong second in  the field, in 2012 he finished last among five candidates and was unseated.
Moreover, Mr. Saylor rubbed some people, including columnist Bob Dunning, the wrong way when he insisted on being mayor for six months and resigning, forcing an awkward replacement appointment process rather than resigning and allowing the voters in November 2010 to elect a replacement.
The truth is, however, no one knows if these factors have made him electorally vulnerable because he has not run in a contested election since 2008.
There is actually no shortage of possible candidates who reside in Mr. Saylor's district who could give him a run for his money.
We can start with Mayor Joe Krovoza and Mayor Pro Tem Dan Wolk, who would rather square off against each other than take on Don Saylor for the Board of Supervisors.
Then you have Councilmember Rochelle Swanson, who also lives in that district.  In 2010, she was elected, along with Joe Krovoza.  This week, she announced she would seek re-election for the council in her second term.
Not to be outdone, the other two members of the Davis City Council also live in Don Saylor's district – both Brett Lee and Lucas Frerichs.
And yet, no one is challenging Mr. Saylor for his seat.
I am not going to suggest that any of these individuals would defeat Mr. Saylor, but I would suggest that they would be viable candidates and give Mr. Saylor a tough race.
From a democratic standpoint, I have an increasing problem with this.  All of Mr. Saylor's colleagues have had to at least once face a challenger for the office.  Mr. Saylor has not – not in either of his contests.
He has never had to defend his track record on the Davis City Council.  He has never had to defend his track record on the Board of Supervisors.
While I was a frequent critic of Mr. Saylor when he was on the Davis City Council, on the Board of Supervisors, I have found myself more often than not in agreement with him.  On issues like AB 109, jail expansion, and the like, I have actually found myself more in agreement with him than with others on the board.
Some will argue that if anyone had a good deal of problem with him, they would run against him.  I don't think that's correct necessarily.  I have had a number of people suggest to me that they want to see him challenged, but they are either in another district or have other priorities.
Just as I worry about the impact on the city that a Dan Wolk/Joe Krovoza Assembly race may bring, I worry about the impact on county policies to have members of the board anointed rather than elected.
Mr. Wolk has tried to assure the public that both candidates have the interest of the city at heart and that they will work together as council colleagues.  That is easy to say now, but as things heat up, I wonder how much that will hold up.
Judging from phone conversations, emails and text messages, I believe many of the stakeholders share my concerns.
—David M. Greenwald reporting