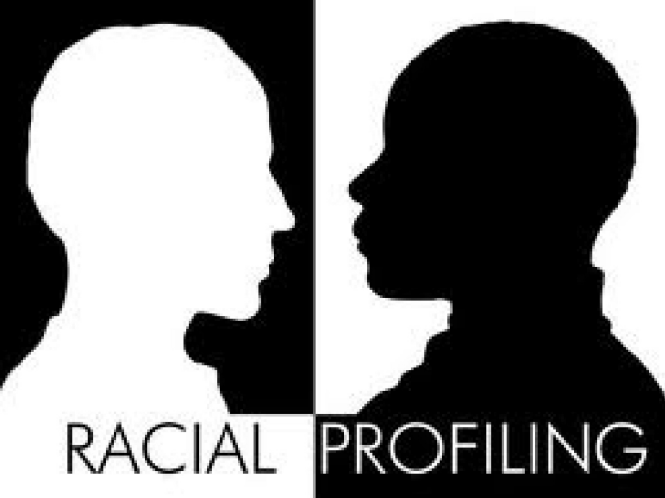 On Friday came the story of Eli Davis, who lives somewhere between Village Homes and Lake Blvd. in West Davis.  In a letter published on Friday in the Davis Enterprise, he claimed he was mowing his front lawn a few weeks ago in the middle of the afternoon when he was approached by a police officer who asked if he lived in the residence.
Apparently he "fit the description" of someone in the area who had committed a crime, and the officer demanded identification, which, as we reported on Friday, Mr. Davis was under no obligation to provide, but did so anyway.
Once the officer determined that the man lived there, he left and Mr. Davis called the police, and gave his name and location.  He asked dispatch, "Were they looking for a tall, slim black male?
"Not in general," was the response.
"Are you looking for one right now?" he asked.
"No," was the response.
Mr. Davis wrote, "I fear that the only description that fit is that of being a black American male, and therefore is an image of his ignorance. His action was more gut reaction of 'see a black male' and think 'suspect of something.' Perhaps he thought I was stealing a lawn mower and was mowing the lawn to make sure it worked."
He added, "My father appears to be right: 'They have a select non-ability to believe you, and you are always a suspect.' "
I am going to state this again – I have no idea what happened on this occasion and whether or not Mr. Davis' account is accurate.  What I can say is Mr. Davis was bothered enough to write a letter to the editor and put his name on it.  Based on that, this is an incident that bears some scrutiny.
So, I sent an email early on Friday morning to several people at the Davis Police Department, explaining that "I'm not assuming it's accurate, but it is part of the public record."
The response I got was that this was the first that they heard of it.  I was then told there was, in fact, a "citizen's in-progress crime complaint being handled/ investigated."
I was told understandably that there was not much more that could be said, that the alleged conduct mandates an inquiry regarding biased policing and that I "can count on a full and complete inquiry."
The good news is that I know I can not only count on a full and complete inquiry, but I know I can count on the Davis Police Department to effectively oversee itself, along with the help of Police Auditor Bob Aaronson, and that if something occurred that was untoward, even if it was merely rude and unprofessional conduct, they will call it as they see it.
Before I go further let me make this comment as well – you might ask, if I trust the police to handle this matter, why make an issue of it.  The answer is that, while I think things are much better than they were seven years ago, I still run into far too many African-Americans in Davis who believe that they are treated differently from their white counterparts.
And I believe that, even if that perception is not true, we need to figure out a way to deal with that perception.
This is a good example.
The first problem here is that Mr. Davis was apparently told that there was no criminal investigation in his neighborhood where they were looking for an African-American.  If he had learned otherwise upon his call, it is possible that he would have shrugged off this incident and we would never know about it.
There is, however, a narrative within the African-American community where vague descriptions of suspects lead to fairly broad searches.  Ask yourself if a vague description of a white suspect would lead to a large number of white people being approached by police and asked for their identification in front of their home.
To be fair, this is not necessarily a police problem.  A friend of mine notes that he often has Latino parents park in front of his home to pick up their children and on more than a few occasions the police have been called by neighbors to check out the unfamiliar brown face in their neighborhood.
The second problem here is this: would we expect someone who has just committed a crime to be outside mowing a lawn?
The second question here is admittedly tricky.  I suppose it's possible that someone would commit a crime and then mow a lawn in the middle of the day as a ruse to show they had a legitimate purpose for being in the location, and the police officer seemed to legitimately be attempting to determine if the individual should have been there.
But this would be a little contrived for me.  If the guy started to run when seeing a police officer make a U-turn and drive back to stop at the house, you might have a point.  But, at least based on his description, that did not happen.
The second problem here comes back to this: would a white person, mowing a lawn in front of their home be treated the same way?
The final point here concerns the demeanor of the officer.  We can only rely on Mr. Davis' account, and it seems this situation could have and should have been managed a lot better by the officer.  If you are a police officer, even if you do everything right by the book, you have to understand that an African-American is going to take exception to being asked to show an ID when questioned in front of his home in the middle of the day, mowing his lawn.
The optics here are bad and so, let us say that there was a crime, an investigation, and he did match the description of the suspect.  It would have been valuable to have chatted Mr. Davis up and left there only after making Mr. Davis feel comfortable about the interaction.
From Mr. Davis' perception – this was his home, he had done nothing wrong, he was approached, treated with suspicion if not outright like a criminal, and the story he got did not match the story he got from dispatch.  Add all of that up and join it with the narrative, and you end up unsurprisingly with Mr. Davis believing he was treated with indifference, if not with outright racism.
The police department can defend their actions if they acted by the book, but they still failed to handle this matter properly.
This is a learning experience for all involved, and hopefully it can be treated as such.
—David M. Greenwald reporting