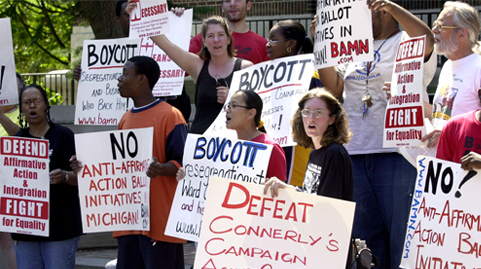 In the 1990s, it appeared that a conservative tide was moving through on social issues.  In 1994, California overwhelmingly passed Prop 187, adding severe restrictions on benefits to illegal immigrants and their children.  In 1996, the state passed Prop 209, ending affirmative action in California.  And the state also passed a proposition banning gay marriage, which was followed by federal legislation like DOMA.
Even the much ballyhooed "Don't Ask, Don't Tell Policy" was, at best, a compromise on gays in the military.
It looked like not only would social programs go down, but conservative politicians could effectively use them as wedge issues, dividing liberals amongst themselves.  But one by one, these measures have fallen down and, in the latest defeat, the Supreme Court surprised many by not doing much on affirmative action and leaving in place, at least, the principle that public universities may continue to use affirmative action to ensure a diverse student body.
The result is a mixed bag, with analysts believing that the ruling will allow Michigan's voter-approved ban on the use of affirmative action in college admissions in place.
The ACLU, however, was quick to laud what they called two landmark decisions, upholding universities' affirmative action policies.
"Today the Supreme Court's decisions affirm the nation's commitment to diversity in education and the use of affirmative action," said Maya Harris, Racial Justice Project Director for the ACLU of Northern California.
Even that praise was muted, as Ms. Harris quickly added, "Unfortunately, because of Proposition 209, these decisions won't do anything to expand opportunity for students of color seeking entry into the University of California system. If the current Supreme Court can recognize diversity as a compelling interest and approve the use of race in achieving that important goal, it's sad that California – the most racially diverse state in the nation – would not. Hopefully, today's decisions will reopen that debate in California."
"It's also important that we not lose sight of why we still need affirmative action in California. Educational opportunity remains shockingly unequal today along racial lines," continued Ms. Harris. "At the K-12 level, schools serving the greatest proportion of students of color and low-income students are twenty percent less likely to have textbooks. These kids are working hard in the classroom, but they have no books to take home and study. While 32% of White students in California move on to four-year universities, only 23% of African Americans and 12% of Latinos do so. The playing field is far from level."
The national ACLU and its Michigan affiliate were co-counsel on behalf of a group of minority students in the challenge to the University's undergraduate admissions affirmative action policy, Gratz v. Bollinger, 02-51, and joined a friend-of-the-court brief in support of the University's law school admissions policy in Grutter v. Bollinger, 02-241.
"Today's ruling recognizes that there is still work that needs to be done to fulfill the promise of equal educational opportunity that the Court set in motion nearly 50 years ago in another landmark case, Brown v. Board of Education," said national ACLU Legal Director Steven R. Shapiro. In today's decisions, the Court rejected the manner in which race was considered by the undergraduate schools, but it made clear that race could be considered as one factor in the admissions process.
"With today's ruling, the Court has kept the door open for thousands of academically qualified students of color to continue to pursue the American dream through our nation's colleges and universities."
"Today's near-unanimous decision leaves intact the important principle that universities have a compelling interest in a diverse student body, and that race can be one factor among many that universities consider in a carefully crafted admissions program," said Dennis Parker, director of the ACLU's Racial Justice Program.
He added, "We believe that the University of Texas has made a strong showing that its admissions plan was necessary to achieve meaningful diversity, and that it can and should be upheld under the standard that the Supreme Court announced today."
NAACP Chairwoman Roslyn Brock issued a statement expressing satisfaction with the outcome.
"This is a critical decision toward ensuring equal opportunity in education," said Ms. Brock. "It is in our nation's best interest to grant a fair chance to people with various backgrounds and ethnicities. In today's global economy, all Americans will benefit from a diverse and inclusive environment in higher education."
The organization's general counsel, Kim Keenan, praised the impact of the ruling, as well.
"The NAACP applauds the Court's preservation of the Grutter standard permitting universities to consider racial and ethnic diversity as on factor among many in a carefully crafted admissions policy," said Keenan. "Given that University of Texas' policy can be used to admit white students for purposes of diversity, we are confident that Fifth Circuit will uphold the policy. Diversity is an opportunity for all students to obtain an education that will prepare them for, to interact and compete with anyone, anywhere in the world."
However, legal analysts argued that, while the court ruling "will do nothing to change practice at Michigan's public universities, it does offer hope to those supportive of Michigan's voter-approved ban on the use of affirmative action in college admissions," according to a report by McClatchy News.
"The justices held that universities have to prove there is a real need for affirmative action programs to diversify student enrollment and that courts must take a strict review of such programs to determine whether they are justified," they write.  "That toughening stance on the use of affirmative action in college admissions signals what the high court might do this fall when it takes up an appeal of a lower federal court's decision last fall to throw out Michigan's Proposal 2."
"The court made it clear that when lower courts are reviewing the cases, they have to do it with rigor," Professor Philip Pucillo told McClatchy. "They were giving universities the benefit of the doubt. The University of Texas has to prove why it needs (affirmative action)."
ProPublica further noted, "Afiirmative action, in its threadbare form, lives for now. But there was enough in Monday's opinion to suspect it will be diminished further in time."
That has led to some like Richard Kahlenberg, a long proponent of class-based affirmative action, to suggest giving the idea more consideration.
As ProPublica notes, "The idea seems simple enough: This approach would give poor students of any race a helping hand into college, and any policy that gives an admissions boost to lower-income students would naturally benefit significant numbers of black and Latino students."
"My primary interest is in ensuring that we have a fair process that looks at the biggest disadvantages that people face today, which I see as class-based," Professor Kahlenberg said in a recent interview. "That will end up helping low-income and working-class students of all races."
ProPublica continues, "Kahlenberg knows that many dispute this belief. But he says skepticism directed at the class-based solution has to be weighed against its dim alternative: If race-based affirmative action disappears with no program to replace it, African Americans and Latinos on college campuses will disappear too. Studies show that African-American and Latino enrollment at the nation's top 200 colleges would plummet by two-thirds if colleges stopped considering race when deciding whom to accept."
However, many scholars argue that, while disregarding race may be a good political solution, many schools fear that "race remains so powerful a factor that a class-based system would seriously reduce black and Latino representation at American colleges from their current levels."
"There are disadvantages that accrue to African Americans and Latinos that are not explained by class," said Anthony Carnevale, director of the Georgetown University Center on Education and the Workforce. "You simply cannot get race by using class."
On the other hand, those predicting the demise of race-based affirmative action may be laying it in its grave too soon.  An argument can be made that the balance of the Supreme Court right now represents potentially its most right-ward ebb and that, over the next decade or so, if the country continues swinging away from the Republican Party for its Presidents, the next Court may have a slight liberal leaning, as opposed to the current makeup of the court.
To put it another way, imagine Stephen Breyer as the swing vote, rather than Anthony Kennedy.
—David M. Greenwald reporting