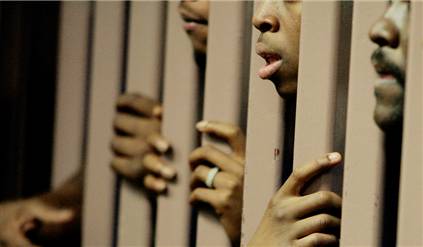 Chris Fowler, in November of 1983 and then 22 years old, was convicted of second degree murder for the beating death of 22-month-old Aaron Miller.  He was sentenced to 15 years to life and was eligible for parole on December 23, 1993.
On November 8, 2010, the Board of Parole Hearings (Board) found Mr. Fowler suitable for parole.  However, the governor reversed the Board's decision, concluding that, if released, Mr. Fowler would pose an unreasonable risk to public safety.
At that time, the governor reasoned, "The utter inhumanity of Mr. Fowler's crime, coupled with his inability or unwillingness to understand, own, or achieve some credible level of insight, tells me that there is a substantial risk of danger to the public were he to be released from prison."
Yolo County Judge David Rosenberg agreed, and denied Mr. Fowler's petition challenging the governor's decision to overturn the parole board.
Mr. Fowler has appealed, contending, "There is no evidence supporting the Governor's stated reasons for reversing the grant of parole."
The appellate court on Tuesday ruled in Mr. Fowler's favor, writing, "Cognizant of the rule that the Governor's decision need only be supported by a 'modicum' of evidence, we nonetheless conclude the Governor's decision is not supported by evidence that defendant will pose an unreasonable risk of danger to society if released from prison."
The appellate court notes that the defendant lived with the mother of the infant, along with the woman's three-year-old.
"On October 30, 1983, following an evening of trick-or-treating, Miller and defendant had an argument and stayed up all night drinking and smoking marijuana," they write.  The defendant then was awakened by the baby crying and beat and shook the baby.
They report, "Because of the severity of his injuries, Aaron was transferred to the UC Davis Medical Center.  Aaron arrived comatose and was pronounced neurologically dead two days later.  The cause of death was  'craniocerebral trauma.' "
Mr. Fowler would be arrested, and pled guilty to second degree murder.  He was sentenced to 15 years to life.
A 2004 psychological assessment concluded:  "In my opinion, Mr. Fowler's level of risk of re-offense is very low. . . .  Mr. Fowler has matured considerably since the time of the crime, he has engaged in ongoing introspective processes with measurable changes in the troubling personality features that contributed to the offense. . . .  He is genuinely remorseful for the offense and he is committed to substance abuse/dependency recovery."
In 2007 a psychological evaluation noted defendant acknowledged his crime and accepted full responsibility for his actions.  Defendant stated "he [did] not have a total understanding of why he committed what he characterize[d] as a horrible crime."
"Our review of the record reveals no evidence connecting any arguable lack of insight to the conclusion that defendant would present a risk to public safety if released on parole," the court writes.  "Defendant's positive behavior in prison, his lengthy participation in seemingly every available rehabilitative program and volunteer program while incarcerated, and his statements to psychologists and the Board do not establish any likelihood defendant would pose a risk to public safety if released on parole.  In addition, none of the psychologists who evaluated defendant believed he posed such a risk."
The court finds, "A review of the record reveals that a defendant has acknowledged the material aspects of his or her conduct and crime, shown an understanding of its causes, and demonstrated remorse, [and] the Governor's mere refusal to accept such evidence is not itself a rational or sufficient basis upon which to conclude that the inmate lacks insight, let alone that he or she remains currently dangerous."
The court admonishes Governor Brown's decision, stating "When the basis for the Governor's determination lacks any evidentiary support and conflicts with the evidence in the entire record, it is arbitrary and capricious.  It is not rational."
In their opinion, "Here, the record supports the Board's finding that there is no evidence defendant lacks insight and understanding of his murder of Aaron which renders him a danger to public safety if released.  The record does not establish a link between any alleged lack of insight and the conclusion that defendant is currently dangerous."
The Bee reports that Yolo County Chief Deputy District Attorney Jonathan Raven called the appellate decision "very disappointing. We have been in touch with Baby Aaron's family over the years and they have attended every parole hearing. I know that this will be very painful for them."
The baby's aunt told the Bee, "For them to release a crazy man into the streets is absurd. He's never, ever shown remorse. He can't. He's amoral."
But her assessment was disputed by years of psychological reports and the court assessment.
The State Board of Parole Hearings recommended a parole for Fowler in the latter part of 2010.  Several people offered Mr. Fowler employment and he would have had a home with his parents.
However, the governor succumbed to heavy lobbying from Yolo County officials.
The Woodland Police Department and the Yolo County Sheriff's Office sent letters to the governor, requesting that he reverse the Parole Board's decision.
Yolo County District Attorney Jeff Reisig issued a statement in 2011: "Clearly Governor Brown reviewed all the evidence and made the right call," said Mr. Reisig. "Our community cannot risk having a man who savagely killed a baby for no apparent reason living back among us."
—David M. Greenwald reporting