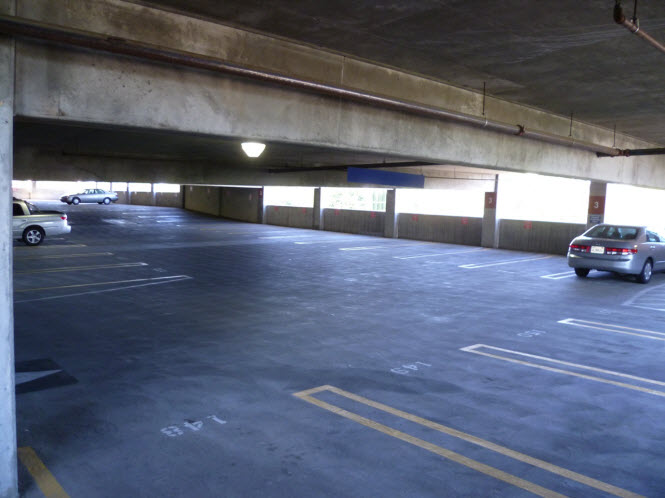 I read through the parking task force's scenarios to be hammered out.  They have developed three strategies, where the main difference appears to be whether existing on-street space downtown should be paid parking or 90-minute spots, rather than the current two-hour limitations.
To be honest, I am not sure that any of these scenarios really gets us where we need to go.  As long time readers surely know, I have long favored a very basic concept and a very simple scenario.  The idea is that you provide parking on the periphery – divert traffic from going under the Richards Underpass and either turn downtown into a walking/biking only district or allow for very short-term parking on the street.
My proposal has been to put the entrance to a parking garage on Olive Dr. adjacent to the Design House.  It would then go over the tracks and consume the current parking lot by the Boy Scout Cabin.  The idea there would be to get people to turn onto Olive and get out of their cars at F and 1st streets, which would put people within about three blocks of most of downtown.
At that place there could be free trolleys and bike rentals to allow people easy access to the rest of the downtown.
When I first pitched the idea, there were a lot of naysayers, but as time has gone on, more and more leaders in City Hall and the business community like the idea.
The Enterprise had a good story on the parking task force's decisions.  In it, Tom Sakash quoted City Transportation Planner Brian Abbanat, who suggested that the strategies would make sure parking was available to customers, who are "the highest-priority users of the downtown parking supply."
But other downtowns have utilized a strategy that puts the longer-term parking more on the periphery and opens the street parking to either short-term customers or those willing to feed meters repeatedly.
One of the options would convert about 470 spaces to metered parking with four-hour time limits.
That accomplishes one idea, but neglects the idea of getting the traffic out of the core, which is really not well-suited for current traffic volumes.
Currently, the city meters parking at the E Street Plaza lot, and yet, for the most part, that lot is jammed with parking much of the day.
The article quotes two prominent business owners.
Alzada Knickerbocker of the Avid Reader, and a member of the task force, "said it's important to enable customers to park more readily and for longer periods of time."
On the other hand, Jennifer Anderson from Davis Ace, also a task force member, "believes that adding more paid parking, not just in the surface lots but also on the street, could put the downtown at a competitive disadvantage to other shopping centers in the area."
"I believe that we as a community need to compete with our neighboring shopping centers (in the region)," she told the paper. "Sacramento and Woodland and Vacaville, none of those places have paid parking and I really believe that it's important for our customers to feel very welcome downtown."
The problem is that it is not clear how Davis Downtown is going to compete with big boxes around the region.  That does not seem practical to begin with.
In terms of the downtowns, Sacramento absolutely does charge for parking in the downtown area.  Woodland and Vacaville do not really have vibrant downtowns at this point.
Is Ms. Anderson suggesting that Davis Downtown is going to compete with the Woodland Gateway or the Vacaville Premium Outlets?  That does not seem very realistic, both from a space and specialization utilization.
But it does bring up an important point here, and that is this discussion seems completely misplaced.  How can one discuss the long-term parking issues of the Davis Downtown without discussing the larger plan?
For example, as currently configured, Ms. Anderson's point seems irrelevant.  Davis Downtown is not set up to compete with any of those regional entities.  On the other hand, Davis Downtown can attract regional interest through what it does provide that is unique – unique dining experience and entertainment.
Some have expressed the desire for the downtown to become more than that, and suggested we need more retail options.
I am mixed on that view.  The development of retail seems to be outstripping the central core concept of a downtown.  I am not suggesting this is for the better, but I fail to see how a downtown can compete with the vast open areas that have been used to create the enormous retail centers in places like Woodland, Sacramento, Vacaville, West Sacramento and Fairfield.
Moreover, we should be discussing overall how we want to lay out and design the future downtown.  Do we want more of a promenade where people can walk and bike through key portions of downtown?  If that's the case, why do you want street parking in the core, other than for very short-term needs?
I still think creating parking peripheral to the core and then allowing for easy access to trolleys and bikes and other secondary modes of transportation may accomplish much of what the downtown hopes.
But before we can decide all of this, we must decide what our downtown should look like in five, ten, twenty years of time, and design the parking system to fit those needs.
Right now, what I see is a lot of energy going to fix a system that is largely broken beyond repair.  We are going to put in meters and allow people to park longer?  Was not the entire justification for having the time limitations to free up spaces?
It makes very little sense to put long-term parking on the street.  The longer the parking, the further away people should be willing to travel to get from their vehicle to a business.
—David M. Greenwald reporting