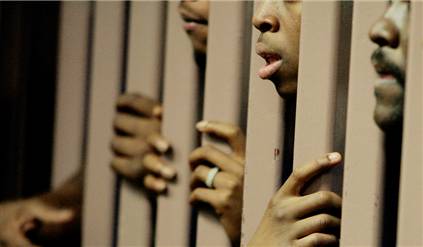 Nearly 30 years ago Chris Fowler committed one of the most unthinkable acts one could imagine – tired, angry, and most of all high on drugs and alcohol, Mr. Fowler, just 22, took out his frustrations on an innocent 22-month-old baby, beating the child to death.  For that crime, he was sentenced to 15 years to life in prison and has been eligible for parole now for nearly 20 years.
As we reported back in 2011 and just last week, on November 8, 2010, Mr. Fowler was found suitable for parole, but then politics got in the way.  The Yolo County DA's office put massive amounts of pressure on Governor Jerry Brown, and Governor Brown who ironically has been more likely to allow parole to go forward than his predecessors, succumbed to that press, arguing, if released, Mr. Fowler would pose an unreasonable risk to public safety, and reversed the parole board's decision.
The story, however, does not end there as last week, the appellate board reversed the parole denial after concluding that the governor's stated reasons for reversing a grant of parole were not supported by evidence.
This is actually a remarkable decision because the governor has a high level of discretion here and the court itself noted, "The Governor's decision need only be supported by a 'modicum' of evidence."
One site suggests that since Governor Brown took office, the parole board has conducted 5648 hearings and granted parole to just 463.  That's 8%.  While that seems low, it's actually far higher than either of his predecessors, Governor Gray Davis or Governor Arnold Schwarzenegger.
The reaction to the decision by local authorities was rather predictable.  Yolo County Chief Deputy District Attorney Jonathan Raven called the appellate decision "very disappointing," although he simply mentioned the baby's family rather than arguing why the appellate decision was wrong.
However, the baby's aunt told the Bee, "For them to release a crazy man into the streets is absurd. He's never, ever shown remorse. He can't. He's amoral."
But her assessment was disputed by years of psychological reports and the court assessment.  In fact, while she may have attended the parole board hearings, she was not in a position to evaluate Mr. Fowler, let alone render judgment.
While the victim's family plays an important role in the process, they are not in a position to objectively evaluate the evidence, weigh the factors and make a determination on the basis of solid evidence and psychological evaluations – that job falls to the parole board.
There is no doubt that Mr. Fowler committed an unthinkable crime when he was 22.  However, as Sister Helen Prejean said last week in more general terms, we need to start understanding that "the human being who did that outrageous act is more than that one act in their life."
Mr. Fowler was a young and troubled man when he committed this crime and was sentenced to a life term in prison, barring parole, in 1983.
The question is who is he today and whether he represents a threat to society.
Can we ever know for sure?  No, we can't.  And I have a lot of concerns about the resources and opportunities available to parolees and convicted felons in this society.  It is one of the reasons that critics like Michelle Alexander talk about convicted felons in much the same terms as we viewed the system of Jim Crow.
However, if anyone deserves a chance, it is Chris Fowler, not because of what he did in November of 1983 but because of what he has done in the last 30 years.
A 2004 psychological assessment concluded:  "In my opinion, Mr. Fowler's level of risk of re-offense is very low. . . .  Mr. Fowler has matured considerably since the time of the crime, he has engaged in ongoing introspective processes with measurable changes in the troubling personality features that contributed to the offense. . . .  He is genuinely remorseful for the offense and he is committed to substance abuse/dependency recovery."
In 2007 a psychological evaluation noted the defendant acknowledged his crime and accepted full responsibility for his actions.  The defendant stated "he [did] not have a total understanding of why he committed what he characterize[d] as a horrible crime."
"Our review of the record reveals no evidence connecting any arguable lack of insight to the conclusion that defendant would present a risk to public safety if released on parole," the court writes.  "Defendant's positive behavior in prison, his lengthy participation in seemingly every available rehabilitative program and volunteer program while incarcerated, and his statements to psychologists and the Board do not establish any likelihood defendant would pose a risk to public safety if released on parole.  In addition, none of the psychologists who evaluated defendant believed he posed such a risk."
The court finds, "A review of the record reveals that a defendant has acknowledged the material aspects of his or her conduct and crime, shown an understanding of its causes, and demonstrated remorse, [and] the Governor's mere refusal to accept such evidence is not itself a rational or sufficient basis upon which to conclude that the inmate lacks insight, let alone that he or she remains currently dangerous."
The governor stated in his reversal on April 7, 2011: "The utter inhumanity of Mr. Fowler's crime coupled with his inability or unwillingness to understand, own, or achieve some credible level of insight tells me that there is a substantial risk of danger to the public were he to be released from prison."
We agree with the governor about the "utter inhumanity" of the crime, but the evidence suggests that the rest of the governor's statement is wrong.
There are certainly people in our community who believe that such an act warrants a life without parole or even a death sentence.  I understand where those people are coming from, but I disagree with them.
Mr. Fowler is no longer that angry and out of control 22-year-old.  I believe we have a better path here.  The better path would be a restorative process where the victims of this horrible crime sit down with the offender and they figure out ways in which Mr. Fowler can continue the process of redemption.
For me, the chief purpose of the correctional system should be on corrections – first and foremost that means protecting the public from dangerous individuals, but in so doing, restoring those individuals to potential productive members of society – at least those individuals who can be restored.
Based at least on the parole report and the evaluation of prison psychologists and the prison officials, he has worked hard to become a better person – dealing with his own substance abuse problem and acknowledging remorse and guilt.
While it is understandable that the district attorney's office be skeptical, the prison officials are probably the best judge of Mr. Fowler at this point.
It perhaps is possible that Mr. Fowler could have fooled them over the last more than two decades, but it seems unlikely.
The DA's office has made it their policy to be the voice of victims, but in the end it is unclear that this approach really is healthy for the victims.  While it is difficult to know, there still seems a good deal of anger and hurt from this crime and perhaps a better role to play would be helping the victim's family to more effectively and productively deal with this hurt and loss and help them move forward in positive ways.
But most of all, it is time to stop playing politics here with these critical decisions.  The decision to release a convicted killer is always and must always be a very difficult one, weighing our notions of justice with the need to protect the public.  These decisions need to be based less on political calculations and impulsive reactions and more on clear and evidenced-based science and evaluation.
—David M. Greenwald reporting