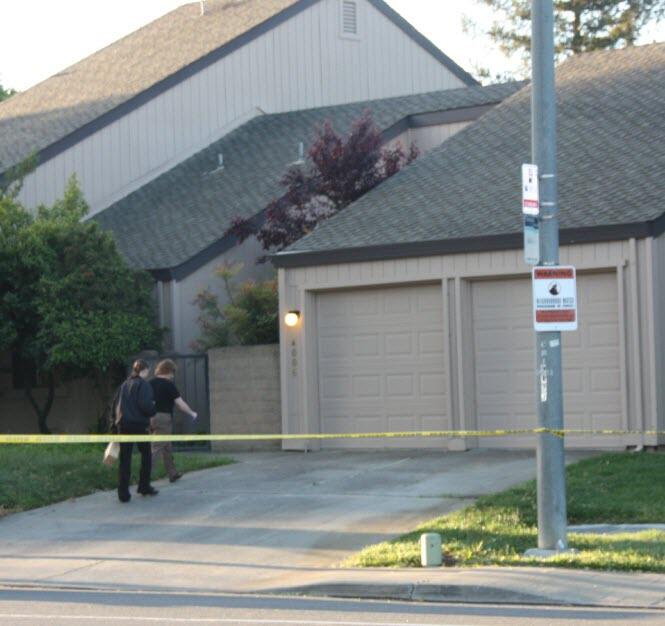 On Monday, the Davis Police announced that a 16-year-old male Davis resident was taken into custody, and is being held on charges for the double murder. There are no other suspects in this case.
The investigation is on-going, and because it involved a minor, we cannot release any other information at this time.  Police officials would only confirm that the suspect is not a family member to the deceased.
It was April 14, 2013, when at approximately 9:20 pm, the Davis Police Department, responding to a call on the 4000 block of Cowell Blvd for a welfare check, made a gruesome discovery – they found two adults, deceased, with apparent stab wounds.
The deceased were later identified as 87-year-old Oliver Northup of Davis, and his wife, 76-year-old Claudia Maupin of Davis.  The coroner would confirm  that the cause of death was multiple stab wounds for both victims, and it was determined that the manner of death was homicide.
However, while the police responded to numerous tips, the trail had seemed to go cold.  Yesterday, Monday, June 17, 2013, the Davis Police Department, assisted by members of the Federal Bureau of Investigation, the California Department of Justice, the Yolo County District Attorney's Office, the West Sacramento Police Department and the Dixon Police Department, served several search warrants in regard to the case.
The police also declined to respond to questions as to whether it was a burglary that went awry, or whether there were more personal motivations.
The Vanguard received reports that the home next door to the deceased was swarming with police.  Police officials would only confirm that there were a number of warrants served on Monday.
Officials said that if the individual is charged, he would likely be arraigned on Wednesday.  It is widely presumed, though not confirmed, that the individual would be charged as an adult.
The Bee talked to Mary Northup, who said, "I thought, 'It's a 16-year-old. It's a kid. Why would a kid want to kill an 87-year-old father? My father would be the first to jump up to defend that kid.' "
She said. "I'm sorry we've suffered for his poor judgment. But I'm also sorry for this young man who has ruined his life."
Mr. Northup was a prominent defense attorney and has tried a number of death penalty cases.
He was an attorney for 63 years, passing the bar back in 1950, practicing appellate law and giving seminars at the public defender's office.  According to the Bee, even just before his death, at 87, he was continuing to work out of his home.
Mr. Northup and his wife Ms. Maupin were founding members of the Unitarian Universalist Church of Davis. He was also a musician with a group called the Putah Creek Crawdads.  He began singing around 1961 when he took a few group folk guitar lessons through the Davis Art Center.
Retired Yolo County Public Defender Barry Melton told the Bee, "Northup played guitar and sang with the Crawdads, a Davis folk ensemble. Northup's last performance with the group was Saturday," and he said that the two had performed together in the past.
The Bee reported that daughter Mary Northup had tried calling her father a number of times on that Sunday, and had a brother visit the home.  She tried to visit, as well, and called the police to do a welfare check.
The last murder in Davis was the murder of 42-year-old Kevin Seery, which happened in the College Square Apartments on J Street on October 1, 2011.  James Mings was on trial for murder in that case, but was acquitted of murder and convicted of attempted murder.
The youth in this case has been taken to the Yolo County Juvenile Detention Facility.  Again, officials said that if the individual is charged, he would likely be arraigned on Wednesday, and it is very possible that the individual would be charged as an adult.
—David M. Greenwald reporting