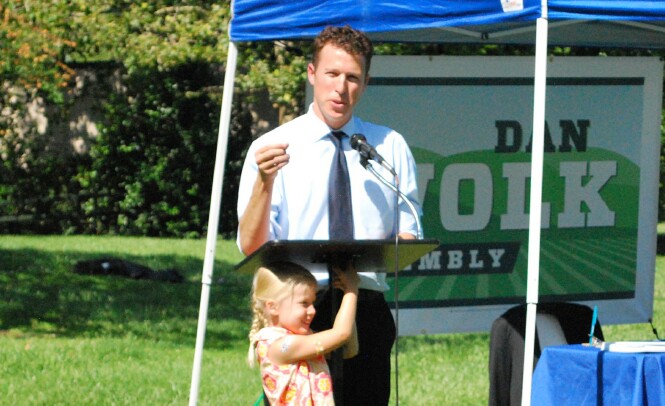 It is easy to view everything through the lens of electoral politics, especially when an announced candidate for the  State Assembly makes a very public statement on a rather controversial issue.  On Sunday, Mayor Pro Tem Dan Wolk became the first Davis City Councilmember to public endorse the idea of fluoridated water.
His campaign insists he did so because it was the right thing to do, but at the same time, he has waded into turbulent waters of an issue that has divided the Davis community for over 50 years.  As our analysis suggested on Sunday, we believe there is a good possibility that fluoridation – if placed on the ballot – would fail in an up or down vote.
The piece that appeared in the Davis Enterprise was co-authored by Julie Gallelo, the executive director of First 5 Yolo, and Art Pimentel, the former mayor of Woodland.  Curiously enough, an identical piece appears in the Woodland Daily Democrat without Dan Wolk's name associated with it.
They argue, "Since the mid-20th century, community water fluoridation – the careful adjustment of naturally occurring fluoride levels in water to strengthen tooth enamel and reduce dental decay – has proved to be an effective preventative public health measure, reducing tooth decay by about 25 percent over a lifetime, per the American Dental Association."
"Across the nation, more than 70 percent of people utilize community fluoridation, according to the Centers for Disease Control," they write. "In California, fluoridation is mandated by state law, if funds are available. And, right next door, the citizens of West Sacramento, Vacaville and Sacramento, to name a few, enjoy the benefits of fluoridated water every day. Pediatricians in Davis prescribe fluoride drops to parents to give to their children."
"Today, Yolo County's public health community – dentists, pediatricians, public health officials and every major, local health care provider – is united in support of community water fluoridation in Davis and Woodland," they continue. "These are the folks who are on the front lines of combating dental disease. They know what policies work and what do not."
They argue, as well, that "cost should not be a reason to reject fluoridation."
First, they note, "With responsive bids on the joint water project required to come in 20 percent below the engineer's estimate, upon which we based our rates, rates most likely would not have to increase further to accommodate fluoridation."
Second, they note further, "Fluoridation is worth the cost, regardless of whether rates rise or not. The American Dental Association estimates that for every dollar invested in water fluoridation, $38 is saved in dental treatment, missed work and other costs. This is a classic example of an ounce of prevention is worth a pound of cure – an expensive, painful cure at that."
They argue that fluoride is the most "cost-effect manner" to "help the most vulnerable in our society."
While Dan Wolk became the first Davis City Councilmember to back fluoridation, Brett Lee, three weeks ago on the Vanguard, put forth a compromise.
He noted that, while he was "impressed by the arguments and information put forward by both sides" of the fluoridation issue in their presentations to the WAC, "it does seem that adding fluoride to the drinking water supply would improve the dental health of many in our community."
"What was interesting though was that many countries around the world have been able to achieve the same or better dental health without water fluoridation," he wrote.  "These countries appear to have more robust early childhood dental care programs than we currently do."
In fact, while the ADA cites statistics that show the reduction of tooth decay by 25 percent, comparisons in the rate of dental decay between those communities with fluoridation and those without show the trends basically to be running evenly.
"I was also quite surprised by the estimated cost of adding fluoride to the water system.  The estimated cost of water fluoridation has an initial capital cost of between $1,000,000 to $2,000,000 and an ongoing operational expenditure of around $150,000 to $200,000 per year," he wrote.  "These are very serious sums of money.  The average ratepayer would be paying an extra $15/yr for the operational costs alone."
So, he asks, "Instead of using the money to pay for water fluoridation, why not use that money for early childhood dental care programs?"
"In this decision I am guided by what I would want for my family.  Would I want fluoride added to the water system or would I want my child to receive yearly preventive dental care and be taught proper dental hygiene?  I know that this is not a strictly either / or decision, but it does help to think about it this way to get a sense of prioritization," he writes.
He continues, "For the same amount of money that would be spent on a non-targeted fluoridation program, we could target those funds towards low income families with children and provide them with proper preventative dental services.  Yes, per household the cost of fluoridation is only around $15/year, but what percentage of households do not have access to dental health care?  If we estimate that percentage to be 10%, then for the same amount of money, we could be providing those families with approximately $150/year to help provide them with dental care."
"The problem with that approach is that we are not allowed to use people's utility fees to pay for things other than the running of the utility system," he writes.  So, instead, he offers an alternative: "I would like to have a voluntary check off box on the city services bill where our community can voluntarily donate a dollar or two each month to early childhood dental care programs.  It is my hope that sufficient funds could be raised in this manner so that we could provide robust early childhood dental programs for our children.  This would be the most efficient way of dealing with the dental health needs of our community and would result in all of us saving money on the cost of water fluoridation.  In addition, the benefits of this approach would be immediate; there would not be a delay until 2016."
Despite the support of Dan Wolk on this issue, we continue to question the viability of fluoridation politically in Davis, particularly as it becomes intertwined with the still-contentious surface water project.
Is the pro-fluoridation community willing to accept a political compromise, particularly as it acts to separate the question of fluoridation from the overall question of water supply?
—David M. Greenwald reporting