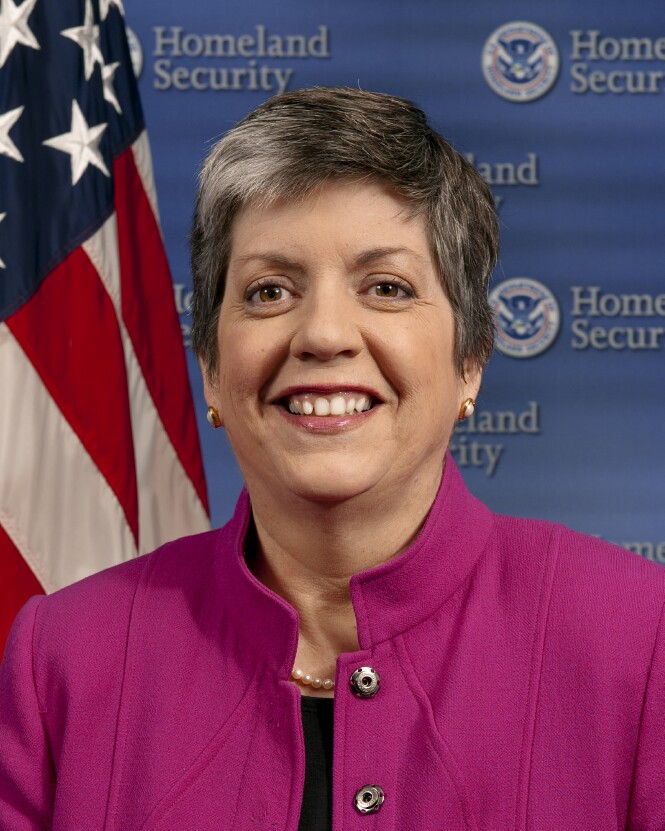 Controversial and Polarizing Figure Set to Head Largest Public University System in Late September – The UC Board of Regents on Thursday formalized the move that was reported first last week by the Los Angeles Times and sparked a wave of controversy in both progressive and conservative circles, appointing  Janet Napolitano, secretary of the U.S. Department of Homeland Security and a two-term governor of Arizona, as the 20th president of the University of California.
Ms. Napolitano, the first female president in UC's 145-year history, succeeds Mark G. Yudof, who steered the university through the depths of California's financial crisis that led to sharp cutbacks in state support for public higher education.
"I am humbled by your support and look forward to working with you to build further on the excellence of UC," Ms. Napolitano said after the regents appointed her president.
Student regent Cinthia Flores was the lone dissenting voice on the appointment.  She cited Napolitano's background as Homeland Security head and role implementing controversial immigration policies.
"Students have raised a number of concerns," Ms. Flores said. "She must remember that her involvement with Secure Communities will cast a long shadow. I cannot and will not deny countless experiences. I know that their fear is real."
According to a release from the UC Regents, Janet Napolitano, 55, "an accomplished public sector leader with a long-standing interest in education, was the search committee's unanimous choice from among more than 300 prospective candidates. As UC's president, she will oversee 10 campuses and five medical centers – plus a new medical school at UC Riverside – as well as three affiliated national laboratories and a statewide agriculture and natural resources program."
She was appointed during a special meeting of the board following a recommendation by the regents' special search committee last week.
The University of California, widely considered the nation's premier public university system, enrolls more than 234,000 students, employs about 208,000 faculty and staff, and counts more than 1.6 million living alumni. Its annual operating budget stands at more than $24 billion.
Mark Yudof, now 68, served for more than five years and will remain on the job until Janet Napolitano begins her tenure in late September.
UC Regent Sherry Lansing, who chaired the presidential search committee, "called Napolitano a transformative leader and tireless champion for the life-changing opportunities that education provides. She and other regents praised her intellectual curiosity, political acumen, personal dynamism and willingness to tackle complicated issues as attributes that will serve her – and the University of California – well."
"As governor of Arizona, Napolitano was a strong advocate for public education, from K-12 to the university level," said UC Regents Chair Bruce Varner. "She appreciates the importance of public research universities, faculty scholarship and research, and UC's role in shaping California.
"The Special Committee to Consider the Selection of a President unanimously chose Secretary Napolitano from a dynamic pool of more than 300 potential candidates. We were all impressed with her extraordinary character, intellectual curiosity and commitment to higher education," he said in a statement.
"I am confident that she has the background and attributes needed to build upon the excellent work of her predecessor, Mark G. Yudof, and to lead the university forward to even greater achievements," he added.  "Already, she has expressed an eagerness to join the UC community and to get to know the stellar faculty, staff, students and alumni who make this University great. I am looking forward to working with her and benefitting from her vast stores of expertise."
According to the UC Regents release, President Barack Obama, who chose Napolitano to head Homeland Security – the third largest federal department – "praised her remarkable career of public service after it was announced she was leaving his cabinet to lead the University of California. He emphasized her leadership skills, tireless work ethic, judgment and advice, as well as the value of her friendship."
Janet Napolitano was born in New York City and grew up in Pittsburgh, Pa., and Albuquerque, N.M., before coming to California to attend college. She earned a bachelor's degree in political science from Santa Clara University, where she was named the university's first female valedictorian. She also won a Truman Scholarship, a prestigious fellowship for college students who have demonstrated leadership and an interest in government or public service.
After earning her law degree from the University of Virginia, she went to Arizona in 1983 to serve as a clerk for Judge Mary M. Schroeder of the U.S. Court of Appeals for the Ninth Circuit, and later practiced law in Phoenix at the firm of Lewis and Roca, where she became a partner in 1989. She was the first female attorney general of Arizona, from 1998 to 2003, and served as U.S. Attorney for the District of Arizona from 1993 to 1997.
Napolitano was twice elected governor of Arizona, serving from 2003 to 2009, and was named one of the top five governors in the country by Time magazine. As the first woman to chair the National Governors Association, she launched the "Innovation America" initiative to align K-12 and higher education curricula to better prepare students for a global economy and strengthen the nation's competitiveness by improving its capacity to innovate.
At the Department of Homeland Security, she has championed cutting-edge research and development, investing more than $2.2 billion in state-of-the-art solutions at national labs and universities across the country to protect people and critical infrastructure.
Under her leadership, Homeland Security also has strengthened its outreach efforts to academic institutions through the establishment of the Office of Academic Engagement; and she created the Homeland Security Academic Advisory Council, involving leadership from more than 20 universities and colleges around the country.
Napolitano has repeatedly testified about the need for comprehensive immigration reform and, earlier this year, she served as the Obama administration's sole witness in the Senate Judiciary Committee's hearing on the Senate's comprehensive immigration reform bill. She also testified before the Senate in support of the Dream Act and defended the Deferred Action for Childhood Arrivals process in a hearing before the House Judiciary Committee.
"UC's Special Committee to Consider the Selection of a President, assisted by the national executive search firm Isaacson, Miller, was involved in recruiting, screening and interviewing candidates for the university's top administrative position," the release stated.  "In addition to Varner and Lansing, the immediate past Board of Regents chair, the committee members were regents Richard Blum, Russell S. Gould, George Kieffer, Bonnie Reiss and Fred Ruiz. Jonathan Stein (student regent) and Ronald Rubenstein (alumni regent) also served on the committee. Gov. Jerry Brown was an ex officio member. An academic advisory committee was appointed to assist the regents' special committee. Student, staff and alumni advisory committees joined the Academic Advisory Committee in making recommendations on the selection criteria."
Despite all of the rhetoric last week about the move enabling the regents to reduce the controversial salary of President Mark Yudof, she will end up receiving a similar salary – more than twice what she earned at the Department of Homeland Security.
As UC president, Napolitano will receive a base salary of $570,000. Her predecessor's annual base salary was $591,084, plus an auto allowance of $8,916. She also will receive an auto allowance of $8,916.
The regents write, "Her salary is below the 25th percentile of cash compensation for comparable systemwide university presidents, which stands at $617,000. That means more than 75 percent of university system leaders nationally earn more than her annual salary."
They add, "As a condition of her employment and for the convenience of the university, Napolitano will be required to live in housing leased by UC or later, if one becomes available, a university-owned home."
She also will receive a one-time relocation fee of $142,500 which is 25 percent of her annual base salary. "Under UC policy, this amount is intended to reimburse one-time and ongoing, unreimbursed expenses associated with the transition and will be paid as a lump sum. If Napolitano leaves her position within four years, these funds must be repaid to the university according to the following schedule: 100 percent if separation occurs within the first year of employment, 60 percent if separation occurs within the second year of employment, 30 percent if separation occurs within the third year of employment, and 10 percent if separation occurs within the fourth year of employment," the regents noted.
Janet Napolitano will receive standard health and retirement benefits, and a contribution of 5 percent of her salary to the Senior Management Supplemental Benefit Program. "By virtue of her appointment beginning after July 1, 2013, she will be included under the new tier of the UC Retirement Program," they add.
Assemblymember Mariko Yamada issued a statement late on Thursday stating, "Leading the UC system requires fresh leadership and a global perspective.  I look forward to hearing President-Designate Napolitano's ideas about how she will advance the UC's mission of teaching, research and community service into the 21st Century."
Last week, Senator Leland Yee, a frequent critic of UC and President Mark Yudof stated, "Secretary Napolitano's extensive experience at all levels of government will likely serve her well in the days ahead. I hope she keeps the needs of students, faculty and staff at the forefront after years of devastating tuition increases, questionable spending priorities and a general lack of transparency throughout the UC system. I will be happy to work with her in her efforts to keep the UC's reputation as an affordable means of bringing quality education to all Californians."
But there are critics as well.
UCLA law professor Abraham Wagner told a Los Angeles radio station that "Napolitano's lack of academic experience is a big deal. He points out that she will be making big decisions affecting professors' scholarship and research."
"At Berkeley we have the largest collection of Nobel Prize winners on the planet. Many others at UCLA and elsewhere, she's nowhere in that spectrum at all," he said. "She's not going to have the respect of these people."
"UC student workers are backing a petition by undocumented student activists to stop her appointment," KPCC out of Los Angeles reports. "The biggest issue for these activists is that until last week Napolitano headed an agency that oversaw the deportation of thousands of immigrants from California."
The station reports, "Adriana Cortes Luna, a Los Angeles resident who's worked with undocumented UC students, signed the petition."
"The UC system has been one of the leaders in supporting undocumented students," she said.
Angela Chan, a lawyer with the Bay Area group Asian Americans Advancing Justice, said she was "stunned the deportations didn't seem to bother the search committee recommending her appointment."
"I think the message they're sending right now is an unfortunate message that they want a politician at the helm rather than an educator," she said. "It also shows a lack of understanding or sensitivity to undocumented students and to immigrant students who make up a large part of the UC system."
Four student protestors were arrested at the meeting on Thursday chanting during the UC Regents discussion on the new president's compensation.
The Daily California reports, "Some of the public commentators voiced concerns over Napolitano's lack of educational experience, but she addressed them by explaining her credentials in public service."
"Let me acknowledge that I am not a traditional candidate for this position," Ms. Napolitano responded to criticism. "I have not spent a career in academia. That said, I have spent 20 years in public service advocating for it."
She referred to a history as governor of Arizona where she claimed "she spent much of her time investing in the state's universities, including fighting to keep tuition for students as low as possible and developing loan forgiveness programs for high-demand fields of study."
The Daily California noted, "Despite the protesters' concerns over her history in immigration policies such as Security Communities, Napolitano expressed strong support for the DREAM Act."
"I have been an early advocate of the DREAM Act and comprehensive immigration reform," she said. "Not to do so would have been to dash the hopes and the dreams of many, many young, achieving students."
But others are not so sure.  An Op-Ed in the Daily California argues that Janet Napolitano has championed anti-immigrant policies including the deportation and arrests of many undocumented students in California.
"The secretive process of appointing Napolitano is also an indication of the failure of UC Regents' leadership. The selection was not transparent, and there was almost no public input. Clearly, the selection was not in the best interest of UC students but rather in the interest of corporations," Ju Hong, a UC Berkeley alumnus writes.  "The bottom line is clear: Napolitano split up millions of immigrant families. If I had called the police back when our home was robbed, my family could have been deported. I will always remember the fear we felt. I will always remember the pain of losing friends and neighbors because of deportation. My sincere hope is that the regents will also remember Napolitano's troubled record and the pain she has caused for millions for Californians."
—David M. Greenwald reporting