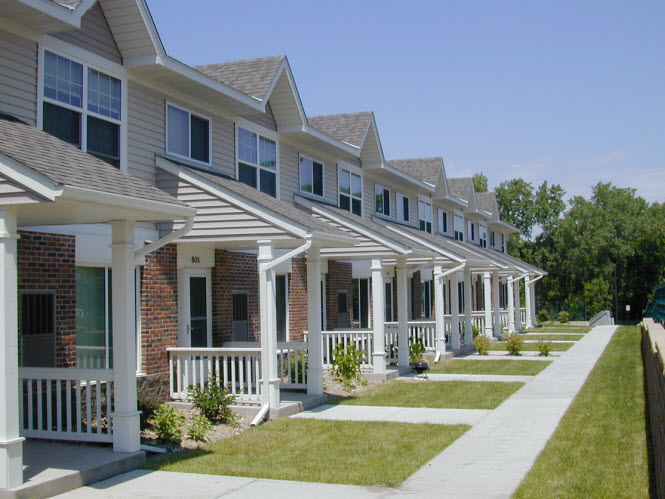 Inclusion of Granny Flats Counting Toward 50% of Affordable Housing Requirements a Key Point of Contention – By a narrow 3-2 vote the Davis City Council on Tuesday night agreed to make what advocates fear are sweeping and detrimental changes to the city's Affordable Housing Ordinance.  The biggest concern is the provision that would allow credit for Accessory Dwelling Units (Granny Flats or ADUs) to count toward inclusionary requirements on a 50 percent basis.
The substitute motion made by Councilmember Brett Lee and joined by Rochelle Swanson and Mayor Joe Krovoza was opposed by Mayor Pro Tem Dan Wolk and Councilmember Lucas Frerichs, who had supported an original motion that would have struck the credit for ADUs.
The staff reported noted that "the City has struggled with policy issues around appropriate allocation of profits in rising markets or losses in declining markets."
In the wake of the loss of RDA funding, the city has limited options, given Measure R's limitations for new large housing projects on Davis' periphery.
As a result, staff believes, "Single-family subdivisions 200 units or smaller would likely provide many of their affordable housing units through either accessory dwelling units or in-lieu fees. This would result in fewer affordable ownership units targeted to moderate-income households."
They argue, "Granting credit for accessory dwelling units would likely encourage and increase the housing supply for one- and two-person households. Absent inclusionary units, this is an area that has not been accommodated in recent market-priced developments."
The city's new planning director Mike Webb referenced a survey that shows that almost all ADUs are rented, and rented at low or very low affordable rental rates.  He noted that the city does know who rents those units – working adults, graduate students, and some by retired adults.
"It's a range of different household types in those units," Mr. Webb told council.
"We also heard the recurring comment that these units don't provide for the necessary space for family living," he said.  "We're not trying to suggest that they do.  We are proposing an approach that really takes a multitude of different housing types into account and to really try to expand on those opportunities."
"No, ADUs are not going to provide the ideal living environment for all the types of population in the community that we're trying to target," he acknowledged.
City Manager Steve Pinkerton said with the loss of redevelopment, affordable housing lost about 90% of its revenue.
"There's so many other demands on our dollars that affordable housing is getting the short end of the stick," he said.  "We knew that we had to look at our ordinance that twenty five years ago made a lot of sense but makes no sense today."
He separated those subdivisions that are 200 units or more from those with less.
"With 200 or more clearly there's room to accommodate and you have to dedicate land for an affordable housing site," he said.
The gorilla in the room is the Cannery site, which some believe will be the only new large subdivision in Davis, perhaps in the next 20 to 25 years, unless something happens with PG&E or some of the larger infill sites.
"Given the incredible constraints that have been put on this community by Measures J and R, the reality is that we're going to just try to do small infill whenever we can and large subdivisions are pretty much done unless something miraculous happens in the rest of this decade," he said.
Mr. Pinkerton noted, "The vast majority of the times you would see the in-lieu fee or the ADU being executed… would be on subdivisions of 200 or less where there never would have been any money going towards rental housing or any rental housing being created in the first place."
But affordable housing advocates disagreed.
Mayor Pro Tem Dan Wolk said he was wrestling with the ADU issue.
"I support ADUs as just a general housing option," Mr. Wolk said.  "But then there's crediting it for purposes of satisfying the affordable housing (requirements).  I'm just not sold… that the accessory dwelling units would be affordable."
"I completely understand the value of ADUs in a grander concept, in terms of offering denser housing and offering a range of housing," he added.  "But in terms of satisfying affordability requirements I do think that the ADUs just don't get us there.  I think it is a step back in that sense."
Lucas Frerichs argued that the city needed to focus on rental housing for low and very low income people.
"I'm fine with ADUs," he said.  "I love ADUs and advocated for them heavily in the past, but not when there's no monitoring or insurance that affordable housing is actually going to be produced."
He was also concerned that the 200 unit number was somewhat arbitrary as a reference for in lieu fees.  Ultimately, council decided it would have discretion to allow in-lieu fees as an option in any project for up to 50% of affordable housing requirement.
That provision would do two things.  First, it would allow the council to assess the proposal.  But second, it would ensure that in large subdivisions, there would be on-site affordable housing.
Housing advocates came out in droves last night to oppose some of the provisions of the ordinance.
In February the Social Services Commission had a forum that was heavily attended on the subject of affordable housing.  According to the staff report, "The recommendations of the Commission were to support staff recommendations for targeting toward rental housing for very-low income households and support the graduated scale for inclusionary obligations. The Commission did not support allowing credit for accessory dwelling units."
The commission did recommend that there be requirements for discretionary approval for a project to pay in-lieu fees, and that recommendation would seem to be supported by the council clarification.
However, the ADUs remain a concern.
In a March letter from Alysa Meyer, the managing attorney at Legal Services of Northern California, she noted staff's continued support for the ADUs despite a 5-2 vote against it by the Social Services Commission.
Ms. Meyer writes, "Legal Services of Northern California opposes providing a 50% credit for accessory dwelling units absent a program to monitor and ensure that at least 50% of the ADUs are affordable to and occupied by lower income households."
"There is nothing in the report to indicate that the property owners intended to build the ADUs to provide affordable rental housing. Given the vast number of homeowners who turn out to public meetings to oppose any affordable multi-family rental project, it seems rather unlikely that homeowners would construct an ADU for the purpose of providing affordable housing to low income tenants," she continues.
She argues that she sees it as "unlikely" that the city has the staffing resources to track and monitor second units to ensure they are affordable, as the staff report indicates that the city has "limited administrative resources …. "
"In fact, permitting accessory units as inclusionary housing excludes families with children or people with live-in caregiver needs who need more space than an accessory unit provides," Ms. Meyer argued.
She writes, citing California Government Code, "In order to include sites for second units in the next housing element toward meeting the City's Regional Housing Needs Assessment, the City must consider the need for second units based on tenure, family type, household sizes, and other factors in relation to types of units, the resources or incentives available for their development, and other relevant factors such as the anticipated affordability of second units."
These concerns appear to remain in place several months later.
As the Sacramento Housing Alliance staff attorney noted, "The staff report doesn't provide adequate assurances that these units would indeed be rented to low and very low income households."
"City staff admits it doesn't have time or resources to complete a compliance plan," he added.  "The state department of housing and development has informed city staff through SACOG that ADUs should only be counted  through a juridiction's regional housing need when mechanisms to assure affordability are available."
"To say that we can simply add these ADUs to reach the city's affordability requirements is simply false," he stated.
Mindy Romero from the Social Services Commission, and the Chair of Yolo Mutual Housing Association, expressed a number of concerns about the ADUs provision.
She said that the commission voted down the provision, however, asked staff for additional evidence.  While she complimented staff for following through, she said, "It still doesn't really satisfy many of the concerns that we had."
The data collected by staff, "tells us a little of the story but it doesn't tell us enough.  It doesn't provide enough evidence to alleviate those concerns."
She was concerned that ADUs simply do not meet the needs of people with families and people who are in the low income category.
Looking concretely at Cannery, she said, "(The Commission) calculated that with the proposed changes we would lose probably about 20 units at that site, that's affordable homes for families living in Davis now."
Chamber Executive Director Kemble Pope as well as several in the business community and the development community came out in favor of the affordable housing changes.
In a policy statement put out by the Chamber, they argued, "Policy decisions should be data-driven. In the absence of current data, the Chamber recommends maintaining a mixed inventory of affordable housing types, not simply "very low income". Further, there should be diversity in the types of affordable housing available. For example, there is a large amount of apartment communities available, which should be considered market-rate affordable."
With regard to counting ADUs toward regional housing needs, the Chamber "recommends the City consider the possibility of a "cap and trade" model. The option to buy, sell and/or trade second units to meet the affordable housing need presents some innovative possibilities for Davis to achieve greater densification while providing affordable housing opportunities."
Mayor Joe Krovoza did push through an amendment that would sunset the ADU provision on December 31, 2015.
That motion eventually carried by the same 3-2 vote, with Dan Wolk and Lucas Frerichs dissenting.
Following the vote, Mayor Pro Tem Dan Wolk told the Vanguard, "(This) was a key vote for those of us interested in social justice."
—David M. Greenwald reporting