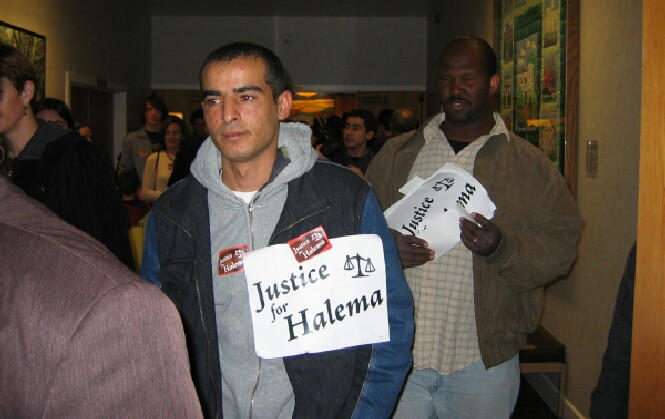 Closure is a word that, more and more, I think should not exist.  The more I live and observe, the more I recognize in human psychology there is no such thing as closure – at some point, people just move on with their lives.  But there is never closure and in most ways they are never the same.
And so this week, I too am forced to deal with one of the pivotal moments of my past, as the Buzayan family made a decision to end their case.
I cannot run from this as one reader noted – this was my legacy.  My first instinct was to reject that notion.  But as we discussed it further, I think we both realized that, while legacy is probably not the correct word, it was a crucial moment in my life.
There would not be a Vanguard today without this case and I'll try my best to explain why.  Because as I look back on it, I have seen far worse cases of police abuse and it was only a comedy of errors of mishandling that led this to become far more important than what it should have been.
We are talking about a case where there might have been a bumper bender in the parking lot.  And really, that is both in question and does not matter.  The witness never saw contact, but saw the SUV driving close to the vehicle, and saw damage in the parked vehicle after the Buzayans had moved on.
I had seen both damages.  The one on the Buzayan car was a long thin scratch and the one on the other car was a small dent.  The family hired a crime scene analyst who found that the damage was incompatible and the paint transfer inconsistent.
But at the end of the day who cares?  The family decided to pay for the damage and the case should have ended there.  The reasons that it did not end there are far more important than what happened on that day.
Still, the two worst cases of police abuse and misconduct that I have seen in this county greatly trump whatever happened in the Buzayan case.  One of those was the beating of the Galvan brothers, that put Ernesto Galvan in a coma and has created such brain damage that, for the rest of his life, he will have to deal with psychosis.
The other case involved the shooting of Luis Guitierrez by three sheriff's deputies.
The Galvan brothers ended up with a small and modest settlement, the Gutierrez family watched a federal jury acquit the officers in a wrongful death suit, and the Buzayan case ended up with the family incurring $500,000 in legal debts and getting nothing.
The first lesson here is that the legal system is not the place where wrongdoing is adequately or reliably addressed.
But in recent years, those two cases have caused me considerable doubt when it came to the Buzayan case.
In most ways, the Buzayan case only matters in a place like Davis – even though the story got picked up in regional newspapers and was the subject of numerous KGO-San Francisco TV Broadcasts.
The problem is that the city did just about everything wrong.  We can start with Officer Pheng Ly.  He should have dropped the case after it was demonstrated to him that the Buzayans had paid for the damage.  That is what the "victim" wanted and what the rather conservative Yolo Superior Court Judge Thomas Warriner ultimately ruled.
But Officer Ly, who in 2006 was named Davis Police Officer of the Year and who a few months ago got an award by MADD for his vigilance in apprehending drunk drivers, was determined to show that the family was lying to him.
He made what I think most police officers have acknowledged was an error in judgment when he decided that he should pursue this case and then arrest a minor late at night.  It's a misdemeanor case, and it is under questionable legal authority, at best, that he could arrest anyone for a misdemeanor that he did not personally witness, but why not simply allow the parents to bring the girl in the morning as they requested?
He compounded that error by failing to stop his interrogation once the defendant asked for the assistance of counsel.  And the police further erred in attempting to use the citizen complaint process as a means to extract a confession from the young defendant.
Jamal Buzayan then found the political avenue unsatisfactory.  He brought his complaint to the police but they dismissed the complaint.  He brought his complaint to city hall, but they ignored it.  Had he gotten a simple apology, which he told me numerous times was all he really wanted, this case would have ended there.
Instead, Mr. Buzayan was forced to take it to one body that would listen to him and advocate for him, the Davis Human Relations Commission.  The fact is, his case was not the only complaint that commission was hearing about the Davis Police Department at that time.  They were receiving numerous complaints about racial profiling.
In fact, in February of 2006, a large group of African-Americans, mostly young male students, came before council to complain about their treatment.  The protest was organized by a young African-American student, ironically whose father was a ranking officer at the LAPD and who was outraged at the treatment of students.
A few months later, another group organized by the same individual marched from the Memorial Union to the Davis Police Station.
There are a thousand ways this could have been handled far better than it was.  In the end, the HRC asked for a citizen's review board, the council was not willing to go that far and ultimately hired a police ombudsman.  Things could have stopped there.
Documents that I obtained, through public records act requests, showed the former Police Chief busy not with his job, but busy trying to organize counter-protesters against the HRC and to attack its chair, who, by the way, happened to be my wife.
It was during this time that I was a graduate student in the Political Science Department at UC Davis.  I was not involved in anything other than trying to finish my dissertation when my wife called from City Hall to ask me to record the council meeting as I had done dozens of times previously.
For reasons unbeknownst to me, this time, instead of turning it off, I listened to it as I did my work.  And what I heard appalled me.
It was councilmember Ted Puntillo who is probably most responsible for my involvement.
Ted Puntillo said, "What I want are police officers out there that are using their training and their instincts, I don't want them thinking about oh somebody's going to be reviewing what I'm doing. "
That quote goes against every core of my belief system about government.  What we need is more oversight over those with a badge, not less.  I honestly believed that if people just heard what I had just heard in this liberal community, they would be outraged like me.  I was wrong.  My error shook my confidence in this community and made me realize that I could no longer take things for granted.
Things escalated from there.  By the end of the spring, this case had made regional news and polarized the city, but the biggest shocker was yet to come.
Police Chief Jim Hyde resigned, blaming the Human Relations Commission and its Chair, Cecilia Escamilla Greenwald for for "limit(ing) my effectiveness to work with this fine community."
"Despite the great work of the members of this police department, the HRC has divided the community along race and religious lines to fulfill a self-serving political agenda," Mr. Hyde wrote in the email to council.
He added, "In my 27 years of government service, 10 years of clinical psychology and 16 years of working with nonprofit organizations, the HRC is the most dysfunctional and incestuous group I have ever witnessed. I hope that (the) City Council will correct this community problem."
I would suggest people look at what happened in Antioch and in particular his Reno 911 remark about the Davis Police Department.  I think history largely shows that Mr. Hyde was a huge part of the problem.
But the council did not see it like this at the time, and made the decision to disband the HRC in late June following the 2006 council election, but before Ted Puntillo left the council and Lamar Heystek was sworn in.
It was a 4-1 vote to disband the commission – a week later it would have been 3-2, and I wonder if they would have done it.
Nevertheless, following that incident, I realized there were serious problems in city government, that the local paper was not going to report them accurately, and it was on July 30, 2006 that I launched the first version of this publication.
Without the Buzayan case, there would be no Vanguard.  At the same time, what I realized this week is that long ago the Vanguard ceased to be about the Buzayan case and became a publication that in part intended to highlight problems in our community that needed to be addressed.
In the big scheme of things, the Buzayan case will always be an overblown case of a bumper bender in a grocery store parking lot, that always said more about the officials trying to handle the case than about the case itself.
And yet, while I have seen far far worse than this in my approaching seven years on this job, still, in a way this case was much more personal than a lot of the other cases.  Few people will realize how much personal turmoil we incurred from this one case on a very personal level.
When I spoke to attorney Whitney Leigh on the phone as I wrapped up our brief conversation, I realized that the Buzayans had finally moved on and thought, I guess I should too.  Then I realized, I really already had.
In the next few weeks, we will see some troubling news cases involving the same officer, Pheng Ly, and also cases where two Yolo County Sheriff's deputies end up lying about traffic stops.  More on those later…  It's business as usual in Yolo County and there is still much work to do.
The Buzayan case will always occupy an important chapter in my life, but it will never define my legacy.
—David M. Greenwald reporting