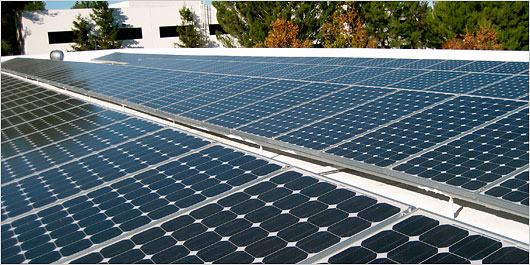 Citing a study that shows that both solar photovoltaic (PV) and solar water heating are considerably cheaper energy options for Davis residents than using grid-sourced electricity and natural gas, the Natural Resources Commission has proposed a Davis Renewable Energy Ordinance.
Their report shows that installing solar PV could reduce a consumer's monthly electricity cost by more than 30 percent.
The ordinance says that all new residential and commercial buildings larger than 1000 square feet and all major renovations "[i]ncorporate on-site renewable energy generation capable of producing an amount of electrical energy at least equivalent to 100 percent of the projected electrical usage of the project."
It additionally calls for the requirement that they "[i]nstall an EnergyStar-rated solar water heater sized to meet 100 percent of the average daily demand for domestic hot water service."
In an email from Gene Wilson, Chair of the NRC, to city officials and other commissioners, he said, "The NRC report also found that the higher cost to consumers of grid-sourced electricity will undoubtedly get worse.  According to the California Energy Commission, utility electricity rates are likely to increase 39 percent over the next 10 to 12 years.  PG&E has a request pending now for a 15.6% increase in rates."
"By contrast, a rooftop solar system installed today is a fixed cost.  It will continue to generate electricity at $0.09 per kWh for 20 to 30 years producing greater financial savings for the consumer every year," he wrote, "This $0.09 price per kWh for solar PV electricity was derived from data published by the Energy Commission  showing average prices for solar PV systems installed in California to be $6 per kW of generation capacity."
In contrast, the PG&E baseline is $.13 per KWh, that increases to $.15 at tier two and soars to $.31 at tier 3.
He writes, "Rooftop solar is practical for installation on new homes now.  In fact, some major residential home developers are already offering the benefits of solar PV to their customers at no additional charge.  For example, Shea Homes already offers  'net zero homes standard, at not extra cost to our home buyers.' "
The NRC report also concludes that solar water heaters offer similar savings to consumers.  However, Mr. Wilson notes, "Due to currently low natural gas prices, solar water heaters are only cost effective if they are installed consistently as a part of new construction when costs are lowest."
He writes, "Again, the savings are immediate, and they multiply over the years as natural gas prices increase.  The Energy Commission is expecting natural gas prices to rise 79 percent over the next 10 to 12 years. "
"Moreover, the public supports including renewable energy in new homes.  Market research by the California Energy Commission shows that 87 percent of Californians view a home's energy efficiency as an important factor when purchasing a new home.  71 percent 'think that home builders should make roof-top solar electric systems a standard feature in all new single residence homes they build,' " he continues.
The renewable energy ordinance cites global projects that "atmospheric CO2 has this year exceeded 400 ppm for the first time in three million years and average daily temperatures are projected to increase by as much as 4 degree Celsius this century resulting in sea-water intrusion, desertification, food insecurity, extreme heat waves, loss of agricultural production, extended drought, species loss, ocean acidification, increased disease risk, and related impacts."
The city of Davis, through its Climate Action Plan, seeks to become carbon neutral no later than 2050.  In order to get there, these goals will require the city to cease the "development of new buildings in Davis that do not incorporate renewable energy generation [and that] will lock residents of Davis into an insecure, inefficient and high-carbon energy future."
The ordinance argues, "Rooftop solar reduces the need for distribution system upgrades, reduces peak electricity demand, reduces transmission losses, avoids costly expansions of long-distance transmission systems, and allows undeveloped land to be used for other economic, social or environmental purposes."
A number of recent developments have already begun to incorporate the rooftop solar PV as a standard feature in their design.  This demonstrates both its economic and technical feasibility.  The California Energy Commission has concluded that adding solar photovoltaics can completely offset the related costs.
They argue, "Renewable energy generation can be installed at considerably less expense when the installation is done as a part of the original construction, rather than by retrofitting which potentially involves opening the building for structural upgrades, dealing with split incentives, addressing complex ownership structures, concerns about roof leaks, interference with on-going uses, fixed design limitations, access problems, higher financing costs, deploying a second project, potentially obsolescing distribution system and generation upgrades."
The cost of renewable energy generation built into a new project can be financed as part of the first mortgage, thus providing the lowest financing cost for renewable systems and maximizing the financial benefit to new owners.
The ordinance calls for urban forest protection, as well.  The language states, "It is the intent of this ordinance that priority be given to fostering the growth and development of the urban forest in new developments. In circumstances where the installation of rooftop solar would curtail the future growth and development of the urban forest, the requirements of this ordinance shall be inapplicable insofar as necessary to avoid such impact."
This is clearly meant to ward off concerns that the installation of solar PV would lead to conflicts with the city's policies on protecting trees and its urban forest.
They allow that "[i]ncorporation of solar or ground source systems that fully meet the space heating and/or cooling requirements of a project is an acceptable alternative to compliance with Section 1."
And the ordinance also includes a hardship clause, "The Director of Community Development shall waive compliance with this ordinance, to the extent necessary, for commercial or residential projects where roof space is inadequate or where compliance would impose undue hardship or economic expense or would otherwise be infeasible."
For electric vehicles: "Residential solar photovoltaic systems installed pursuant to this ordinance shall reserve sufficient roof space to add solar panels to charge an electric vehicle and shall provide an electrical conduit to the solar panels that can accommodate additional wiring sufficient for that purpose. All new residences shall install an electrical conduit for one Level 2 EV charging station and provide panel capacity sufficient for that purpose."
The Director of Community Development shall monitor the effectiveness of this ordinance and consumer satisfaction, and will report to the council annually for three years to determine if there are any problems and suggest program adjustments as needed.
"For these reasons, the Natural Resources Commission has recommended that the City Council adopt an ordinance (attached) requiring all new residential and commercial construction in Davis to incorporate solar PV and solar water heating beginning in 2014," Gene Wilson reports.  "This is a solution that address the urgent responsibility to reduce GHG emissions and provides an opportunity for Davis to save consumers money while creating new jobs.  We urge the City Council to address this issue as soon as possible."
—David M. Greenwald reporting