County Clerk Describes the Long and Yet Rapid Road from Protest to Legalized Marriage – It was February of 2007, more than 18 months before voters would pass Prop 8 banning same-sex marriage, when Yolo County Clerk Freddie Oakley said she was frustrated with the system and decided to do her own protest.
"I had already been county clerk for a number of years and I took it upon myself to be the person who addresses folks who came to demonstrate on Valentine's Day," Freddie Oakley recounted on Friday, noting that most county clerks would simply hide away in their offices rather than face the protesters.
She told the Vanguard, "I thought that showed a lack of courage – if you are charged with enforcing the law, then be the person who enforces the law.  And if you find the law unpalatable then be the person who tries to change the law."
What she found when she stood up there and protested is that it was "heartbreaking."
"Real people with real lives were asking to be treated equally with anybody else," she said.  "I thought oh my lord this is just so wrong.  Because I had to be the person to say no, it really weighed on me."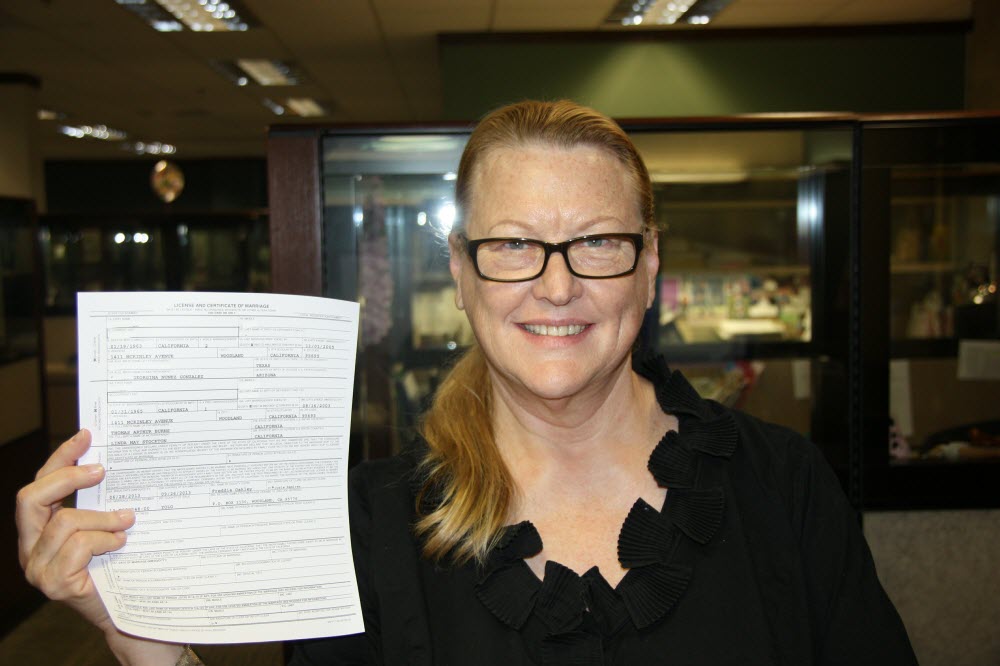 Because she was going to be the person to say no, she wanted to demonstrate to the best of her ability that she respected the right for everyone regardless of gender to marry the person of their choosing.
So she created what she called a "Certificate of Inequality" which would be issued to any same-sex couple seeking to get married on February 14, 2007.
In retrospect, she said, "Strangely I thought… that if it had a chance of offending anyone it would offend gay couples.  I was afraid that they would think that I was chastising them for being unequal."
So, she met with Ellen Pontac and Shelly Bailes, two Davis residents who have become poster children in the same-sex marriage battle and they gave her the go ahead to do the protest.
"I had no idea, no idea, what a Tiger I was taking by the tail when I did that," Ms. Oakley added.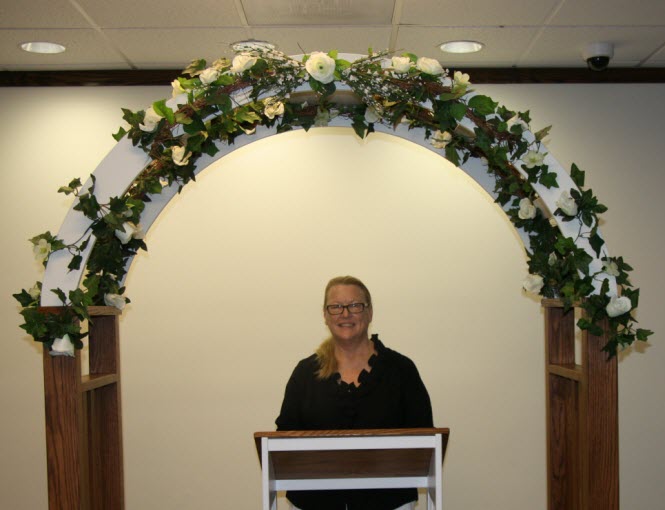 The certificate read, "The State of California arrogates the right to limit your freedom to marry based on the gender of your chosen spouse, and…  Based on your choice of spouse I may NOT issue a license to marry to you."
"I am unable to divine any legitimate governmental purpose in the regulation of your marriage partner's gender," the certificate continued, "therefore: I issue this Certificate of Inequality to you because your choice of marriage partner displeases some people whose displeasure is, apparently, more important than principles of equality."
In 2007, Ms. Oakley in a written statement stated, "For four years in a row, I have followed the law and denied marriage licenses to same-gender couples who apply annually on this date. I will continue to follow the law."
"But this situation, where following the law requires me as a public official to treat people unequally based on gender, is a painful reminder to me that we have not learned the lessons of courtesy, decency and fairness that we seek to teach to our children," she stated.
"Today I am protesting this discrimination by giving a special Valentine's Day memento to people who request one. I do this at my own expense, in the exercise of my own civil right to call for a change in the law I must faithfully administer," Ms. Oakley continued. "I am the hand that must ultimately deny the application of some couples to contract a civil marriage, but I truly believe that the American values of courtesy, decency and fairness mean that if anybody gets a Valentine, everybody should get a Valentine."
For her efforts she was demonstrated and protested against.  The downstairs section by the County Clerk's Office was jammed with a long line of people waiting to get their certificates. Outside, was a modest group of people who had come to protest this action by Ms. Oakley. Perhaps 40-50 people carried signs saying "Everyone has an equal right to Marriage, Just follow the rules."
Another more radical group carried more hate-filled messages, such as "God's Word Says: 'Remove the Evil Person (Freddie) From Among You.' "
The ACLU had a counter-demonstration led by Natalie Wormeli and the late Paul Gerowitz, carrying signs such as "Freddie Rocks" and "Who Would Jesus Discriminate Against."
Today, Monday, July 1, barring a last-second court tactic that seemed to have been exhausted on Sunday when Supreme Court Justice Anthony Kennedy declined to reissue the stay that the Ninth Circuit dismissed on Friday, Ms. Oakley will be able to resume marrying same-sex couples as she did during a brief window in 2010.
We talked to Freddie Oakley on Friday, prior to the Ninth Circuit lifting the stay on same-sex marriages, and she said her office was waiting for the Department of Health, which registers marriages, to give them the go ahead to proceed.
Those people who were able to marry in 2010 remain married and do not need to and cannot be legally remarried.
"Now with DOMA gone, they're really married," Ms. Oakley said,  "which is incredible."
It has been an incredible ride for Ms. Oakley in just the last six years.
"I would have to say that when I joined the protest in 2007, I thought we were in for a much longer haul," she said.  "I thought it would be a lot more time necessary for this work."
"It's astonishing to me how fast the sort of tide of culture has changed to accept marriage equality," she said.  She gives huge credit to individuals and organizations that have helped to make this happen.
"In a way it boils down to respect for the law," she said.  "Because folks have really gone through the process available to any American or group of Americans who want to challenge the status quo.  They have used every peaceful reasonable means."
"I did not think we'd see a payoff this soon, but I really give all of the credit in the world to all of the folks who did not give up the fight," Ms. Oakley added.
Freddie Oakley recalls, "I got calls from people all over the United States who wanted to tell me I was going to hell."
"I got requests from all over the world from people who wanted a certificate of inequality," she added.  "I sent them to everyone who asked for them.  I bought stamps with my own money, I bought copy paper with my own money.  I kept the receipts to demonstrate that everything had been done on my own expense."
She never feared for her safety.
"No one ever threatened my safety," she said.  "A lot of people threatened my eternal soul, but being as how they're not God, I can carry on with my not very radical conception of the Almighty."
She noted that a number of religious leaders have been part of the fight to legalize same sex marriages.
Freddie Oakley took on a good amount of potential political risk.
"I didn't fear political repercussions," she said.  "I was prepared for political repercussions.  I still am.  I'm up again in June of 2014 and it's entirely possible that an opponent may arise whose issue is marriage equality.  It's the American Way – if people want to challenge me politically, then fine."
"I was prepared for it, I didn't fear it.  I was surprised that there were not more robust political repercussions."
In the ensuing years, other than one where illness prevented it, she has always participated in the protest and issued certificates of inequality.
Despite the protests, Freddie Oakley has said that she actually turned away same-sex couples who somehow thought because she was supportive of same-sex marriage, she would be willing to actually break state law.
"It was further in the past," she said.  "There were couples that sincerely wished to be married and to whom I sincerely had to say I'm sorry, I can't issue a license because you're the same gender."
"They went away disappointed and I went away thinking inequality is a terrible thing," she said.
"There were some people who had the misguided notion that because I'm an advocate for marriage equality I would be prepared to break the law for them," she said.
"I would absolutely be prepared to challenge the law and (try to) change the law, but no, it would be a violation of my oath of office if I broke the law and I sure as heck didn't want to do that," she said.  "I think people should be able to depend on public servants to follow the law."
Beginning today, Yolo County's clerk office will open for same-sex partners to get married.  If history is any guide, today will be a busy day.  Of course when Freddie Oakley talked to the Vanguard on Friday, she did not know today would be the day.
"Judging by our brief experience of our brief window of same-sex marriages that we were permitted a few years ago, I think we will have a little marriage boom," she said.  "I think that I'll be performing a number of same-sex unions."
"I think we'll see a bump, an increase, it will be notable for a couple of months and then settle down to become part of the normal workload," she added.
At some point, believe it or not, same-sex marriage will become business as usual, something Freddie Oakley says will be a good thing and there will be a chance to move on to other fights.
—David M. Greenwald