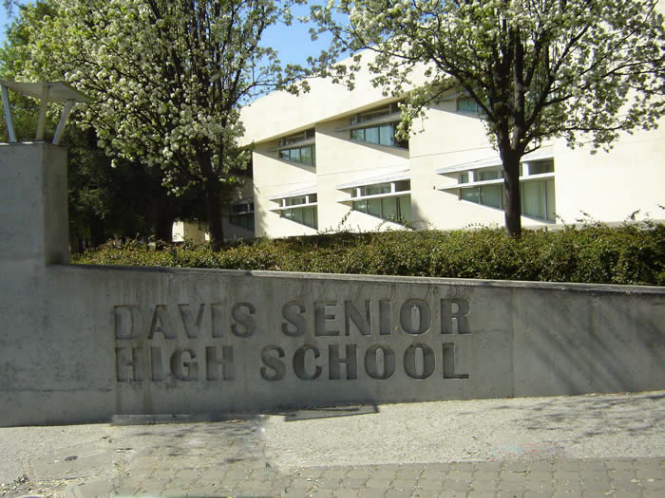 For several years now the Davis School District has gotten largely a free ride.  The focus was on school funding, cut backs from the state, and preserving programs that have made the school district one of the few to offer an array of critical programs and services to student in times of crisis.
While the public is still willing to support the district with parcel tax money, as the result of another strong showing last November, in the past six months, the district seems to have fallen into misstep.
This board has been in office a long time.  Three of its members were first elected in 2005, a fourth, Susan Lovenburg in 2007 and only Nancy Peterson is relatively new.
Right now it is the newcomer who is on the hot seat and for good reason.  There is speculation in the community at least that Ms. Peterson, whose children are reportedly on the volleyball team, has a vendetta against the Volleyball Coach Julie Crawford.
That speculation is matched by the fact that Ms. Peterson was the lone board member to dissent on rehiring the new coach.  She reportedly cited passages from the district's handbook for coaches regarding "integrity."
She said, "My vote reflects nothing more than my continued pursuit of ideals centered on children. I cannot in good conscience vote to approve Ms. Crawford as a coach for young adults."
Conflicts of interest are tricky things.  After all, it could be argued that any board member may have to recuse themselves if they have children in the district or who might benefit from a particular program.
However, while it is true that a teacher determines the basis of grade, board members are not typically asked to weigh in on the employment status of a specific teacher so any impact on their children's teacher or situation is indirect at best.
In this case, you have what at least to some appears to be very individualistic and personal reasons driving a policy decision.  In this case, the appearance of a conflict of interest is far stronger than it would be in a more generalized policy.
Moreover, the suggestion in this community is there is some sort of vendetta or grudge.  Clearly Ms. Peterson needs to step forward and explain herself and she needs to do for the reasons of restoring trust.
Two things happened this year involving Coach Crawford and Nancy Peterson.  Back in February, there was a consent item which included Ms. Crawford's contract.  Nancy Peterson pulled that item from the consent agenda in an effort to remove Ms. Crawford's name from being offered a contract.  She was supported by Gina Daleiden but their motion was defeated 3-2.
This provoked a strong letter to the editor by former DHS football coach Dave Whitmire in April.  Mr. Whitmire wrote, "Some members of the Board of Education in Davis are using their power to micro-manage the athletic program at Davis High. Coaches and other district employees are afraid to say anything in support of a coach for fear of losing their jobs. This is a blatant abuse of power."
"The Davis High Athletic Handbook describes a process to complain about a coach through proper channels," he continue.  "Why was this process bypassed? Do board members whose children are on athletic teams get to play by different rules?"
He adds, "It is highly unethical, and a conflict of interest, for board members who have children on athletic teams to try to influence or manipulate a sports program."
The second incident involved Ms. Crawford's contract as the girls' volleyball coach in June.  She was denied renewed and that was overruled by the school board on a 3-1 vote with Ms. Daleiden switching sides based on "new information" and Ms. Peterson remaining in opposition.
Accusations now are flying that this issue has actually been going on for two years and one anonymous poster is calling her a "bully."
They write, "Ms Crawford has been treated horribly by the board, by the district, and by Ms Peterson specifically for quite some time now. This was all due to the fact that everyone took Ms. Peterson at her word and never questioned this situation."
"The VSA for the fall girls season never made it to the board for approval due to the fact that Nancy Peterson has put continual pressure on Dennis Foster to remove Coach Crawford from her position as the girls and boys vb coach. Mr Foster never submitted the VSA as he most likely wanted to keep his job and knew that he would be suffering the same fate as Crawford if he didn't follow through with removing her," the poster wrote on Sunday morning.
They add, "Now all of a sudden you might notice that his job is up for review out of the blue. He probably didn't want the same fate as the most recently removed DHS principal (which also refused to remove Coach Crawford from her position as requested by Nancy Peterson)."
It is difficult to gauge accuracy of such comments, but there is enough smoke building up in the comment section of both the Enterprise and the Vanguard to suspect that something is awry.
If these accusations are accurate, Nancy Peterson is allegedly using her position on the board to carry out a grudge against a district employee.  That would be an abuse of power.
Even if it is not, it behooves the district to set forth more stringent conflict of interest policies.  The district if you recall had to completely revamp their conflict of interest policies after a former administrator used his position to create an independent educational consulting company using district personnel.
The district needs to take further steps to ensure the integrity of their board and avoid even the appearance of a conflict of interest.
And they have to act quickly.  Reasonable people are alarmed at the potential here for abuse and they need answers.
It is time for Nancy Peterson to step forward to provide those answers and if she cannot, she needs to step down or face recall.
This is a far more serious matter than the disagreements over firing previous coaches because this comes down to the allegations and appearance of one member using their public position to carry out private grudges.
The Vanguard has sent an email request for a meeting with Ms. Peterson and will inform the community the results of that meeting, should it occur.  This is no longer a personnel decision, there was a public discussion on this last week and this is now a matter of the integrity of the board.
—David M. Greenwald reporting