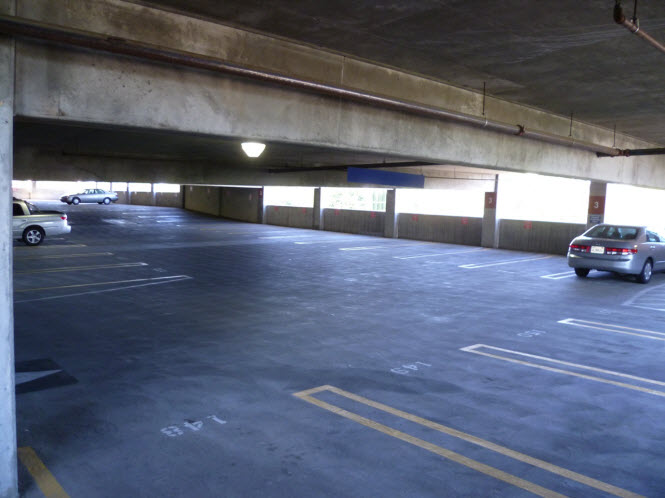 As the Downtown Parking Task Force wraps up its work and recommendations on parking, it seems like whatever ultimately emerges from that group's work will not put the issue of parking to rest.
Developer Chuck Roe this week has sent a letter to the task force, and excerpts from that letter are in today's local newspaper.
"I know you have had discussions about providing on-site parking for new projects as a way of providing for part of our parking shortage," Mr. Roe writes. " I don't think this is feasible."
Instead, he argues that his type of downtown development is likely typical of what we can expect in the future.  He argues, "Davis property owners and local developers like myself typically do not have the means to assemble large parcels for development. I believe this is a good thing because I'm pretty sure our collective vision doesn't include huge parcel assemblage and large-scale redevelopment projects."
Instead, he has designed a single downtown parcel and struggles to provide on-site parking for each unit.
He writes, "This added greatly to our cost by requiring the building to be built over the parking in most cases. Even so, we were not able to provide any extra spaces for the retail or office tenants of those projects."
Mr. Roe argues, "Since it is a great benefit to be able to provide more on-site parking and offer that to the owners and customers of the retail/restaurants and offices, we always looked into the feasibility of going underground. When considering ramps leading in and out, a car's turning radius and structural elements of the building, it was impossible to accomplish. It could, of course, be done. However, we got only a few additional parking spaces on each level underground and the cost was immense for each space. If this was required, I wouldn't have been able to build in the downtown."
In short, he argues that where are benefits of getting on-site parking when there are big downsides that include the fact "that at-grade retail and restaurant space is the most precious commodity we have. This has the highest development value and the highest and best use of the at-grade space should be required of any redevelopment. It should rarely used for parking. This is the space that generates the most vibrancy and pays the most taxes. To lose a portion of that for on-grade parking of cars on a lot-by-lot basis would be very foolish and shortsighted."
Mr. Roe argues that the problem of parking is not a future problem, but rather a current problem.  A multi-story parking structure fell apart as redevelopment district funds disappeared.
He writes, "Now the need for additional parking is critical. Please don't recommend a bunch of studies that will just lead to passing this issue along into the future. We've already done that for a dozen years."
"We should not believe that we will help solve our parking shortage by getting on-site parking as the downtown redevelops. As noted above, on-site parking is probably the worst use of space as we redevelop," Mr. Roe continues.
He does argue for parking meters throughout the downtown, noting the successful downtowns like San Luis Obispo and Boulder.
"Set them to the lowest cost on a block-by-block basis that results in a fraction of empty spaces on each block. Paid parking would get the downtown workers out of their every two-hour free parking dance and it would assure a few empty spaces if you really need to park near your destination. It also would create a revenue stream," he writes.
Chuck Roe argues, "We need strong leadership on this because there will always be those who claim it will kill the downtown. Tell that to Boulder and San Luis Obispo."
He also advocates actions to build the next parking garage.
Mr. Roe writes, "Like our other structures, it should be free to encourage workers and others to fill the garages and free up surface parking for those that need it or want to pay for it. The garage should have a financing plan that includes proceeds from the metered parking, possibly a downtown area assessment district and potentially a citywide bond. Let's get concrete and move forward."
In our view, the idea of a downtown parking task force was never a great idea.  The city has staff that could have done the research and evaluation.  There are too many cooks in the kitchen right now, each with a different vision for the downtown.
Back in June, another downtown commercial real estate business person, Michael Bisch, proposed utilizing the Boy Scout lot.
Mr. Bisch told the Enterprise that the Downtown Parking Task Force had to give specific guidance about a garage or "the council will lose sight of the issue of increasing the parking supply.
"Let's temporarily focus on this space, see what can be done there and if the initial feasibility says 'Yeah, this can be done,' put a funding scheme together and then let's do it," Mr. Bisch told the Enterprise. "If that initial feasibility study says that site is configured all wrong … let's strike it off the list and look at a new site."
"The Boy Scout Cabin lot sits on the south side of First Street where F Street dead-ends into First," the Enterprise reported.  "While Bisch isn't sure whether the space can accommodate a parking structure – that assurance would come through the feasibility study for which he's aiming to gather support – he believes it's the most logical space for a new garage."
"All the research that we had been given said that the greatest demand for parking is in that part of the downtown," Mr. Bisch told the Enterprise. "That's the most impacted area, that's where the consumer wants to park … (and) we want people to park in the periphery of the downtown."
The Enterprise noted that the plan would require a bridge that would connect the new parking structure to the existing garage above the movie theater.
Mr. Bisch suggested that the expansion could be financed by parking-in-lieu fees, development impact fees – particularly from the Cannery project, and parking fee revenues, with budgetary shortfalls covered by the city.
The Enterprise noted that the proposal passed the DPTF 5-4, but three of the opponents noted that they opposed the motion because of the parking garage proposal but supported the accompanying suggestion for paid parking in the heart of downtown.
Our suggestion would be a parking structure that enters behind the Design House on Olive Drive and extends over the railroad tracks into the existing lot.
The advantage of that structure would be that traffic would enter on Olive Drive – the intersection of which would have to be redesigned, but it would allow a huge flow of traffic to bypass the Richards Underpass.
We will see what the Downtown Parking Task Force comes up with this week, but in the end, the task may well fall back to staff and council to bridge the gap between a number of different proposals and visions for the downtown.
—David M. Greenwald reporting