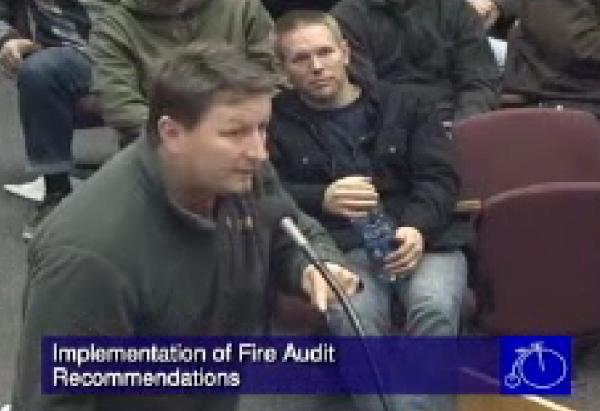 Imagine that this is a private company setting and that, after a series of long negotiations, you have formed a partnership to conduct regional training.  It's a big deal and you get to show off your company's stuff.
However, your shift supervisor has other ideas and complains loudly and in front of the employees he supervises about this "bullshit training," and whines that the company better buy him and his employees dinner because the training is in the evening.
When he doesn't get his way, he decides to apply for last-minute vacation time, starting at the moment when the training is supposed to start.  His supervisor discusses the matter with the company CEO and they decide that this is inappropriate and it would be difficult to re-schedule the training.  So, after consulting the employee contracts, they deny the vacation request.
The supervisor then becomes angry and tells his boss that he's going home sick.  The company has to call in another supervisor on his day off, pay him overtime, and conduct the training.
How long would this employee at a private business still have his job if he had acted comparatively to how Davis Fire Captain and union President Bobby Weist acted?
That the city simply accepted his sick leave, paid additional money to cover his time, and only wrote him up in a Performance Improvement Plan (PIP) suggests the opposite of what Mr. Weist claimed in his unfair labor practice charge against the city.
Mr. Weist's complaint argues, "The actions of the City, in issuing Captain Weist a PIP threatening discipline and arbitrarily denying his vacation leave contrary to past practice, is a blatant retaliatory measure against Captain Weist for his union activity.  The City's actions create an environment hostile to the union and its rights."
If anything, the city has gone out of its way not to take the proper steps here.  What is now clear is that, for years, Mr. Weist and others in the fire department have been able to avoid things like training and other protocol.
Despite the department's reputation for high marks in terms of service to the public, training seems to be an area of neglect.
The Davis Fire Audit notes, "The Department has a Training Advisory Group (TAG) as well as a Joint Apprenticeship Committee (JAC) in place since the mid nineties. Neither the JAC or TAG committee has met since 2006. The Department has a policy in place that establishes the minimum training hours per month commensurate with the ISO recommended twenty hours."
It is that policy that Mr. Weist has not been in compliance with, according to the PIP.
The report adds, "Currently the Department is working with UC Davis, West Sacramento, and Woodland Fire Departments to form a Regional Training Consortium."
The fire audit found that there was "a wide disparity of training hours from each shift and/or company."
The audit showed that Mr. Weist's shift, particularly in 2010-11 and 2011-12, had by far the least number of training hours per year.
The audit noted, "There is no evidence of any counseling of individual captains for the lack of adherence to Department policy. This deficiency in performance is validated in the most recent ISO grading, acknowledging an average of 12 hours of training per member/per company/per month."
Clearly this was an area of concern, and that concern was noted within Mr. Weist's PIP, but when the city presented that plan, Mr. Weist filed an action claiming that this was simply a matter of retaliation.
In his complaint, Mr. Weist claims that on March 13, 2013, he attempted to take vacation leave in a amount less than 24 hours.  He argues that no other captains were on leave at this time, but that Division Chief Shawn Kinney "denied Captain Weist's leave, claiming that Captain Weist had not fulfilled a required number of training hours and, thus, needed to attend a training session."
The complaint argues, "There is no set requirement for the number of training hours in the Department.  The training for which Captain Weist was scheduled on the day at issue could have been completed at another time."
In fact, there is a set number of training hours and Mr. Weist had not met them.
The complaint notes that he has been with the department for nearly 30 years and has been union president for the last 25 years.  They write, "Throughout Captain Weist's tenure, the Department's policy, practice and procedure has been to always grant leave to a Fire Captain when there are no other Fire Captains on leave, irrespective of scheduled training."
And that's the problem – for 25 years there has been a culture in the fire department that would apparently allow Mr. Weist's behavior to be acceptable.
The city, while not conceding that point, responds that, even assuming that the chief is correct regarding past practices of prior vacation requests being granted so long as no other captain was on leave, "which the city does not concede," the contract "gives the Fire Chief latitude to deny the request at issue in light of the needs of the service unique to the particular, multi-agency training that was scheduled long in advance of that day."
For all of the accolades of this department, the laxness in the training hours is a cause for alarm and it is difficult to believe that the lack of training might not result in harm to the service provided to the public.
What is clear is that the city was expecting this kind of blowback from Mr. Weist, and for the first time they were ready to battle with him on his own terms.  He has never been challenged before by a unified response from the division chiefs to the interim chief to the HR director to the city manager.
What this is, in fact, is a huge mistake on Mr. Weist's part.  The Vanguard pounced on it.  When the item was noticed in the agenda as a closed session item, the city officials rightly stated that they could not comment.  The Vanguard sent an email to Bobby Weist which was ignored and then filed a public records request.
Amazingly, the turn-around time on that PRA request was two days.  The city was just waiting to be able to release this information.  And Mr. Weist rashly has now allowed the Vanguard effective access to his performance history.
Allowing an individual in the position of authority to believe that they are above the rules is a dangerous precedent.  Mr. Weist has gotten away with this for most of his 25 years of tenure as union president.
The Davis Fire Report that was finally released to the public showed how Mr. Weist and former Captain Rose Conroy acted in concert to retaliate against those members who spoke out, and belittled their concerns.
In the past several months, the Vanguard has learned of numerous incidents where those who have spoken against the union's hardline position have been subjected to harassment, ridicule and scorn.
That is apparently the way Mr. Weist operates.  One member of the public has described the Vanguard's criticism as a personal vendetta against the union president, but the Vanguard largely objects to the manner of conduct exhibited by Mr. Weist in this community.
We believe that Mr. Weist has done this community a great amount of harm, not only in terms of the fiscal implications of his policies, but also in the human costs as well.  Increasingly, we believe that officials in City Hall agree with this assessment and are taking reasonable steps to ensure that Mr. Weist conducts himself properly.
To that we say: amen, it's about time.  At some point we hope that the good firefighters in Davis recognize that the path that Mr. Weist is leading them down is headed toward further humiliation and embarrassment, and that they need to find a better path and regain much of the trust that has been lost in the last few years.
There is a reason why only a handful of people came to show up on their behalf last spring.  And episodes like this show that things will only get worse from here on.
—David M. Greenwald reporting