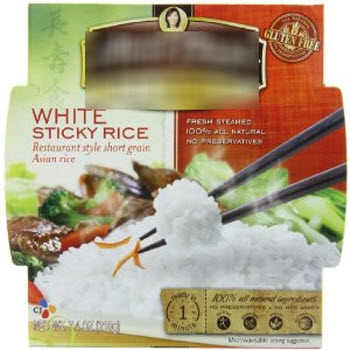 This week we saw, once again, a man facing felony charges in Yolo County for a miniscule petty theft.  In this case, the man faced a felony charge, accused of stealing a rice bowl from the Nugget Market in Davis.
Under California law, petty theft with a prior is a wobbler – it can be charged as either a felony or a misdemeanor, with the DA having the discretion of charging it as either.  However, Judge Richardson used his discretion to reduce the charge to a misdemeanor.
The list price of $3.99 is reminiscent of a more infamous case of overcharging by local prosecutors.
In February of 2010, the Vanguard broke the story that would be picked up across the country and even in the London Guardian.  Yolo County man Robert Ferguson faced life in prison for stealing a $3.99 package of shredded cheese from the Nugget Market in Woodland.
A few days after the Vanguard's story, the Sacramento Bee and then the New York Times picked it up, then the DA's office announced that they were no longer seeking a life prison sentence.
Clinton Parish from the Yolo County District Attorney's office had previously argued in court filings that Mr. Ferguson was a candidate for using the three strikes law, due in part to the five-part test.  The parts are, nature and circumstances of current offense, nature and circumstances of prior strikes, defendant's background, defendant's character, and defendant's prospects.
But a few days later, Assistant Chief Deputy District Attorney Jonathan Raven told the Bee that recent psychological evaluations convinced prosecutors that Mr. Ferguson's convictions for petty theft did not warrant a life sentence under California's "three-strikes" law.
Still, even removing that strike, Mr. Ferguson receive a sentence of seven years for his offense.
Today, of course, Mr. Ferguson, after the passage of Prop 36, would not be eligible for a third strike anyway.  He would have automatically had the strike waived and been eligible for second-strike sentencing of seven years in prison.
With federal mandates and the advent of AB 109, California is trying to clear its prisons of those committing non-violent, non-dangerous and non-sexual offenses.
Judge Richardson did in this case what Judge Warriner was not willing to do in the 2010 Robert Ferguson case – reduce the charge to a misdemeanor.  Think about this, Mr. Ferguson will have to serve at least 85% of his seven-year sentence, at a cost of $50,000 per year to the taxpayers of Yolo County.
During a time when the state, the county and local prosecutors are claiming that they lack sufficient prison and jail space to house dangerous criminals, we are using that jail space on people like Robert Ferguson, who, while indeed lifelong offenders, have records that are more of a nuisance than dangerous.
It is true that loss prevention and petty theft are costly to local businesses, but putting people in jail now or in prison for these offenses is far more costly to the voters.
If this were an isolated case, perhaps we could overlook it as an outlier, but the fact is that over the years these cases keep coming up, and Nugget Markets has a very tough policy on loss prevention, having individuals arrested for very small offenses.  Over the years we have seen lengthy prison/jail sentences for people for stealing cheese, stealing Chinese food, and for other small-time offenses.
We are talking now about millions of dollars in taxpayer money to prevent perhaps a few hundred, at the very most, in theft.
The DA's office has not changed their charging policies to go with the times, either.  This is not the first time we have seen Judge Richardson use his authority, over the protested objections of the DA's office.
In May of 2011, a defendant suffering from schizophrenia with a long history of mental illness stole a Godiva candy bar worth $2.95 from the Woodland mall.
Deputy DA Jennifer Davis, however, argued that it should not be reduced to a misdemeanor because of the defendant's record with the other felony cases, along with a violation of probation.
Judge Richardson ruled, on the other hand, that this was just a candy bar that was worth $2.95.  There was no need for this case to be a felony.  He reduced it to a misdemeanor in the interest of justice.
When the prosecution protested, he proclaimed, "It's a candy bar."
The prosecution in this country has tremendous power in charging cases, and in very few instances will we see judges use their discretion to reduce charges in the interest of justice.  Discretion does us no good without common sense to guide us.
From our perspective, the times have changed and we need to change the way we handle low-level offenses.  No longer can we afford to spend $50,000 a year on an offense that, at its core, costs us only a few dollars.
There are better and more effective ways to deal with these cases.  And the good thing is that the DA's office is starting to recognize that, as well.  Implementing a Neighborhood Court is the first step, but implementing a more sensible charging policy that makes use of alternative methods is perhaps more important.
—David M. Greenwald reporting