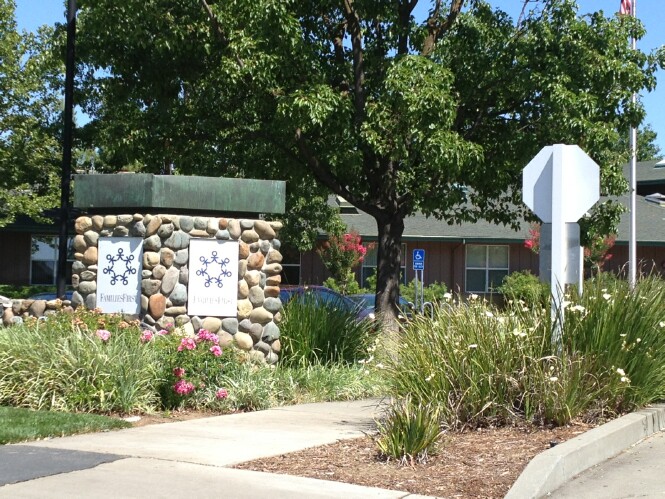 EMQ FamiliesFirst announced on Wednesday it would be reducing its Davis campus program and administrative staff by 77 positions effective July 31, 2013.  The Residential Treatment Program is open while they work to resolve licensing and certification issues, a statement from spokesperson Kristine Austin said.
"We are fully committed to children in crisis, their families, and the community of Davis," said Darrell Evora, president & CEO of the agency. "This has been a very painful time for all involved. I am especially grateful to my colleagues at EMQ FamiliesFirst who have dedicated their careers to working with vulnerable young people, and to all those in Davis and Yolo County who support our mission."
It has been just under two months since the community was rocked with the news that an 11-year-old female resident of the program was taken from the facility and forcibly raped by two males, 13 and 14 years of age.
The Davis Police Department reported that they received 500 calls for service from FamiliesFirst in 2013.
"Over a hundred reports were made of youth running away from the facility. The police department met with FamiliesFirst staff and management on multiple occasions in order to come up with ways to reduce the incidents and to ensure the minors were being properly supervised. Despite efforts, minors were routinely leaving the facility," the police report.
Less than two weeks later, the California Department of Social Services (CDSS) completed its investigation and recommended the facility have its license revoked and that the directors be excluded from working the in the field again.
Darrell Evora told the Vanguard, in a statement forwarded to the Vanguard, "Nothing is more important to FamiliesFirst than the safety of the children in our care and our long-standing reputation for programs recognized as some of the finest in California."
"We have received the complaint from the Department of Social Services about our facility in Davis, and it is being reviewed currently. We plan to fully respond," he said.  "We will defend the agency and its programs which serve some of the most challenging children. This matter is now in litigation, and we do not discuss pending litigation."
Mr. Evora concluded, "We will continue to work with CCL [Community Care Licensing] to make improvements and plans of correction at the facility; and we will continue to operate both the residential program and Non-Public School during this administrative process."
According to the complaint, from January 2012 to June 4, 2013, FamiliesFirst, Audrie Meyer, and Gordon Richardson "failed to ensure the personal rights of children in care and provide for their care and safety without exploitation or prejudice; failed to ensure the provision of adequate care and supervision; failed to ensure that there was adequate and competent staffing to meet the needs of the children; allowed children to leave the facility without maintaining appropriate supervision of the children; and, further, endangered the health and safety of children in care by failing to comply with their respective responsibilities."
The complaint alleges, "During the period between February 3, 2012 and June 4, 2013, and for an unknown period before, the exact dates of which are unknown to the complainant, respondent Families First, Audrie L. Meyer and Gordon Richardson failed to ensure that there was appropriate supervision and adequate staff to child ratios in that children were routinely and frequently leaving the facility without adult supervision."
Further, the complaint continues, "Respondents failed to ensure that facility staff was proper1y trained and utilizing proper non-physical interventions to discourage children from leaving or who were attempting to leave the facility."
In their defense, the organization objected to the accusation "on the ground that it does not state acts or 16 omissions on which the Department of Social Services… may proceed."  They further argue that the accusation is "indefinite or uncertain" and that they are unable to "identify incidents sufficient enough in order to prepare for their defense."
They argue that the acts "did not take place at the licensed facility" and that the department  lacks "jurisdiction over events that occur outside the licensed facility."
Furthermore, they allege, "The Department has violated its own policies and procedures in that the Department failed to hold a Noncompliance Conference giving notice to the licensee of alleged deficiencies and allowing the licensee to come into compliance before taking legal action."
They also argue that "clients cannot be prohibited from leaving or departing the facility when to do so would result in violations of their personal rights."
Two weeks ago, the Vanguard reported that Robert Keith Oldham is now suing EMQ FamiliesFirst after Mr. Oldham claims he was terminated on January 18, 2013, for what he is calling "falsely-alleged violations" of employee policies and procedure.
Instead, Mr. Oldham, represented by local employee law attorney Mary-Alice Coleman, argues that the termination for his teaching services was "pretextual" and that he was "fired because he vocalized and complained" to administrators "about unsafe working conditions at the facility that were caused" by EMQ FamiliesFirst improper personnel practices.
"EMQ FamiliesFirst would like to request that the privacy of the individuals and their families who have been affected by this decision is respected," the statement on Wednesday continued.
"Due to ongoing litigation and personnel issues, EMQ FamiliesFirst will not be able to respond to additional questions at this time."
—David M. Greenwald reporting