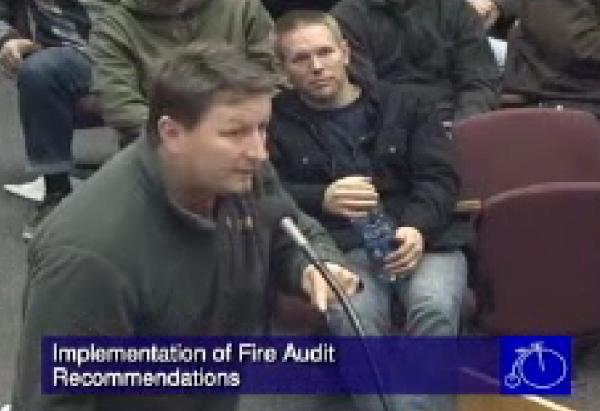 Union Alleges City Disciplined Union President In Retaliation For Union Activities – The Davis Professional Firefighters Association has filed an Unfair Labor Practices Complaint against the City of Davis, noting that the two parties reached impasse in April 2013, and that the city has unilaterally initiated a performance improvement plan (PIP) for Fire Captain Robert Weist, which sets forth areas in which he needs to improve his performance within a year.
The complaint goes on to allege that the city unilaterally changed its vacation procedure, and that it did so in retaliation for lawful union representational activity.
On Tuesday, August 27, 2013, the city of Davis listed in closed session "Conference with Legal Counsel" an item, "Davis Professional Firefighters Association vs. City of Davis, Unfair Practice Charge No. SA – CE – 833 – M."
When the Vanguard inquired as to the nature of the item, the Vanguard was informed that the city was unable to discuss the matter as it was closed session.  The Vanguard then filed a Public Records Act Request.  While personnel matters and personnel reviews are generally exempt from public disclosure, and rightly so, the moment Mr. Weist went to PERB (Public Employment Relations Board), the matter became a public record.
In his complaint, Mr. Weist claims that on March 13, 2013, he attempted to take vacation leave in a amount less than 24 hours.  He argues that no other captains were on leave at this time, but that Division Chief Shawn Kinney "denied Captain Weist's leave, claiming that Captain Weist had not fulfilled a required number of training hours and, thus, needed to attend a training session."
The complaint argues, "There is no set requirement for the number of training hours in the Department.  The training for which Captain Weist was scheduled on the day at issue could have been completed at another time."
The complaint notes that he has been with the department for nearly 30 years and has been union president for the last 25 years.  They write, "Throughout Captain Weist's tenure, the Department's policy, practice and procedure has been to always grant leave to a Fire Captain when there are no other Fire Captains on leave, irrespective of scheduled training."
However, the city's response, if accurate, suggests that Mr. Weist attempted to use his vacation time to avoid training obligations and, when denied, summarily threw a fit.
The city writes that the sequence of events was that, on the morning of March 13, Captain Weist would "loudly and publicly" complain in front of his crew about this "bullshit training."  He proclaimed "that the City would have to buy him and his firefighters dinner as the training was in the evening."
Division Chief Kinney, in the mid-afternoon, noted that there "was a request from Captain Weist for vacation leave that same day, with a start time beginning when Weist's engine company was to be preparing for that night's drill.  This was the very first time Division Chief Kinney had any information to suggest that Captain Weist did not intend to go to the training scheduled for himself and his crew."
Division Chief Kinney and Interim Fire Chief Steve Pierce discussed the matter, including the necessity of the training and the value to the firefighters, "and how difficult it would be to obtain substitute training."  They determined, based on MOU provisions, that Mr. Weist's "last-minute vacation request was in conflict with this important training (and) could be denied."
Upon learning of this denial, "Weist became very angry and immediately advised Division Chief Kinney that he would be going home 'sick.'  Captain Weist left work, and his engine company attended and completed the scheduled training under the supervision of an alternate captain assigned to them (as an overtime assignment) for the event."
On April 9, 2013, Fire Division Chief Bruce Fry, in a memo to Captain Weist, noted in a long list of complaints that Mr. Weist does not meet current standards for things such as completing 20 hours of training each month for himself and his crew.
This is, in fact, not the first time such a problem has been noted.  The fire audit noted that his shift rarely hit its training hours and he failed to file reports in a complete and prompt matter.
In the memo it states that he will receive written evaluations monthly for the next six months.
Division Chief Fry writes, "You have over 28 years of fire experience.  It is expected the quality of your work will reflect that experience." It adds, "Failure to meet standards during the remainder of the 1 year period will result in a recommendation for discipline."
Mr. Weist complains that the City "refuses to provide Captain Weist an opportunity to appeal the PIP"  and that "it has never been the practice in the Department to impose PIPs."  He argues that the PIP is subject to a meet and confer with the PFFA (Professional Fire Fighters Association).
Mr. Weist argues, "The actions of the City, in issuing Captain Weist a PIP threatening discipline and arbitrarily denying his vacation leave contrary to past practice, is a blatant retaliatory measure against Captain Weist for his union activity.  The City's actions create an environment hostile to the union and its rights."
The city responds that, even assuming that the chief is correct regarding past practices of prior vacation requests being granted so long as no other captain was on leave, "which the city does not concede," the contract "gives the Fire Chief latitude to deny the request at issue in light of the needs of the service unique to the particular, multi-agency training that was scheduled long in advance of that day."
The city has entered into a joint training consortium where they have a countywide joint training officer and shared training facilities with other cities.
The city notes, in response, that even assuming the existence of a valid "past practice," PERB had long ago ruled "that an employer does not commit an unlawful unilateral change when it alters a past practice in a way that is consistent with a prior unenforced agreement."
The city adds that there is no adverse action here that would support a retaliation charge.
The city notes, "Denial of a last-minute vacation request in conflict with major, multi-agency training is a legitimate and supportable action complying with the letter of the current MOU."  They add, "How this could possibly be 'adverse' to Captain Weist is a bit of a mystery, in light of the fact that he got leave on the day requested (albeit it was sick leave that he opted to use when his vacation request was turned down)."
Moreover, the city notes that the PIP in and of itself is not disciplinary or adverse action.  "An unequivocal notice of the employer's intent to impose discipline is an adverse action," they write.  "If the employer's communication does not indicate that it has already a firm decision to impose discipline, that communication is not an 'adverse action.' "
Here the PIP is essentially a  warning that indicates that Captain Weist needs to meet standards for his position.  If he does so, the PIP will end; if he fails to do so, it "may result in extensions of the PIP" and ultimately "will result in a recommendation for discipline."  However, that is dependent on the actions of the employee and no firm decision has been made.
Frankly, Mr. Weist seems to have gotten off easy, as he appears to have committed insubordination.  When he was denied vacation leave, it appears, from city claims and rightly so, that he called in sick to avoid having to participate in a training that he has been actively working to undermine for some time.
That move not only circumvented his direct orders but cost the city additional time in overtime to staff a captain who was not scheduled to work at that time.
In many other lines of work that would merit termination – here he basically received a warning about possible future discipline.
Mr. Weist did not respond to an email request for information on this incident from the Vanguard.
—David M. Greenwald reporting