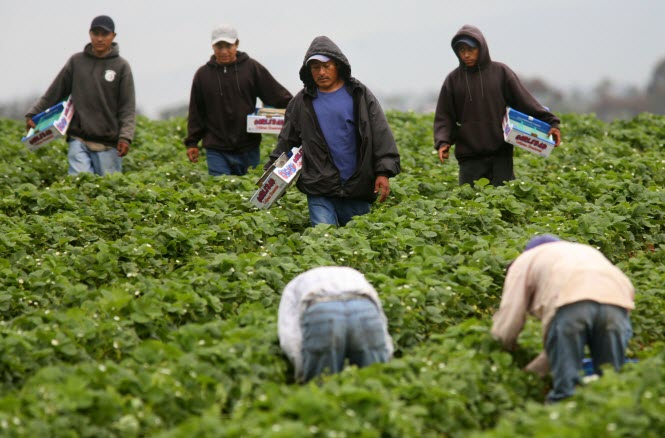 According to a study by Regional Economic Models, Inc., a set of reforms like that of the Senate Immigration Reform Bill that provides "a pathway to earned citizenship and expands a high-skilled and other temporary worker programs would together boost California's economic output by $7.3 billion and create approximately 77,070 new jobs in 2014."
"The study demonstrates that comprehensive immigration reform will create jobs, expand the economy, and strengthen the economic security of hardworking Americans," said a release by Congressman John Garamendi who represents Davis and much of Yolo County in the House of Representatives.
"We are a nation of immigrants and a state of pioneers. As this study shows, comprehensive immigration reform will strengthen California's economy, create jobs, and help establish needed normalcy for our vital agricultural sector," said Congressman Garamendi. "When we come back from the August recess, I hope the leadership in the House is ready to let us vote on a bipartisan compromise similar to what passed the Senate."
The study found that immigrants already make important contributions to California's economy. For example, California's labor force is 34.4% foreign-born. In 2009, immigrants accounted for 34% of total economic output in the Los Angeles metropolitan area.
Providing a pathway to earned citizenship and expanding high- and low-skilled visa programs will increase total personal income for California families by $29.1 billion in 2020, according to Regional Economic Models, an economic forecasting corporation.
The support for reform crosses political and ideological lines.  For instance, Paul Wegner, the President of the California Farm Bureau, warned, "If House GOP members block comprehensive immigration reform it would be bad for California business, in part because the current immigration system does not provide enough work visas to meet California's farm labor needs."
Allan Zaremberg, President of the California Chamber of Commerce, added, "Comprehensive immigration reform…is probably more important to California's economy than that of any other state. Technology, agriculture, and tourism, among others, must have comprehensive immigration reform to survive."
The nonpartisan Congressional Budget Office (CBO) estimated that, relative to current law projections, enacting the Senate immigration reform bill will increase national real GDP by 3.3 percent in 2023 and 5.4 percent in 2033 – increasing the size of the economy by roughly $700 billion in 2023 and $1.4 trillion in 2033 in today's dollars.
The bipartisan Senate bill will increase the size of the labor force by 3.5 percent in 2023 and 5 percent in 2033, according to CBO, which will boost capital investment and lead to increased productivity and higher overall average wages.
According to CBO, the additional taxes paid by new and legalizing immigrants would much more than offset the estimated costs of the bill – in fact, enacting the bill would actually improve the federal budget outlook in both the short and long term. Additional immigration would help balance out an increase in retirees-per-worker, as the baby boomer generation retires, strengthening the Social Security program.
A report from the White House, released in July, found, "In recent years, the agriculture sector has seen strong growth, with farm income and agriculture exports both reaching historic highs. In 2013, net farm income is forecast to total $128.2 billion, which would be the highest level since 1973 after adjusting for inflation.  Much of this growth is due to the demand for American agriculture exports: the value of agriculture exports has steadily risen in recent years and is projected to reach $135.8 billion in 2013, which would also establish a new record.  But among all economic sectors, the U.S. agriculture sector is particularly reliant on foreign-born workers."
The report continues, "The agriculture industry is hampered by a broken immigration system that fails to support a predictable and stable workforce. Moreover, there continue to be insufficient U.S.-born workers to fill labor needs: of those crop workers surveyed between 2007 and 2009, 71 percent were foreign born."
"The Senate's Border Security, Economic Opportunity and Immigration Modernization Act (S. 744) represents a good opportunity for our country to modernize our immigration system," the report argues. "Among its most important provisions, the bipartisan bill would provide an earned path to citizenship for unauthorized farmworkers who are vital to our nation's agriculture industry, and a new temporary worker program negotiated by major grower associations and farmworker groups."
"According to the White House report, comprehensive immigration reform will spur California's economy and create approximately 70,070 new jobs in 2014," Congressman Garamendi's office stated. "This legislation would foster innovation and business growth, raise workers' income, and increase state and local tax revenue. 36.6 percent of business owners in California are immigrants, and 38.3 percent of science, technology, engineering, and mathematics (STEM) graduates at California's best universities are immigrants."
The report found that California especially suffers from agricultural labor shortfalls in the production of fruit and vegetables, and in support activities such as farm labor contractors and crew leaders, soil preparation, and planting and cultivating. Under existing laws, if farms in California were suddenly denied access to all unauthorized workers, they would lose $1.7 billion to $3.1 billion in revenues due to lost production.
"If comprehensive immigration reform is derailed, it will continue to put California's farms in a lose-lose situation. Too many farmers are stuck with the unenviable choice of hiring undocumented workers or seeing some of their fields go fallow. When Alabama passed a draconian anti-immigration bill, we saw the result: undocumented immigrants fled the state, prison labor began to be used, and crops withered on the vine. There's a better path forward, and that path is comprehensive immigration reform," Congressman Garamendi added.
These details come on the heels of another recent study that found immigration reform would be a boon to our nation's GDP and economy as a whole, while expanding the country's labor force, producing higher productivity and higher wages, reducing the deficit, and strengthening Social Security.
In June, a broad bipartisan coalition in the Senate passed comprehensive immigration reform by a vote of 68 to 32.
"It's time for the House to take up this or a similar bill and act to fix our broken immigration system," Mr. Garamendi stated.
—David M. Greenwald reporting