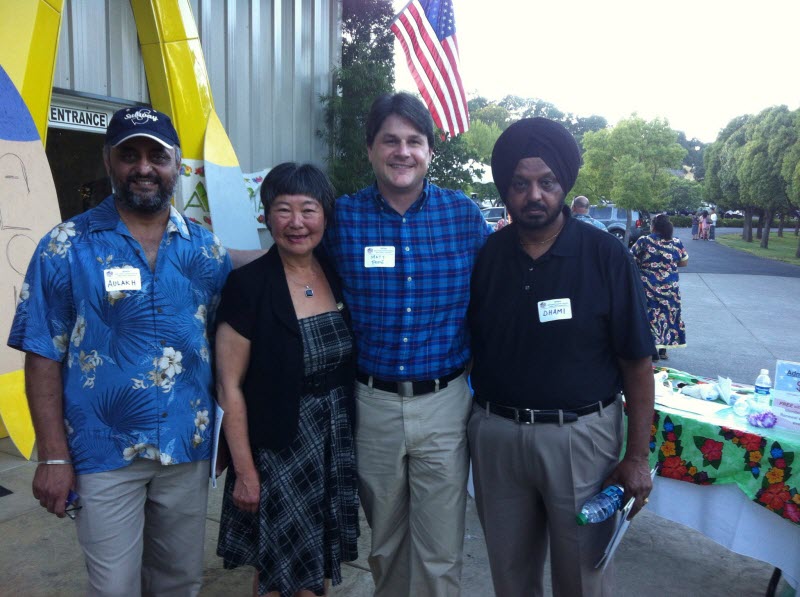 While some apparently saw the number of appearances outgoing Assemblymember Mariko Yamada was making with Napa County Planning Commissioner Matt Pope as a sign, the move by Assemblymember Mariko Yamada to endorse Mr. Pope as her successor still seemed to catch many in the Davis community off guard.
"After meeting with each of the candidates running for my seat, there is only one who I believe has what it takes to fairly represent the expansive 4th Assembly District, and that candidate is Napa County Planning Commissioner Matt Pope," Mariko Yamada said.
She would add, "I am proudly endorsing Matt because his background, energy, temperament and life experience have prepared him for the grueling race ahead and to lead courageously and with integrity once elected. He has served his country, he has served his community, and he now wants to serve you. His Democratic values are deeply-rooted and will guide him in the Assembly."
Matt Pope said he is honored to be campaigning with Mariko Yamada over the next year.
"Assemblymember Yamada is a true champion of working families, seniors, environmental justice and the disadvantaged," Mr. Pope said. "These are exactly my priorities and I look forward to campaigning with her and learning from her leadership in the Assembly over the past six years."
Vanguard Analysis: Matt Pope Now Clearly a Contender
In sizing up the race for the fourth Assembly District, it is difficult to know how things are ultimately going to break down.  One had to figure that Dan Wolk, by way of his mother's service in both houses of the state legislature, would be a formidable candidate.
Anthony Farrington is the only resident of Lake County in the race, while Napa County and Yolo County are the two largest populated centers in the district – but each of those have two candidates, which could presumably split the vote.
Bill Dodd is a wild card.  He is sitting on about $75,000 from his previous campaign war chest, but he's a former Republican in a heavily-Democratic district.
Joe Krovoza landed squarely on the map of clear contenders last week when he stunned many by raising $118,000 in his first reporting period.  While money will not be decisive, clearly his ability to raise it makes him a viable contender.
The biggest question in this race is Matt Pope.  Unlike the others, Matt Pope has never been elected to public office.  He serves as a district representative for Senator Noreen Evans (D-Santa Rosa). In addition to serving as a Napa County Planning Commissioner, he is a former American Canyon Planning Commissioner and former president of the Napa County Democrats.
But he has now landed the endorsement of the two most prominent public officials in the district that are not related to a candidate in the race.  That Noreen Evans would endorse her own staffer is perhaps not a surprise, but that the sitting Assemblymember would make a call nearly a year out, for someone who does not live in her own county, is.
That she would announce this decision this early and go outside of Davis is a surprise to many.  Given that she is widely expected to compete for Senator Wolk's vacated seat in 2016, it is surprising that she would enter the fray and enter it now.
As a political decision, the move is a risk for Ms. Yamada.  She risks upsetting her Davis base by going for a candidate outside of it.  And, while picking one Davis candidate over another was fraught with its own risk, the safest bet would have been to stay above the fray.
In a way this accomplishes that, but some observers believe that this came down to fairly personal calculations.  Past differences with the Wolk family and their lack of support for her candidacy may have precluded Dan Wolk from consideration.
Her comfort level with Joe Krovoza is unclear, but given her close ties to unions and, in particular, the firefighters and Bobby Weist, Mr. Krovoza was not a clear option for her.
Anthony Farrington is clearly more conservative than she, as is Bill Dodd, who actually endorsed John Munn in the last Assembly race.
That leaves Matt Pope.  When the Vanguard interviewed Matt Pope, he told us that he had worked in Silicon Valley in the field of private security.  It was there when he worked as a private consultant that he moved closer to government and politics.
He eventually became a labor organizer, organizing the security officers' union.
The biggest question is now whether this move by Mariko Yamada signals that Matt Pope is the candidate that the unions will rally behind.
The Vanguard reached out to Assemblymember Yamada.  She indicated that she had a number of engagements yesterday but expected to be able to talk after session today.
Right now, the move by Assemblymember Yamada does not ensure that Matt Pope is the frontrunner – right now we still believe that to be Dan Wolk, but this race is going to get very interesting, particularly if this signals the unions backing Mr. Pope.
—David M. Greenwald reporting