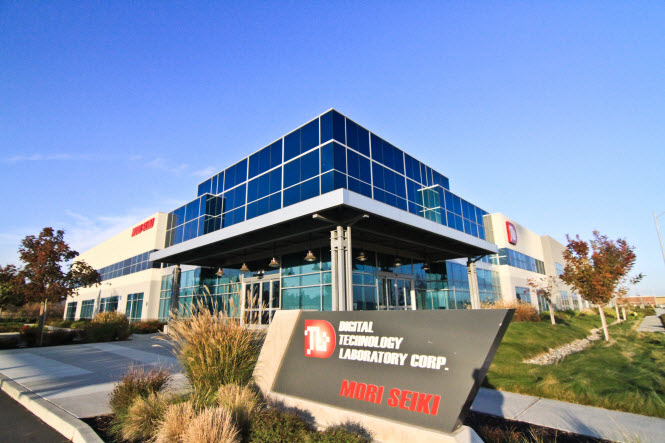 Davis Chamber Director Kemble Pope and City's CIO Talk About the Future – The city of Davis' economic development community is still reeling from the news that came down two weeks ago, in which Bayer CropScience announced it would be expanding its facility, which required it to move from Davis, where the company AgraQuest was founded, to West Sacramento which had space available to accommodate the company.
On Thursday, business leaders Kemble Pope, the executive Director of the Davis Chamber, along with his counterparts Denice Seals from West Sacramento and Roger Niello from Sac Metro Chamber, put their best face forward in a joint op-ed in the Sacramento Bee.
"The recent news that Bayer CropScience will be expanding its presence in the Sacramento region is further proof that we have the right ingredients to start, grow, retain and attract innovative companies with high-paying jobs," Mr. Pope and his colleagues writes. "The cities of Davis and West Sacramento have much to crow about regarding the news, as does the region as a whole."
"This most recent success story began in 1995 with the founding of the small startup company, AgraQuest, in Davis. The city was a nurturing home that provided several opportunities for growth and a high quality of life that attracted talented employees as the company grew to more than 200 workers," they continue. "In 2012, the company's global successes prompted Bayer CropScience, a diversified, international agricultural technology company, to acquire it for $425 million. With an impressive number of growing companies and the world's No. 1 agricultural research university, UC Davis, that call it home, Davis continues to make its mark as an economic engine and fount of innovation and business prosperity."
"The purpose of co-authoring an op-ed in the Sacramento Bee was to speak to the region about the collaboration that was happening within our region between the cities and communities," Kemble Pope said on Thursday, "and to educate the region at large that this community of Davis really is driver, a grower of jobs in general."
This is the key idea that Davis is trying to put forward, that it is the place that can help launch innovation.  However, Davis wants to be more than just the home of startups and so, while Davis continues to put its best foot forward regionally, there is a brewing internal conversation about how to move Davis into better position to retain some of their own companies.
On Thursday, the Vanguard sat down with Davis Chamber Executive Director Kemble Pope and the city's Chief Innovation Officer Rob White to discuss the future of economic development in Davis.
Davis brought in Rob White from Lawrence-Livermore to be the city's CIO back in March, in part hoping to counter a reputation that Davis is more difficult for businesses than other areas within the region.
Kemble Pope believes that this reputation is undeserved, calling it a "misperception" from "days gone by."  He says, "I don't believe that Davis is any more difficult to business than most other places in the region.  I believe we are a good collaborator with other regional entities."
Davis, like all of the other communities in the region, has signed onto the Next Economy principles.  The op-ed he said, continues to emphasize the case that we have a joint regional economic planning effort that is focused on specific sectors of the economy.
The first key question that is not addressed within that op-ed is to address how big a setback the loss of Bayer is for Davis.
For Rob White, he said, "I think it's an immediate setback in the sense that we lose the impact of those jobs.  We lose the impact of having a large, global, national entity investing in our community."
He emphasized that this is not just about the loss of jobs.  We lose the philanthropy from the large organization, their community involvement and investment.
But the key, he said, is that we now need to find ways not to allow the loss to become more than it currently is, which is a company that could not find a spot in the city of Davis that served its needs.  What he wants to avoid is that the loss of Bayer comes to be interpreted as "the city or the region can't retain investment of corporations like that."
"Bayer in West Sac is fine," Mr. White said.  "It's not optimal for Davis, but it's great for the region.  Bayer not investing regionally is problematic."
The Jim Gray op-ed that was published in the Enterprise in the past week, lays out how the specifics of the Bayer situation and the availability of building space in West Sacramento played a crucial role in the move across the causeway.
But as Kemble Pope noted, "He definitely recognizes that we have limitations in place" and that "we have the opportunity to overcome" these limitations.  But he said, "The important part to look at is the end of his piece when he talks about challenges that we do have in front of us – that all communities have in front of them – about what is the best and highest use of our land and our community resources, it's a balancing game."
The question before us is whether Davis is simply going to be a university town that can spawn an array of startups based off their research components at the university, or whether it can be a destination for these companies, as well, after they grow and mature.
For Rob White, Davis' situation is not necessarily unique.  Every university town undergoes similar pressures on how to grow while maintaining their character.
"Universities attract investment and that investment is usually research dollars attached to global or national corporations," Rob White said.  Davis is not only a growing system, but the university under the leadership of Chancellor Linda Katehi has a plan to grow by over 5000 students, as well as the necessary faculty and administrators.
"As UC Davis continues to expand there will be pressure on the city of Davis to do something," he said.  "What we have to do is not have a lack of decision making drive our policy.  That's what's happening now, we have a void of decision making and our policy makers have made it very clear that they want us to move forward with establishing a decision making machine."
Here the Innovation Park Task Force developed a plan that Mr. White says we need to move forward with and take it to its logical fruition.
At the same time, he reiterated, "I'm not married to what those outcomes are.  I'm married that we have an outcome."
The Chamber is going to have to figure out what the right thing is for their membership, he said, and the city needs to figure out what the right thing is for its citizens.
"The community has to decide what do they want to be part of and what do they want to say it's okay if it doesn't happen," he said.  "Because it will happen.  There is no doubt that there is a happening going on.  But is it going to be in Solano County, is it going to be in Yolo County, is it going to be in West Sac and Woodland, is it going to be in Davis?"
"We have to make the conscious decision of what of that spectrum of growth do we want to accommodate?" he added.  For Rob White, Davis needs to figure out if it wants a piece of this action.  He cited the city's current revenue problem, the amenities and infrastructure that Davis has, and that it has limited abilities to pay for it right now.
By way of example, Rob White said that we know right now that the city of Davis does not want a regional mall.  That is a revenue source that many communities have gone to, but that Davis has opted not to do.
Kemble Pope noted that Davis has done a good job of identifying what it does not want to do, the regional mall being just one good example, and he said "that's fine. Davis continues to be the master of its own fate."  But within that framework, Davis does have to decide what it is going to say yes to.
Large corporations are one way to go.  In his article on Thursday, Rob White cited the example of Intel in Folsom.  "Since 2000, Intel has invested over $4.3 billion in manufacturing capital investment, much of that being done at the Folsom campus," he wrote.
"In just under 30 years, the Folsom campus has grown well beyond the two office buildings and couple of hundred employees that started the facility," he said. "Sound familiar? Think that a decade or two of growth for a company like Bayer Crop Science or FMC Schilling Robotics or Marrone Bio Innovations might make a significant difference to Davis?"
On Thursday he said, "Folsom will tell you, if not for Intel, Folsom wouldn't be what we are today."
Kemble Pope said, "There is a job-housing imbalance.  We need more jobs in this community to create more revenue for the city coffers to continue to pay for the high quality community that we've created for ourselves."
The sustainable approach is to create more opportunities for companies to stay in Davis throughout their life cycles.
"This is an eco-system," Rob White pointed out.  "In the past we have dealt with it in silos.  It's really not a silo, everything has an impact on everything else."
Davis remains largely a one-company town, the university.  A large portion of their funding comes from federal and state sources.  Two-thirds of their research money comes from federal sources that are drying up.
One-company towns are problematic because there is a tendency to have a strong boom and bust cycle.  "If you be a one-company town you will bust, almost guaranteed."  We have resources to avoid that, but we have to expand upon it.
"That gap is going to continue to get filled in the future by corporations and significant philanthropy from individuals," Rob White said.  The way to succeed he said, and Stanford is a prime example, "is by creating an environment that those folks want to be in."
Bayer is but one example, Rob White said, where they hope that, even though they have moved across the causeway, they remain committed to investing in the university.
Kemble Pope talked about the "triple-bottom line" of sustainability.  "When we say sustainable, it means fiscal, environmental, and social – all three together."  It means creating a place where there are all sorts of different sized companies from small to large, all functioning in Davis.
"We're at a place where there's an inflection and that inflection we can either help determine or it will happen," Rob White said.  "If it happens, then you're in response mode.  If we can determine, then we're actually being proactive."
From a local standpoint, it seems that most, at least in theory, would support efforts at economic development.  The critical question, the point of departure, is what the land use policies have to look like in order to accommodate that kind of growth that everyone seems to desire.
The 800-Pound Gorilla of Residential Development
Is Davis going to have to grow to 100,000 people and how much of that peripheral land is going to have to go for business development opportunities?
Kemble Pope noted Interland, LLC., as an example where you have zoning decisions to build one-story buildings rather than four- or five-story buildings alongside the interstate.  And yet, he said, "we can't just wave a wand" and change those realities.  We are constrained now by those past decisions and current fiscal realities.
"There are fiscal realities in place that may or may not allow for different, better, higher purposes that exist," he said.  "I think that conversation is something that needs to continue."
"It's all about supply," he said.  "Creating more supply is another big component."
For Kemble Pope, the Innovation Park Task Force laid out a roadmap that is "palatable to the community."  "I don't believe anything in that report… assumes or precludes or points to the fact that we're going to increase the number of households," he added stating he doesn't see the relationship between square feet for business as being related to increasing the number of houses we build.
Concern has been expressed that without building housing to accommodate jobs, by bringing in jobs to Davis, we are simply creating a new commuter class who trek from Woodland, Dixon, West Sacramento and further away to work in Davis.
However, both Kemble Pope and Rob White dispute that these are necessarily connected, and they note the number of people who live in Davis but commute to either Sacramento or even the Bay Area, who may be able to find employment closer to home should the opportunities arise.
"There are a fair amount of people who commute out of Davis to go higher hanging jobs because they don't exist locally," Rob White stated.  "We have a very intelligent and high quality workforce and they don't have the ability to find many of the opportunities locally."
"We don't have enough of the jobs we need locally in order to supply the demand, so we have a lot of people out-commuting," he said.
The other side of that are the people who are in-commuting, and those are people who are coming because of the university.  Most of the service-oriented jobs are filled by students who become essentially local residents, at least during the school year and their tenure at the university.
Rob White said we need to look at data to determine what it is that we need to do to meet our workforce demands and "we need to figure out what are the matches to the resources we have locally."
Rob White, responding to whether Davis needs to be 100,000 people said, "I don't know what Davis needs to be.  I'm not the policy maker."
His job and the reason he was brought here was to try to answer the question as to how we ensure that we have high quality jobs locally.  The question as to what the community looks like in the future is the job for the city council.
"Someone is going to ask about the question of affordability," Kemble Pope stated.  "This community for 40, 50, 60 years has created the policy," has "put into place and held the line on sprawl," has "really done great, smart growth things," and in so doing it has "created a community that is has an incredibly high quality of living that has sought after by many people, the demand is high, and so it costs a lot to live here."
"That's not an artificial figure," he said.  "It's because we have an amazing community."
As one poster in yesterday's article noted, "The reality is we need both business park and housing for workers. To those who say What about Cannery I say what about Covell? The better plan would be to master plan both with houses and business space with good access. Still the reality is that Cannery isn't big enough for what the community needs."
The poster adds, "If you build a business park where do they live. If you build houses where do they work.  If you continue to squeeze Davis into existing borders you lose the benefits of high tech growth in Davis."
However, Kemble Pope disagrees.  He said, "I think it is a false linkage, a false choice to say that we have to create housing with jobs.  I don't accept that as those being linked."
While Kemble Pope and Rob White wisely dodged the residential growth issue, it is clear that this will be a large determinate of the discussion, going forward.
You cannot avoid that issue.  It is likely what derailed any discussion of swapping conservation easements on the Mace Ranch parcel back in June and it will foreshadow any Measure J votes, whether they be east of Mace Blvd, in Nishi or in the Northwest Quadrant.
Those are the questions that the community will have to determine and, once they do, people like Rob White and Kemble Pope and many others will have to figure out how to fit an economic visions into the existing land.
"We have some opportunity areas, the more that we bring the economy up," Rob White said, "the more those opportunity sites become valuable."
What these things look like, where it is, and what the density is, is beyond the decision of people like Rob White.  But it does need to get solved, it is a 30-year solution.
PG&E comes up again, as well.  "We need to sit down with PG&E and have a conversation, is this the right place for you to be," Mr. White stated.  And then he asked, "Is it the right place for us as a community to do something special?"
Even some of the most progressive councilmembers in the past have cited this as a place that is good for high density.  Mr. White argued that whether it is or is it, we need to have that conversation.
He also noted the city held property on Fifth Street and asked if that is the appropriate place for those assets or "is it a use of land that's inappropriate for the environment it's in now.  It used to be a brilliant place, is it still?"
Rob White cited three spots right of the top of his head as housing opportunity spots that fit within the current restrictions that might preclude peripheral development.
In the end, the community is going to need to decide here how it wants to proceed.
—David M. Greenwald reporting