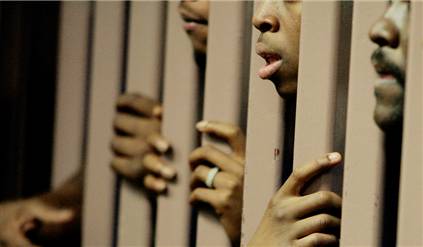 For the first time this week, the door is open for the possibility of meaningful prison reform.  Earlier this week, Eric Holder, the much-criticized US Attorney General, speaking at the American Bar Association, said the words that many have been waiting to hear since the Obama Administration began in 2009: "Too many Americans go to too many prisons for far too long, and for no truly good law-enforcement reason."
His speech and modest policy change marks only the beginning.  As the Economist wrote this week, "America has the world's largest prison population. China, which has more than four times as many people and nobody's idea of a lenient judiciary, comes a distant second. One in 107 American adults was behind bars in 2011 – the highest rate in the world – and one in every 34 was under 'correctional supervision' (either locked up or on probation or parole). A black man in America is 3.6 times more likely to be incarcerated than a black man in 1993 in South Africa, just before apartheid ended."
The problems in the federal system are extraordinary.  A first-time offender convicted of possessing five grams of crack receives a mandatory minimum sentence of five years.  The penalties only go up from the there.
As the Economist notes, "Conviction as part of a 'continuing criminal enterprise' triggered a 20-year mandatory-minimum. Conspiracy laws made all members of a drug operation legally liable for all the operation's crimes: a youngster whom drug dealers paid a few dollars a day to act as a lookout, for instance, could be hit with the same stiff penalties as his bosses."
"Drug offenders are nearly half of all federal prisoners, and most people convicted of federal drug offences received mandatory-minimum sentences," they write.
But mass incarceration is not only about incarceration, it is about the cycle of crime, punishment and poverty.  As I wrote a few weeks ago, there is a critical link between drug policies, unequal enforcement and the poverty-crime cycle.
Michelle Alexander, author of The New Jim Crow: Mass Incarceration in the Age of Colorblindness, argues that once individuals, many of them African-American, get into the system, the system creates hurdles making it nearly impossible to get out. The unequal enforcement of and damage from a single early conviction has a huge ripple effect down the line.
The argument of Michelle Alexander is this: "In the era of colorblindness, it is no longer socially permissible to use race, explicitly, as a justification for discrimination, exclusion, and social contempt. So we don't. Rather than rely on race, we use our criminal justice system to label people of color 'criminals' and then engage in all the practices we supposedly left behind."
Once an individual enters the criminal justice system, she argues, "the old forms of discrimination – employment discrimination, housing discrimination, denial of the right to vote, denial of educational opportunity, denial of food stamps and other public benefits, and exclusion from jury service – are suddenly legal. As a criminal, you have scarcely more rights, and arguably less respect, than a black man living in Alabama at the height of Jim Crow."
It was heartening to hear Eric Holder hearkening to these arguments this week in his speech.
"Today, a vicious cycle of poverty, criminality, and incarceration traps too many Americans and weakens too many communities. And many aspects of our criminal justice system may actually exacerbate these problems, rather than alleviate them," the Attorney General said.
The Attorney General noted that "people of color often face harsher punishments than their peers."  He cited a report that showed "black male offenders receive sentences nearly 20 percent longer than those imposed on white males convicted of similar crimes."
Mr. Holder stated, "This isn't just unacceptable – it is shameful."
"We will start by fundamentally rethinking the notion of mandatory minimum sentences for drug-related crimes. Some statutes that mandate inflexible sentences – regardless of the individual conduct at issue in a particular case – reduce the discretion available to prosecutors, judges, and juries. Because they oftentimes generate unfairly long sentences, they breed disrespect for the system," he continued.
"Although incarceration has a role to play in our justice system, widespread incarceration at the federal, state and local levels is both ineffective and unsustainable," Mr. Holder said. "It imposes a significant economic burden – totaling $80 billion in 2010 alone – and it comes with human and moral costs that are impossible to calculate."
Many people are excited about the possibilities here.  However, they note that, while as the ACLU's Vanita Gupta said, "This is without precedent: the nation's top law enforcement official directed all federal prosecutors to exercise their discretion toward ending the relentless warehousing of inmates – the vast majority of whom are minorities – in federal prison for low-level drug crimes," the immediate impact is limited.
First, as Ms. Gupta warns, federal inmates only account for 14 per cent of all prisoners.  Second, the attorney general can only do so much without congressional action.  And finally, "It's unclear how federal prosecutors will enforce his plan. To maximize its impact, the Justice Department needs to track implementation by the 93 United States attorneys around the country and hold them accountable for enforcing the policy."
"What Mr. Holder has done is turn up the dial, lending his imprimatur to a growing sense of national urgency and moral necessity. The muted reaction to his announcement from ardent conservatives is a reflection of the shift in debate," she writes.
The Sacramento Bee's editorial board wrote, "It's taken too many years. Nonetheless, U.S. Attorney General Eric Holder's announcement that he has instructed federal prosecutors to stop pursuing long prison sentences for minor drug offenders is welcome."
Further, there is hope because, for once, both the left and the right see problems with the current system.
Notes the Economist, "The high cost of mass incarceration has attracted attention from both left and right. In March Rand Paul, a Republican senator, and Patrick Leahy, a Democratic one, introduced the Justice Safety-Valve Act of 2013, which would let judges impose sentences below the mandatory minimum. In July Mr. Leahy, along with Dick Durbin and Mike Lee, a Democrat from Illinois and a Republican from Utah, introduced the Smarter Sentencing Act of 2013. It would, among other things, shorten mandatory minimums and expand the safety-valve."
The Bee notes, "Both conservatives and liberals have recognized that over-reliance on incarceration in the nation's five-decade-old 'war on drugs' has been a costly failure. Three years ago, Congress passed and President Barack Obama signed the Fair Sentencing Act, aimed at reducing the disparity in sentencing between crimes involving crack cocaine and powder cocaine."
And while Ms. Gupta is right about the need for the states to enact reform, here the states have actually largely been ahead of the federal government.  As the Economist notes, "These policy shifts mirror similar ones that more than half of all American states have enacted over the past decade."
Texas, for instance, enacted a law that would send people to probation rather than prison for minor drug charges.  "In 2007 Texas allocated $241m for drug-treatment and alternatives to prison for non-violent offenders," the Economist reports. "Between 2003 and 2011 violent crime in Texas fell by 14.2%. The state's prison population has also declined steadily."
This offers a strong counter to those who claim falling crime rates indicate that "prison works.  The reason crime has fallen so sharply, they say, is that bad guys who are locked up cannot mug you."
"This is true," the Economist continues, "but America long ago passed the point where imprisoning more people is a cost-effective way of reducing crime. Bert Useem of Purdue University and Anne Morrison Piehl of Rutgers University find 'accelerating declining marginal returns' to incarceration in America. In other words, locking up violent criminals while they are young, strong and reckless does indeed keep the streets safer, but keeping them locked up deep into their dotage costs a fortune and prevents very few crimes."
This is the first step from the federal government.  Can the bipartisan legislation pass?  That will be critical to the next step, because if the federal government finally leads, if Eric Holder uses his power of the bully pulpit to push for reforms, legislators and states will feel on safer political ground to pass badly-needed reforms.
Until we deal with mass incarceration, we cannot deal with the cycle of poverty, because it is so pervasive in creating a new underclass that is permanently disenfranchised, and constrained with legal prohibitions that prevent work and prevent people from escaping the vicious cycle of poverty-crime-punishment.
—David M. Greenwald reporting