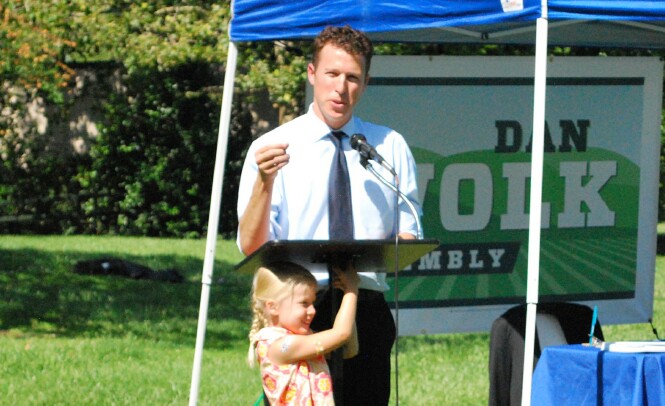 This week came the surprising announcement that incumbent Assemblymember Mariko Yamada was not going to endorse one of her fellow Davis candidates, either Joe Krovoza or Dan Wolk, but instead would endorse the relatively inexperienced and certainly unknown candidate on this side of the district, Matt Pope.
However, as we evaluated the decisions before the assemblymember, the move is not nearly so surprising at all.  When we finally spoke to her late on Thursday afternoon, she said that the initial article, for the most part, got it right.
As we wrote earlier this week, some observers believe that this came down to fairly personal calculations.  Past differences with the Wolk family and their lack of support for her candidacy may have precluded Dan Wolk from consideration.
Her comfort level with Joe Krovoza is unclear, but given her close ties to unions and, in particular, the firefighters and Bobby Weist, Mr. Krovoza was not a clear option for her.
Anthony Farrington is clearly more conservative than she, as is Bill Dodd, who actually endorsed John Munn in the last Assembly race.
That leaves Matt Pope.  When the Vanguard interviewed Matt Pope, he told us that he had worked in Silicon Valley in the field of private security.  It was there when he worked as a private consultant that he moved closer to government and politics.
He eventually became a labor organizer, organizing the security officers' union.
The biggest question is now whether this move by Mariko Yamada signals that Matt Pope is the candidate that the unions will rally behind.
Our question for today, however, is not why the assemblymember made the choice she did, but rather the impact of her decision and the state of the race.
Our initial evaluation is that the front runner in this race is Dan Wolk.  The reasoning here is relatively unsophisticated – he simply has the most name recognition, although much of that is due to his mother's name and reputation in the district, rather than his own.
In the last two weeks, we have two huge pieces of data that have emerged in this district.  First, Joe Krovoza was able to put himself on the map with a huge first showing in terms of money raised.
Second, Matt Pope has the backing of two key figures, Noreen Evans who is the state senator on the western edges of the district, and now the incumbent, Assemblymember Mariko Yamada.  I want to see what happens, based on these endorsements – how it translates into money and organization, and whether this is a sign of union backing before putting Mr. Pope into a front runner status.  But this was definitely a key moment for him.
In 2010, we saw Joe Krovoza go from a relatively unknown and untested candidate to handily win first place in the Davis City Council raise.  He did this with a superior campaign organization, a great neighborhood-based approach, and the ability to raise enough money.
Some have pointed to his skills as a fundraiser, but it was really his ability to organize that set him apart.  Can he translate that to a district that does not lend itself well to grassroots politics?  Can he be able to raise enough money to stay in against an organization in Dan Wolks that has contacts to the big money people in Sacramento and years of experience doing this very thing?
Anthony Farrington is the only candidate from Lake County.  While it is third largest county in the district, the fact that he is not competing against a candidate from Lake County gives him an advantage.  He is, however, not taking money from special interests.  We don't want to discount anyone, but we feel these factors will make it more difficult to emerge.
Bill Dodd brings in a $75,000 war chest.  But six months ago he was a Republican.  This is a Democratic district, although not overwhelmingly so.  In a five-person race, there are enough Republicans that, in the primary, a Republican or someone the Republicans could identify with could emerge to take one of the top two positions.  A Republican won't win the district, but one could be a finalist.  Can Bill Dodd emerge as that guy?
That leads us back to Dan Wolk.  He has clear advantages but clear disadvantages.  His advantage is his mother's name recognition, the contacts that he has in the community and the district through both his parents, and his campaign organization's experience.
However, Dan Wolk is just in his mid-30s, he has been in office since 2011, elected for the first time in 2012, and has limited professional experience.  His advantages are not of his own doing – which often is not necessary in politics.
The voters will have decisions.  They can opt for an older, more experienced individual, or they can opt for a young man with a lot of promise who is still rough around the edges.
It presents us an interesting question and compelling story.  I would opine that, as much as both Mayor Krovoza and Matt Pope have put themselves on the map, the map goes through Dan Wolk, who is backed by the campaign consultant who ran his mother's campaigns and offices in Sacramento, and Helen Thomson's before that.
I am not stating that Dan Wolk will win, but right now, he is the unquestioned front runner.  How he performs will determine how this race goes.
—David M. Greenwald reporting