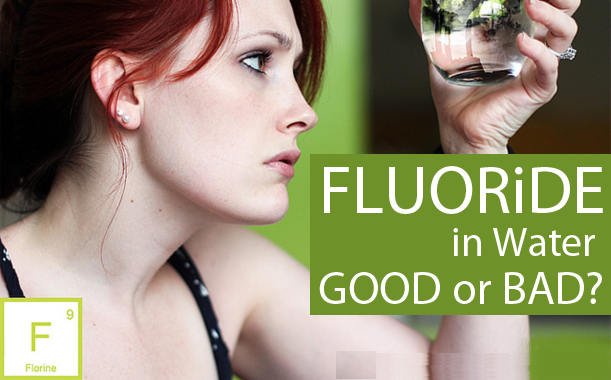 The Davis Enterprise on Sunday, in arguing that the addition of fluoride "to our water supply would benefit us all," cited the US Centers for Disease Control and Prevention, recognizing "community water fluoridation as one of the 10 great public health achievements of the 20th century." The paper concluded, "It's time for Davis residents to reap the benefits of fluoride in their water supply."
The editors of the local paper noted that there has been "considerable debate this summer and early fall about whether fluoride is safe, effective and worth the cost of adding it to Davis' well water and the water that will flow from the new Woodland-Davis Surface Water Project. We believe it is."
But, curiously, they cite no scientific studies to support their position.
Instead, they argue, "There's also been debate about whether Davis needs fluoride, with some opponents downplaying the rate of dental decay among local preschoolers or scoffing at the notion that Davis parents aren't doing enough to ensure their kids' health."
While we agree on this point, we don't see how that necessitates fluoridation over other approaches.
The paper continues, "Tooth decay is the No. 1 chronic disease among children, says the chairwoman of the Yolo County Health Council's subcommittee on fluoridation. It causes pain, problems with nutrition, speech issues, lack of concentration, low self-esteem and time away from school."
They add, "And despite parents' best efforts, Davis dentists say as many as 25 percent of local preschoolers have untreated cavities. Even with all the advancements in dental hygiene and standards of living over the recent decades, our kids still need help."
The paper ignores any of the alternative approaches that have been floated, such as mobile dental vans that might do far better at pinpointing the problem and may have a far more profound impact on dental health.
In particular is the concern that, while fluoridation may be placed into the water, unless the intended subjects are drinking that water, it will have little impact.  There was no effort by the paper to address this point.
The paper instead moves into the broader issue that everyone benefits from fluoridation, again without citing any scientific evidence.
Instead, they assert, "Fluoride enhances the body's ability to rebuild tooth enamel when acid-producing bacteria cause it to decay. This new enamel is actually harder and more decay-resistant than the original tooth surface. Fluoride makes it harder for plaque to stick to your teeth. It also makes it more difficult for bacteria to turn sugar into acid."
This may be true, but it avoids the more critical question as to whether a small amount of fluoride in the water will achieve this goal.
"Is the proposal going before the Davis City Council on Tuesday affordable? According to initial estimates, fluoridation could cost as much as $2 million in initial capital outlay. After that, the ongoing cost would be less than $2 per month per household," the paper writes.
"With bids on the joint water project required to come in 20 percent below the engineers' estimate – upon which Davis' water rates were based – rates most likely will not have to be increased further to pay for fluoridation. In addition, state and federal grants, along with low-cost financing, are expected to further reduce the cost of the water plant project," they argue.  "We believe the cost of fluoridation even at the maximum level is easily absorbed."
They conclude, "LASTLY, FLUORIDATION is worth the cost. The American Dental Association estimates that for every dollar invested in water fluoridation, $38 is saved in dental treatment, missed work and other costs. Or put another way, a lifetime of cavity prevention can be obtained for less than the cost of one detail filling.
"We urge the Davis City Council to say yes to fluoridating our community water supply."
If fluoridation did as the Enterprise suggests, we might agree, but they fail to cite evidence to that effect.
Contrast the Enterprise's stale approach to that of Alan Pryor, who  in an op-ed cites numerous studies and current evidence to argue, "Today, our environment is assaulted with thousands of man-made toxins, from waste heavy metals and organic compounds in industrial air and water discharges; to pesticides released into our food, land and waterways; to airborne transportation-related pollutants."
"In addition to damaging our health, these chemicals are damaging our environment in a variety of ways, including contaminated food chains, damaged ecosystems and species extinction. The current proposal to fluoridate Davis' potable water also has the potential to cause serious local environmental harm."
Mr. Pryor cites several critical points in his counter-argument.
First, he argues that vast quantities of fluoride will be released into the environment – he calculates about 12 tons.  Of that, he argues that "most people drink or consume only about two quarts of water per day. Two quarts of water divided by 168 gallons of water means that the average citizen actually consumes about one-third of 1 percent of all the water that is delivered to our homes each year. That means that of the 24,522 pounds of fluoride that is injected into Davis potable water each year, only about 77 pounds are actually consumed by humans."
While his concern is where the rest goes, our concern is that this seems to be an extremely inefficient means to deliver fluoride to people.  Imagine if we could somehow tap into that $2 million cost to support mobile dental vans that could go to schools and make sure all of our children are receiving proper dental care.
There is also recent research on the toxicity of fluoride that seems to have been underplayed.
Mr. Pryor cites a 2010 review article that concludes: "This element interacts with cellular systems even at low doses. In recent years, several investigations demonstrated that fluoride can induce oxidative stress and modulate intracellular redox homeostasis, lipid peroxidation and protein carbonyl content, as well as alter gene expression and cause apoptosis. Genes modulated by fluoride include those related to the stress response, metabolic enzymes, the cell cycle, and cell-cell communications transduction." ("Molecular mechanisms of fluoride toxicity," Barbier O.. Chemico-Biological Interactions: 188, 2010).
He notes, "If our water is fluoridated, all of our fluoride-containing waste water would enter our wetlands and into the Yolo Bypass through the discharge from the Davis wastewater treatment plant. Although there would be a dilutive effect as the fluoride dispersed through the wetlands, it would seem incongruous that we try to invite salmon back to spawn in our local creeks and rivers through proper water management in the Yolo Bypass but then make them fend off the toxicity of the additional fluoride presented in our discharged waste water before spawning."
In conclusion, Mr. Pryor writes, "Even if fluoride were shown to be effective if ingested compared to the proven efficacy of topical applications as is otherwise recommended, it would be far less wasteful and environmentally harmful and far more cost-effective if pharmaceutical-grade fluoride were made available to at-risk populations through fluoride supplements such as drops or pills."
Increasingly, from both a health standpoint and a political standpoint, we think that is the way to go.  We will see how the council comes down on the issue.
—David M. Greenwald reporting