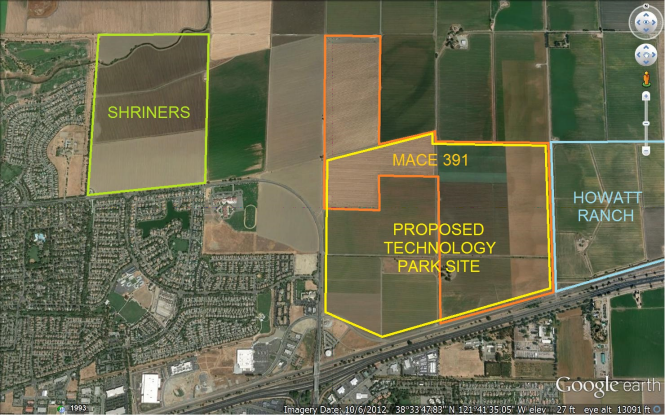 In June, there is no way around it, the discussion on a potential land swap involving a parcel of land east of Mace, Mace 391, and the Shriner's Property was a debacle.  There are many reasons for that, which we have discussed previously and will not go into here.  The process problems destroyed any chance to have a real conversation on the merits of the proposal – and there are, as well, some legitimate concerns.
Earlier this week, David Morris, who proposed this arrangement, repackaged the proposal and took the unique step of putting it out to the community and vetting the project proposal on the Vanguard where the public could ask questions, scrutinize the project, and criticize it if need be.
By offering us transparency and an open process that was lacking in June, we can now evaluate the project on its merits.
I want to clarify that my purpose in writing this is not to be a project advocate or proponent, but rather to facilitate further discussion.
This really comes down to a number of factors that we have been discussing rather vigorously over the last six months: (1) should Davis attempt to better utilize its proximity to UC Davis and become a location where new startups and university spinoffs seek to do business? (2) how can Davis better generate revenue to avoid having to make further cuts to city services? (3) what land is available for such projects? and (4) how can we best develop economically while preserving open space, ag land, and the unique character of our community?
The warning sign that came down was the move of Bayer/Agraquest, which was founded in Davis, grew up in Davis, but could not find a large enough landing spot to stay in Davis.  We have been told that there is at least one more Davis company in a similar position.  These are lost workers, lost tax base, and ultimately a loss in potential revenue.
The question comes down to where Davis can develop economically.  Frankly, there are not a ton of options, but here are a few alternatives that can be discussed.
First, we have the Cannery Project which sits on about 100 acres of land that is zoned for light industrial.  We have discussed this option fully, the landowners are not interested in a business park and people like Rob White, the City's Chief Innovation Officer, do not believe the land is suitable.
Second, we have Nishi.  Nishi is centrally-located, to the university and the downtown.  It has significant access issues with Richards Blvd.  However, recast with access to the university, it may be viable.  However, it is probably too small a parcel for a significant business park location.
Third, we have Interland.  Everyone I have talked to likes the idea of redeveloping it and building it upwards.  It is away from residential areas but underutilized right now at a single story.
Fourth, we have Mace 391 and the proposal from Davis Morris.
Fifth, we have the subprime ag land to the west of Sutter-Davis Hospital, which might be viable as a business park even though its access would be 113 rather than I-80.
Sixth, we have the land in Solano County that is southwest of the university.  The disadvantage of that land is that it is not in Davis and not in Yolo County, which would mean Solano County would get most of the benefits financially and fiscally of the enterprises.
It has been told to me – and I do not know that this is true – that if we do not find land in Davis to support university spinoffs, the university will make use of that land.
Right now, the area of Mace 391 is in preparation to become a permanent agricultural easement.  A few years ago, this easement was greeted as a major victory in the fight for agricultural preservation and in the fight against the potential for sprawl and leapfrog development.
However, people like David Morris believe that this is not the best area to put into a permanent conservation easement.  He wrote on Monday, "Conservation easement on Mace 391 will have a significant negative impact on the City's economic development potential."
"Shriners is a much better conservation opportunity for our community than Mace 391," he argued, and noted that the public would have the right to vote on "whether or not we permanently remove Mace 391 from consideration as a portion of a peripheral innovation park as envisioned in the City's economic development strategy."
"To build this innovation economy, a key part of the mix is a large technology park," Mr. Morris writes.  "The 493 acres of land bounded by Mace Blvd, County Road 30B, County Road 105, and I-80 is the best location for a technology park in the entire Sacramento region.  This equates to approximately 400 net developable acres. "
The key to his proposal is the swapping of better land, in his view, to put into a conservation easement.
He writes, "If our community is going to be asked to give up the planned Mace 391 conservation easement for technology sector economic development, then a conservation easement on better acreage has to be offered in return.  If one's overriding goals are agricultural land preservation and the creation of an urban limit, the best conservation acreage in the entire Davis sphere of influence is the 234 acre Shriners property immediately north of Covell Boulevard and east of Wildhorse."
He argues that this is better farmland and makes the rather innovative proposal to turn it into the community farm that many of the proponents of Mace 391 in June were espousing.
He writes, "One of the objections to setting aside the NRCS grant was the loss of this community farm site.  As discussed above, there is an outstanding site for a community farm on Shriners.  Unfortunately, on June 11th the focus was more on process than on optimizing opportunities, so there is currently very little community awareness of the Shriners community farm alternative."
He proposes giving "approximately 30 acres at the southwest corner of the Shriners property to the City for the purpose of establishing a community farm (this has a value to the City in excess of $1.125M in land and avoided infrastructure costs)."
He then writes, "As a condition of receiving the community farm site, the City will agree to grant CCV a no-cost option to purchase the Mace 391 property at the City's purchase price of $3.8M and forego the planned conservation easement on the property."
This matter would then go before the voters.
Mr. Morris writes, "CCV will place an initiative on the ballot so that the Davis voters can decide on whether or not a technology park will be annexed and entitled on the proposed 493 acre Mace site."
If the initiative passes, the remainder of the Shriner's property would be placed into a conservation easement.  There would be "752 additional acres necessary to satisfy the 2:1 ag mitigation requirement" which "will be put into conservation easements."  And, he proposes that Capitol Corridor Ventures would "purchase the Mace 391 property for $3.8M, effectively repaying the internal loan from the Roadway Impact Fees and restoring $1.325M to the Measure O fund for new open space conservation efforts."
So, while the city would be giving up a conservation easement on Mace 391, it would get Shriner's, which has been a hotbed for controversy in the past, and 752 additional acres to satisfy a 2-1 ag mitigation requirement.
If David Morris is correct, this would lock in the land right around Mace 391 and prevent future sprawl out on the I-80 corridor.
And the voters decide on all of this.  If the initiative were to fail, the city would retain the community farm parcel on Shriner's and Capitol Corridor Ventures would abandon "the Mace 391 purchase option and the City places the property into a permanent conservation easement."
Ultimately, the voters would decide on whether to go forward with this proposal.
In the end, the question comes down to whether the public believes that land – much of it is not prime agricultural land – is suitable for a 400-plus acre business park.  That is a tough question and one that needs community discussion.
At least, this time around, the community is getting multiple chances to weigh in on the project and not face the pressurized conditions that existed in June.
—David M. Greenwald reporting