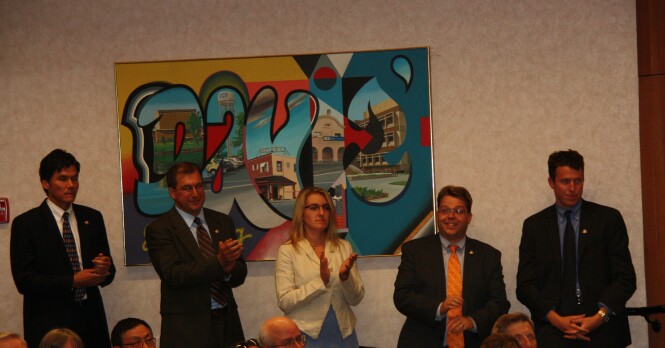 In 2010, the Davis City Council was represented by two retired people, a third person who did not work, a business owner who took considerable business cutbacks in order to serve the community, and a relatively young politician who worked full time while serving on the council.
Three years later, the Davis City Council has completely turned over and the makeup of the council has changed drastically.  The oldest councilmember now is 50, whereas before, there was only one member below the age of 50.  All five councilmembers now work a full-time job in addition to their council duties.
In fact, the current makeup is more than a bit concerning.  Right now there is one person who actually works in Davis and has to travel regularly around the country as part of their work duties.  Two councilmembers commute to neighboring communities in Solano County and in Sacramento for work.  And two councilmembers now have to travel and work out of state for extended periods of time.
While the attentive reader can probably figure out most of the individuals, this piece is not about individual councilmembers and certainly not meant as an attack on the decisions of any individual councilmember.
Everyone has to put food on the table.  There are those who are concerned that Davis does not have a huge number of jobs outside of the university for the highly-qualified professional.  The breakdown on the council simply mirrors that of the community.
That is certainly one concern that some in City Hall have been trying to address through economic development work.
But there is more to the picture than just that.
Last week, the Davis City Council, after 13 years, increased the stipend of councilmembers to $1165 per month.  That comes to $13,980 per year.  That is little more than a travel expense, or perhaps a donation slush fund, for most on the council.
Unfortunately, the law limits the ability of the city to increase salaries.  According to last week's staff report, "Davis is a general law city, and as such, rules for elected officials' salaries are regulated by state law. Government Code authorizes the City to provide councilmembers with an annual salary based on the city's population, which falls into the 50,000 to 75,000 range."
Staff notes, "Salaries may be adjusted every two years, becoming effective only after a general municipal election is held and a new City Council is seated. The amount may be increased up to 5% each calendar year since the last adjustment, non-compounded. Once a change has been made, a new baseline is set, and any future increases start with the new baseline amount."
Under the current system, assuming that we created an automatic inflator that increased the salary by ten percent for each election cycle, it would take 20 years to get the salary up to $30,000 a year, 30 years to get it to $50,000 and 36 years to get it to same $70,000 level that the Board of Supervisor representatives get today.
Even members of the Board of Supervisors work on the side.  But as it stands right now, there are three options for members of the Davis City Council.  They could be retired and living off their pensions or savings.  Or they could be independently wealthy or have another source of revenue in their family.  Or they could work, and mix their council duties with work obligations.
We can argue right now that this council is serving the community better than the one composed largely of retirees, but that is of course a subjective message.
What is more is that attentions are even more diverted as we have two members running for higher office.  This again is not an attack or a criticism of those choices, but, from the standpoint of Davis, we have representatives that are increasingly, it would appear, distracted and have their attentions divided.
At the same time, we have increasingly complex issues in front of us.  Coming before the council already was a heavy battery of issues last week, but in a lot of ways it is nothing compared to what is to come.
We have the critical decisions of the Cannery Project, we have the still-festering community issue of water, and we now have the issue of fluoridation that threatens to polarize the public.
We have a community that will be facing an exploding budget deficit.  We have to fix our labor strife, find new sources of revenue, struggle to produce a system for economic development, and determine what and how much additional revenue to seek.
Being on the Davis City Council is every bit as much of a full-time job as being a member of the County Board of Supervisors.  And yet, the supervisors not only get a full salary, but they also have two or three people on their personal staffs.
A few years ago, the city, facing the question of choice voting, turned down a ballot initiative that would have made the city a charter city.  The impetus for that charter was questionable, the need for choice voting was a minor point, and most residents rejected the charter for that reason and questions about its unintended consequences.
However, a charter could be a powerful tool for restructuring the city and salaries, and staff would be only one part under consideration.
Davis is a city that puts tremendous demands on its public representatives, and the days of having part-time councilmembers with no personal staff who are either retired or employed at other jobs might be behind us.
However, if we are to go forward as a charter city, we need to have a good and clear vision for what that means, what that would include – and the downside consequences would need to be clearly spelled out. The vague and amorphous document that emerged will not work in Davis.
At the same time, the current situation is not exactly tenable either.  We will have to see in the coming months what the consequences of a council that is no longer in town most of the time will mean.
—David M. Greenwald reporting