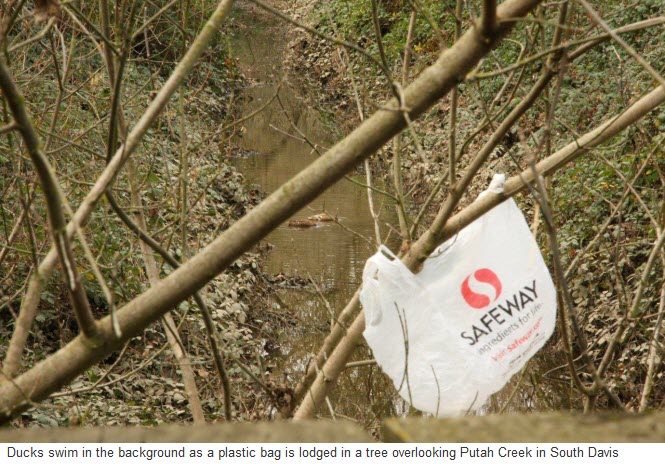 Davis secured its place among the more progressive communities in California Tuesday night, as the Davis City Council finally made Davis the 61st community in the state of California to pass an ordinance restricting the use of single-use carryout bags.  While there was some discussion about alternatives, in the end, the motion made by Lucas Frerichs and seconded by Dan Wolk prevailed 5-0, calling for the ordinance to impact all retail.
"The large retail option captures those 44 businesses, which is roughly 80 percent of the bags. That's great." Lucas Frerichs stated.  "I personally think it should be applied across the board if we're going to do it at all."
For all of the community discussion leading up to the debate, there was limited opposition to a plastic bag ordinance.  Citizen Adrienne Austin-Shapiro offered an alternative path, arguing that she, as someone who does not drive, relies on plastic bags to carry her belonging and groceries, and while she was concerned with the impact of the bags on the environment, her preference was a 20 cent fee, which she felt would eliminate the problem while funding a locker for the homeless.
However, the general consensus was that any effort to charge more than the cost of the bag itself – and ten cents was proffered as the cost of a paper bag – would trigger a possible lawsuit by the plastic bag industry.
Rich Rifkin provocatively argued against the idea that this was a single-use ordinance: "I don't know anybody who uses a plastic shopping bag one time…  It's just total ideology to call it the single-use, it's such bogus stuff."
"I'm going to oppose this in the strongest terms, I think this is really crazy," he continued.  "This ban… is a solution in search of a problem."
"We have no problem in Davis with plastic bags floating around.  We have no problem in the county with plastic bags floating around," Mr. Rifkin argued.  "The Natural Resources people will say, you'll see them all over the county, I'm a bicyclist, I ride every single county road that there is around here.  I ride road 28H by the dump, they say there's plastic bags all over there, I rode out there this morning, there were none."
He said, "It's just a big load."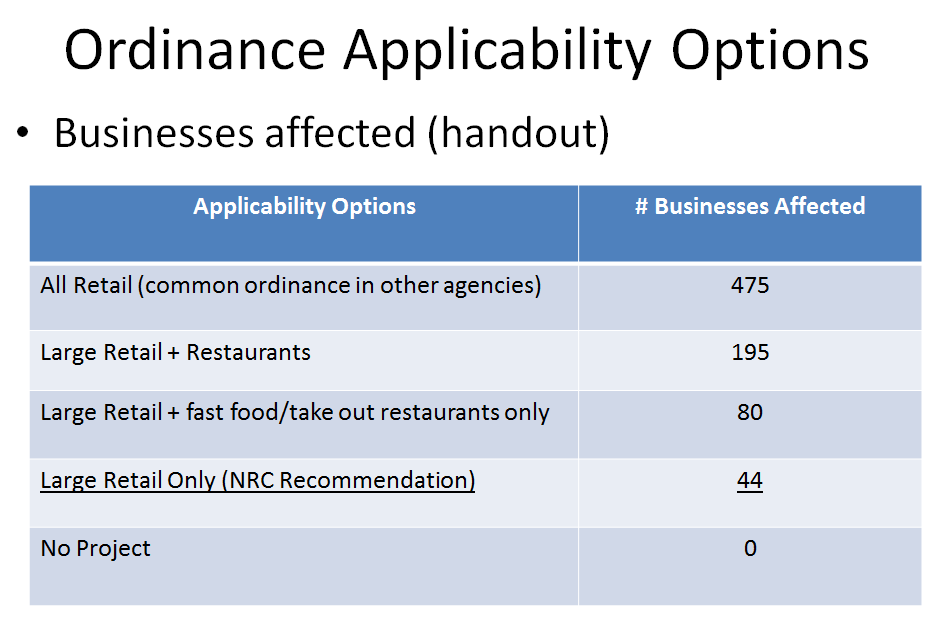 The other major opposition came from the Chamber and business owner Janis Lott of Newsbeat.
The Chamber on Tuesday morning put out a position that stated, "We agree that the production and discarding of single-use shopping bags – plastic, paper and biodegradable – has an unsustainable economic and environmental impact on our planet. We also agree that from an overall environmental and economic perspective, the best alternative to single-use carryout bags is a shift to reusable bags."
They argued, "We do not believe that precious City resources should continue to be wasted on this topic."
The bottom line recommendation of the Chamber that was read by Board Chair Gregg Herrington was, "Direct City Staff and the Natural Resources Commission to discontinue all work on this topic until such time as the CA State Legislature passes, and the Governor signs, legislation to regulate single-use carryout bags."
Janis Lott, echoing those concerns, stated that she agreed with the environmental perspective to go to reusable bags as a more sustainable road.  She also argued that the banning of the plastic bags "falsely inflates the relative environmental benefits of paper which is just amazingly costly environmentally."
She commended the city and Davis Waste Removal for always being ahead of the curve environmentally.  "I have always been less interested in the perception that Davis has been somehow falling behind these other communities because I've lived here for forty years and I know how great we are," she said.  "I am more concerned about getting it right."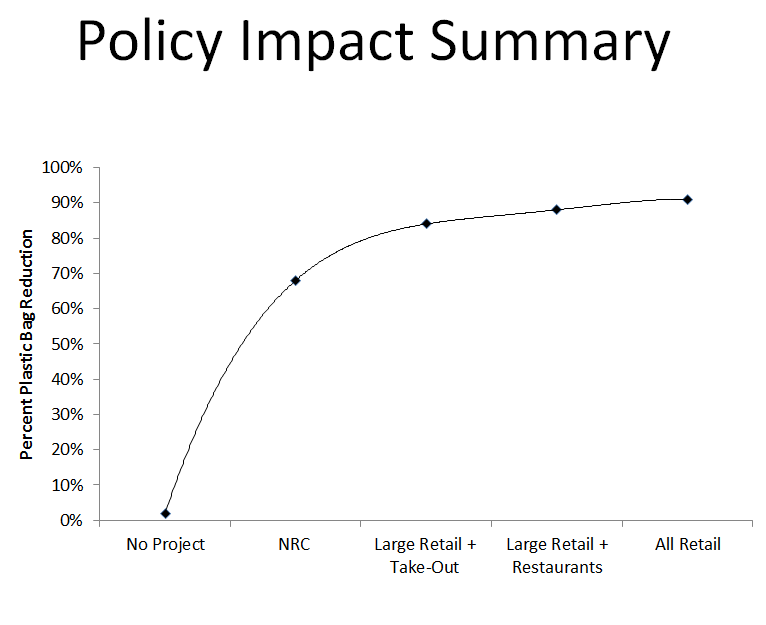 Ms. Lott commended Senator Lois Wolk, calling her a great senator, for her efforts to extend for seven years the requirement that big boxes provide recycling on site, and she is afraid if single-use plastic bags go away, so too will these recycling efforts.
Senator Wolk, however, has repeatedly opposed statewide efforts to ban single-use plastic bags and in his brief comment, Mayor Pro Tem Dan Wolk, the senator's son, remarked, "I agree with Janis (Lott) about how great our Senator is; but this is an issue where we don't see eye-to-eye."
Lucas Frerichs was among several who responded to the provocative comments by Rich Rifkin.
"It was mentioned by Rich Rifkin that he has not ever seen a wayward plastic bag floating around here in travels throughout Yolo County," Councilmember Frerichs stated.  "I'm just assuming the sun must have been in his eyes on those many sojourns around the county."
"I, on the other hand, both when I'm out in a vehicle, on a bike, in the Yolo Bus," he continued, "see wayward single-use plastic bags all over the place."
"They're all over the place.  It's long past time for the city of Davis to act on this," he said.
Alan Pryor, who has been one of the chief proponents of the ordinance, urged the council to avoid altering the provisions as they are "bullet proof," having been litigated by the plastic bag industry and having survived legal challenges.  He urged the council not to impose a fee on the plastic bags, believing that the industry would sue, and while the city may survive, they would be looking at a costly legal fight.
Representatives from Californians Against Waste and the California Grocer's Association both spoke in favor of the ordinance.
Mark Murray from Californians Against Waste offered, "This probably isn't the most important environmental issue that you're going to deal with, probably not even the most important waste issue that you're going to be dealing with."
But he argued, "This is a policy whose time has come."  He continued, "The basic ordinance that you have before you is one that is proven and has been litigated in other communities."
This, he said, was an opportunity for the city of Davis to join with 80 other communities.
And while that number might not seem very large, because of the population bases involved, it was noted that this represents 65% of the population of the state of California.
It became clear as the conversation progressed that the vast majority of the councilmembers favored one form of the ordinance or another.
Councilmember Brett Lee argued, "This issue is not of critical importance to the running of the city.  Whatever we decide tonight the sun will still rise tomorrow.  Everything will keep moving forward."
He said he was puzzled that the advocates of the restriction were only focused on 44 out of 400-plus locations.  That sentiment was echoed by everyone on council.  As Rochelle Swanson pointed out, this is bad for the environment, "So why are picking on some, but not on others?  If we want to reduce, we should reduce."
Councilmember Lee would later offer a substitute that would still impose an outright ban on the 44 stores, but would augment it with a charge of 10 cents for bags at all remaining stores.
Councilmember Swanson wanted to remove the word "ban" from the ordinance, saying that it is not a ban, it is an ordinance.  There was also a call to regulate thick bags with a ten-cent charge that staff believed could be sustained in terms of the cost of the bag.
In the end, despite all of the acrimony, only a few people spoke outright against the ban, and the motion ultimately passed unanimously.  The ordinance will come for a second reading before being implemented by the city of Davis, joining dozens of other communities in regulating, if not banning, the use of single-use carryout plastic bags.
—David M. Greenwald reporting